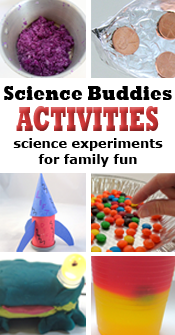 With support from Amgen and the Lawrence Hall of Science, high school biology in the Bay Area has gotten a world-class boost of biotechnology. The Amgen Biotechnology Experience gives teachers and students the opportunity to experiment with sophisticated hands-on science...


The Rosetta spacecraft may help provide information about the formation of the solar system and planet Earth. Students and classes explore comets and space science through hands-on science projects.


School and family science weekly spotlight: make a homemade compass from household materials.


School and family science weekly spotlight: learn more about the chemistry of solubility while making your own tie dye using permanent markers.


Science Buddies 2013 Annual Report: STEM: BUILDING 21st CENTURY CITIZENS


With new Bristlebot Kit from the Science Buddies Store, students can build three styles of introductory robots and learn more about robotics engineering.


---