Recently on the Blog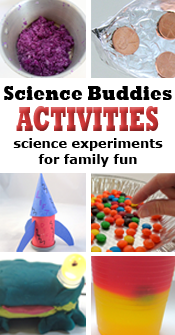 School and family science weekly spotlight: experiment with tonic water and a black light to learn more about fluorescence and light energy!


Are you a picky eater? Maybe there is a scientific reason for your reluctance to eat certain foods even if you know they are good for you. Find out with a tongue-dyeing taste-testing science project!


Catch the annual Perseids meteor shower and tie in some fun family astronomy science with an exploration of parallax. How far away are the things we see in the sky?


School and family science weekly spotlight: make a solar oven from household and recycled materials.


With different kinds of dried beans, plastic cups, and water, kids can model rocks and observe the way different sized particles in rocks affect how much water a rock can hold.


Students can experiment with the engineering design process by trying to improve the durability of a simple handheld device.


---