Books
The Science Buddies Blog gives students, teachers, and parents an inside look at student science, technology, engineering, and math (STEM) projects, activities, success stories, and real-world connections.
---
Total posts in this category: 18
Previous posts in the Books category
---
Your students need to keep reading—all summer long. Reading helps fight summer brain drain, but if you encourage your students to read books with a science theme, the pages read do double duty. And you? If a popular science title...
Our "science history" notes this week at Facebook included mention of both Dian Fossey and Joy Adamson. Both women left behind inspiring legacies and volumes of experience gathered from living with, observing, and interacting with animals. Born on January 16,...
[Editorial Note: Amy, whose blog entry appears below, is one of several "Science Moms" at Science Buddies!] Image source: screenshot from video trailer of The Case of the Terrible T. rex. We love our math and our science and our...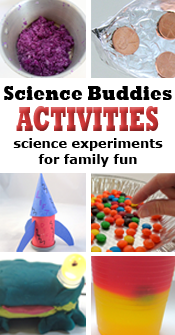 School and family science weekly spotlight: learn more about the chemistry of solubility while making your own tie dye using permanent markers.


Science Buddies 2013 Annual Report: STEM: BUILDING 21st CENTURY CITIZENS


With new Bristlebot Kit from the Science Buddies Store, students can build three styles of introductory robots and learn more about robotics engineering.


---