Knock Your Blocks Off: The Mechanics of Carnival Games
| | |
| --- | --- |
| Difficulty | |
| Time Required | Very Short (≤ 1 day) |
| Prerequisites | None |
| Material Availability | Readily available |
| Cost | Very Low (under $20) |
| Safety | Minor injury possible |
Abstract
"Hey kids, step right up! Toss this ball and win a prize!" shouts the carny barker. Sounds easy enough—until you try it. Why are those "simple" games at the fairs, carnivals, and boardwalks so hard? Is it really lack of skill or coordination or do those concessionaires use some basic laws of science to help them set up the games in their favor? This science fair project can help you find out for yourself.
Objective
The goal of this project is to investigate the mechanics of carnival games.
Credits
Darlene E. Jenkins, Ph.D., Science Buddies
Sources
The idea for this project came from this DragonflyTV Podcast:

Share your story with Science Buddies!
I Did This Project!
Please log in and let us know how things went.
Last edit date: 2013-01-10
Introduction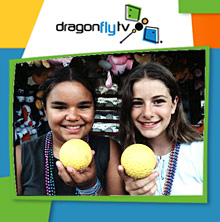 Click here to watch a video of this investigation, produced by DragonflyTV and presented by pbskidsgo.org
"Hey kids, step right up! Toss this ball and win a prize!" Sounds easy enough—until you try it. Somehow knocking down enough pins or hitting the right target to win with that giant stuffed animal ends up being nearly impossible to do. So what gives? Why are those "simple" games at the fairs, carnivals and boardwalks so hard? Is it really lack of skill or coordination or do those concessionaires use some basic laws of science to help them set up the games in their favor?
That's what Mary Jane and Eliza wondered when they visited their local state fair. Check out the video below to see how they applied some good scientific thought to figure out how two easy ball toss games may have been designed so that the chance of winning a prize was actually pretty slim. Then read on to see how you can repeat their experiment and design your own modifications to investigate the physics of carnival games.
The video shows how two simple amusement park games can be deceptively challenging when the game's design is based on some basic laws of physics. Throwing a ball and knocking off three small blocks stacked on a table appears easy enough, but Mary Jane and Eliza found that the way the blocks were arranged on the table made it nearly impossible to get all the three to fly off the table no matter how high-powered and accurate their pitches might be. This surprising result started to make more sense once the girls gave it some good scientific thought. They discovered that stacking blocks in a single column on top of each other actually limits their motions when the ball hits them so at least one block usually remains on the table.
Likewise, you might think that smashing fragile ceramic plates propped up on a stand with carefully aimed pitches of a softball shouldn't be too difficult. But Mary and Eliza discovered that the type of ball they used could affect how often the plates broke. They also found that simply changing the angle of the plates could make the task much more challenging. If they leaned the plates forward a little on the stands, the plates would absorb some of the incoming shock when the ball hit them, making a china-shattering event less likely than if the plates were already leaning back in the stands. Most likely carnival gamers have discovered this too and use this sly application of physics to their advantage.
In this project, we've provided the details on how to set up the "Block Bust" experiment that Mary Jane and Eliza did. (We do not recommend trying the "Smashing Plates" experiment at home unless you can get an adult to help you build the stand and monitor the use of ceramic plates.) We've also included suggestions on how to modify the blocks experiment to see if you can increase the success rate of the game. Then you'll want to do a little research to discover which basic laws of physics explain how you were able (or not) to shift the odds in your favor in your new experimental design.
Now gather up your blocks, balls and materials, set up your own "mini carnival", and run a few experiments. Then maybe you'll be able to amaze yourself and your friends with the ways science can be used to make seemingly simple games surprisingly difficult!
Terms and Concepts
To help explain the results of your experiments, research these concepts:
Mass
Velocity
Acceleration
Momentum
Collision
The principle of action and reaction (Newton's third law)
The dependence of acceleration on mass and force (Newton's second law)
Bibliography
Here are some websites and sources related to physics and carnival games for you to check out. These might also give you ideas for additional games to try besides the "Block Bust" ball toss.
Defines Newton's Laws of Motion in simple terms and with illustrations:
Rader, A., 2007. "Newton's Laws of Motion," Physics4Kids site, Andrew Rader Studios. [accessed May 1, 2007] http://www.physics4kids.com/files/motion_laws.html.
Good site for explanation of physic concepts of reaction and action, acceleration and collision:
Henderson, T., 2004. "Lesson 2: The Law of Momentum Conservation," The Physics Classroom. [accessed May 1, 2007] http://www.physicsclassroom.com/Class/momentum/u4l2a.html.
Old time article that describes the scams of carnival games of yesteryear along with simple diagrams of the mechanics of three common carnival games:
Chapin, E., 1934. "How Carnival Racketeers Fleece the Public," Modern Mechanix. [accessed May 1, 2007] http://blog.modernmechanix.com/2005/12/02/how-carnival-racketeers-fleece-the-public/?Qwd=./
ModernMechanix/8-1934/carnival_racketeers&Qif=carnival_racketeers_1.jpg&Qiv=thumbs&Qis=XL#qdig
Short descriptions of several carnival games and how they can be rigged to make it nearly impossible for patrons to win any worthwhile prizes.
Goldenberg, D., 2001. "Chicanery on the Midway," Professionals Against Confidence Crime. [accessed May 1, 2007] http://www.pac-c.org/Carnies.htm.
Information on a few standard carnival games and techniques on how to win.
PageWise, Inc., 2002. "How to Beat Carnival Games," PageWise, Inc. website. [accessed May 1, 2007] http://vt.essortment.com/beatcarnivalga_rayx.htm.
This book shows how to beat carnival and amusement park games.
Richardson, B., 2002. The Secrets of Amusement Park and Carnival Games…Revealed!, Second Edition. Harrisburg, PA: Silver Star Publications.
TPT, 2007. "Midway Games by Mary Jane and Eliza," DragonflyTV, Twin Cities Public Television [accessed May 9, 2007] http://pbskids.org/dragonflytv/show/midwaygames.html.
Materials and Equipment
To do this experiment you will need the following materials and equipment:
3 different types of balls, 3 of each type (e.g., softballs, rubber baseballs, dimpled softballs)
Small, stable table with a smooth surface
3 blocks of wood of equal size
1 large, square cardboard box
A helper
Masking tape
Chalk
Pen or pencil
Lab notebook
Measuring tape
(Optional) video camera and tripod (nice to have, but not required)
Share your story with Science Buddies!
I Did This Project!
Please log in and let us know how things went.
Experimental Procedure
Safety note: Be sure you do this experiment outside or in a very large room with plenty of space so you can throw a ball without injuring someone or breaking something! Do not throw any ball until all people are clearly out of range from the table.
Preparations for the "Block Bust" Game
Gather all your materials and find a good place to set up your mini carnival game.
Put your table at a set distance from your "throw" line. Record the distance in your notebook and be sure the table is always set at this distance throughout your experiment. You might start with 2.5 meters (7 feet 9 inches) as was used in the video.
Test Which Type of Ball Works Best
Set the large cardboard box near the front of table and mark the position of the box on the table with a piece of masking tape.
Using one type of ball at a time, make several throws at the box and note how far each successful throw pushes the box back on the table.

Try to get at least three measurements for each type of ball (more is better). Record your measurements in your notebook.
Repeat the process for each type of ball.

Have your helper do the same with the three types of balls, and record his/her data as well.
Based on all the measurements (you can tally total distance moved or average distance for each type of ball), which ball moves the box farther?
Use this ball for the second part of your experiment.
The Block Bust Experiment
Stack the three wooden blocks on top of each other in the center of the table. Be sure to note how they are stacked so that you can arrange them exactly the same way throughout the experiment.
Repeat the ball throws using the selected ball from the first part of the experiment.

Each person should throw enough pitches so that they have at least 50 pitches that make contact with one or more of the blocks.
Take turns, and do the throws in sets of 5 or 10 so that your arms get a chance to rest in between sets.
Be sure each person uses the same type of throw (overhand or underhand) for all pitches.
For a fair comparison, each person should have the same number of successful pitches.

For each person, record the following data for each pitch that makes contact with one or more blocks:

which block (or blocks) the ball hit,
how many blocks fell off the table.
Analyze Your Data
Make a data table that includes the total times 0, 1, 2, or 3 blocks were knocked off the table for each pitch that made contact.
You can add the scores for each participant to get an individual's total for each experiment. You can also add the scores for both participants together to get "grand totals" in each category.
Questions to consider:

Do you see any differences in scores between the participants?
Do any of your scores indicate ways that increase or decrease the success of the game?
What might be some reasons to explain your results?
Which basic laws of physics support your results or help you explain them?
Share your story with Science Buddies!
I Did This Project!
Please log in and let us know how things went.
Variations
Repeat the same experiment, but try some variations of the block bust game to see how you might increase the success of the game. Some modifications to consider:
Move the table a little closer. Be sure to record the new distance between your throwing line and the table.
Try different arrangements of the blocks (one level with all three in a single row or in a cluster; a pyramid with one block balanced on two)
Try different pitching techniques (change the spin on the ball; increase the speed of the ball).
Try different sizes of blocks (smaller or larger; heavier or lighter).
If you have another table that is shorter or taller, does the height of the table (or the angle of the throws) make a difference in how successful your pitches are in removing all three blocks?
If you have more friends/family available, ask them to repeat some of your experiments to see if more data helps to clarify the results.
Use a video camera to record the blocks as the ball hits them. Use the techniques described above to analyze the video during playback. Can you figure out a strategy for aiming the ball that maximizes your chances of success?
Share your story with Science Buddies!
I Did This Project!
Please log in and let us know how things went.
Ask an Expert
The Ask an Expert Forum is intended to be a place where students can go to find answers to science questions that they have been unable to find using other resources. If you have specific questions about your science fair project or science fair, our team of volunteer scientists can help. Our Experts won't do the work for you, but they will make suggestions, offer guidance, and help you troubleshoot.
Ask an Expert
Related Links
If you like this project, you might enjoy exploring these related careers: