Build Your Own Crystal Radio
| | |
| --- | --- |
| Difficulty | |
| Time Required | Short (2-5 days) |
| Prerequisites | None |
| Material Availability | A number of specialty items are required. For your convenience, a Science Buddies Kit is available for purchase. |
| Cost | Average ($40 - $80) |
| Safety | Don't listen to a crystal radio during a thunderstorm. Make sure that you follow the instructions and ground your antenna properly. Adult assistance and supervision is required. |
Abstract
Here's a science fair project that shows you how to build your own radio receiver! You'll learn the basic circuit elements required for receiving radio signals, and you'll be able to listen to AM radio broadcasts with something you made yourself. A nice feature of this project is that you can make it as easy or as advanced as you want.
Objective
The objective of this science fair project is to build a simple crystal radio from scratch, then experiment to make improvements.
Credits
This science fair project was inspired by projects on the following websites:
Note for this source: See "Power from radio waves—hooking up a meter to measure the voltage and current" about half way down the page.
Further refinements contributed by:
William Cochran
Harvey Lynch
Andrew Olson, PhD, Science Buddies
Michelle Maranowski, PhD, Science Buddies
Share your story with Science Buddies!
I Did This Project!
Please log in and let us know how things went.
Last edit date: 2013-02-16
Introduction
Before the 1950s and the dawn of television, people would gather in their homes with family and friends around the radio, just as we do with our TVs today, to listen to sports, music, news, and entertainment programs. Then as now, the radio acted as a gateway to the world. But what exactly is a radio and how does it work?
A radio is an electrical device that receives an invisible signal, or radio wave, from a radio station and converts the signal into sound that we hear and understand. A radio wave is a type of electromagnetic radiation that can be used to convey audio information. Radio waves have energy associated with them. Radio stations, using a transmitter and an antenna, transmit waves like the ones in Figure 1 below, which shows both a 1-cycle wave and a 3-cycle wave, each occurring in the span of 1 second. The number of cycles per second is called frequency. The unit for frequency is the hertz (Hz). A 1-cycle-wave per second is a 1 Hz wave and a 3-cycle-wave per second is a 3 Hz wave. Every AM radio station transmits its signal at a given frequency, and the frequency band for AM radio stations in the United States is from 530,000 Hz to 1,710,000 Hz. So a radio station transmitting at 1,590,000 Hz (expressed in kilohertz as 1,590 kHz) is sending out a signal that is 1,590,000 cycles per second.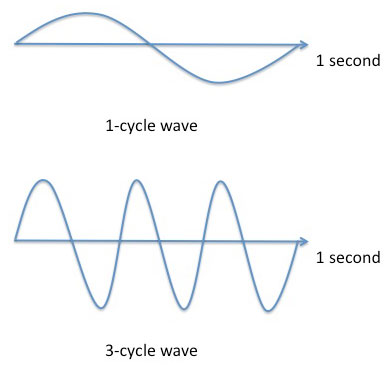 Figure 1. The top part of this figure shows a 1-cycle wave, the second a 3-cycle wave.
Radio stations send out waves and the radios in our homes receive that wave. But how do our radios turn these waves into sounds and how do stations transmit different sounds? Waves have both a frequency and an amplitude, which is the height of the wave. If someone yells at you from across a room, the amplitude of the sound wave is high. Conversely, if someone whispers to you from across the room, the amplitude of that sound wave is very low. When radio stations transmit sound (or music) waves, they can vary or modulate the amplitude of the wave and that is one way we hear the different levels and frequencies of sound. Stations that transmit signals via amplitude modulation are called AM radio stations.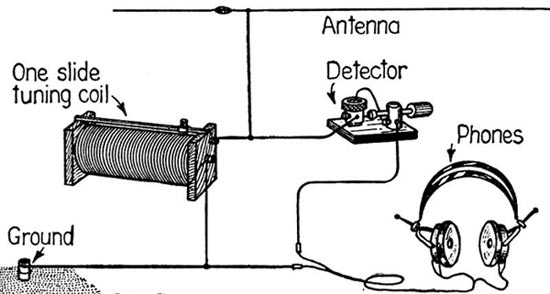 Figure 2. A diagram of the various parts of an early crystal radio. In the early days of radio, the detector was literally a "crystal." Modern radios use a diode instead of a crystal. (Hugo Gernsback, 1922).
A crystal radio is a very simple radio that was popular in the early history of radios. It can pick up and play sound from AM radio stations. Rather than rely on outside electrical sources, like a batteries or plugs, crystal radios get their power directly from the radio waves. The diagram in Figure 2 shows the parts of a crystal radio: antenna, coiled wire tuner, diode, earphone, and a connection to an electrical ground.
The antenna picks up AM radio waves which create an alternating current (AC) in the antenna wire. An alternating current is one with a voltage that oscillates between positive and negative. See Figure 3A below.
A diode is an electrical component that allows current to flow in only one direction (positive OR negative). Consequently, when a diode is in a circuit with an alternating current (positive AND negative), it blocks either the positive or the negative half of the wave. The other half of the wave passes through unchanged. This process is called rectification, and it results in alternating current being changed to direct current or DC. In Figure 3B the rectified wave only has the positive portion of the original AC wave. When crystal radios were first made the diode was composed of a thin wire that scratched against the surface of a crystal of semiconductive material thus imparting the name "crystal" radio.
The earphones convert the DC to sound. The electrical current is converted into vibration, and that vibration generates sound waves. The sound waves are not very strong though, which is why earphones that fit close to the ear drum, as opposed to a speaker, are required to hear the sound.
The tuner allows you to select the AM frequency for the crystal radio to zone in on. The tuner has many coils of wire. Each AM frequency has resonance with a different length of coil. By changing how much coil is used you can alter the radio's preferred resonance and thus "tune" in to a specific radio station. Taps, outcroppings of wire at regular coil intervals, are used as places to connect the antenna and/or diode at different wire lengths during the tuning process.
The electrical ground allows current to flow through the circuit (the crystal radio is in fact an electrical circuit). All circuits need a ground to work properly.
Figure 3. AM radio stations transmit signals via amplitude modulated waves. The antenna of the crystal radio converts these waves to alternating current (shown in A). In order for the current to be converted in to sound, the current is rectified by the diode so that only the positive half of the waves get through. This rectified current (shown in B) is known as direct current. The current amplitude remains modulated (adapted from Harry J. Marx and Adrian Van Muffling, 1922).
In this project you will build a crystal radio from materials you find around the house and a few items from an electronics store. Try to pick up as many radio stations as you can by connecting to the various taps. You will need help from an adult to string up the antenna.
Terms and Concepts
To do this science fair project, you should do research that enables you to understand the following terms and concepts:
Radio wave
Electromagnetic radiation
Frequency
Hertz (Hz)
Amplitude
Modulate
Crystal radio
Antenna
Alternating current (AC)
Diode
Direct current (DC)
Rectify
Earphones
Tuner
Resonance
Electrical ground
Bibliography
Here are some sources to get you started:
If you want to follow an interest in radio further, try The Amateur Radio Relay League website:
ARRL. (2009). ARRL: The National Association for Amateur Radio. Retrieved April 10, 2009, from http://www.arrl.org
Materials and Equipment
Supplies for this project are available in one convenient kit from the Science Buddies Store
To do this science fair project, you will need the following materials and equipment:
Cylindrical oatmeal box, 4-in. diameter (1)
Wire cutters
Masking tape
Mounting board, wood, about 6 in. x 9 in. (1)
Screw, any size to tether wire to mounting board (1)
Screwdriver
Spool of 20 or 22 gauge solid plastic insulated wire, 75-foot (1)
Germanium diode (1n34, 1n34a, 1n60 etc.) (1)
47-kohm resistor, 1/4- or 1/2-watt (1)
Alligator clips (2)
High-impedance ceramic earphone (1)

Note: Headphones or ear buds will not work. Also, the earphone you buy must be a high-impedance ceramic one, not the kind used on transistor radios.

Spool of 20 gauge steel wire, galvanized, 100-foot (1)
Optional: PVC pipe coupling, ¾ inch, (2). Used to make antenna insulators if needed. See Figure 5 for details.
Optional: Fahnestock clips (4); you could also use a machine screw through the bottom of the board, secured by a nut. Then use a knurled nut or another nut to tighten the wires down.
Metal rod, 3-foot, pounded in to the earth to serve as ground or an exposed metal water pipe (1)
Optional: Multimeter or microammeter and voltmeter

Microammeter must be capable of reading as low as 5 microamps (μA)
Voltmeter must be capable of reading as low as 100 millivolts (mV)
Disclaimer: Science Buddies occasionally provides information (such as part numbers, supplier names, and supplier weblinks) to assist our users in locating specialty items for individual projects. The information is provided solely as a convenience to our users. We do our best to make sure that part numbers and descriptions are accurate when first listed. However, since part numbers do change as items are obsoleted or improved, please send us an email if you run across any parts that are no longer available. We also do our best to make sure that any listed supplier provides prompt, courteous service. Science Buddies receives no consideration, financial or otherwise, from suppliers for these listings. (The sole exception is any Amazon.com link.) If you have any comments (positive or negative) related to purchases you've made for science fair projects from recommendations on our site, please let us know. Write to us at scibuddy@sciencebuddies.org.
Order Product Supplies
FREE SHIPPING
(Continental U.S. only)
Let us shop for you! We've gathered all the right supplies for you to complete this project.
Buy Kit
Project Kit: $65.00

Share your story with Science Buddies!
I Did This Project!
Please log in and let us know how things went.
Experimental Procedure
Note Before Beginning:
This science fair project requires you to hook up one or more devices in an electrical circuit. Basic help can be found in the
Electronics Primer
. However, if you do not have experience in putting together electrical circuits you may find it helpful to have someone who can answer questions and help you troubleshoot if your project is not working. A science teacher or parent may be a good resource. If you need to find another mentor, try asking a local electrician, electrical engineer, or person whose hobbies involve building things like model airplanes, trains, or cars. You may also need to work your way up to this project by starting with an electronics project that has a lower level of difficulty.
Important Safety Notes: Have an adult help you with this science fair project. Do not listen to a crystal radio during a thunderstorm. Make sure that you follow the instructions and ground your antenna properly.
Take the oatmeal container (empty, of course) and on the open end, come down about a 1/2 in. and carefully poke two holes. Thread the wire through one hole and back out through the other, as shown in Figure 4, below. Pull about 1 ft. of wire out, for making the connection to the rest of the circuit. Tape the wire on the inside of the oatmeal box, to keep it from slipping out.
Wrap five turns of wire around the oatmeal box and make a "tap," see Figure 4. Remove a short span of insulation (about half an inch), and twist the wires together.

Tip: If you find removing the insulation too difficult you can use the wire strippers to cut through the insulation to expose the copper wire underneath. Then push the sliced insulation to either side. This will result in a tap with insulation bunched on either end of exposed copper wire.

Continue wrapping, and every five turns, make a tap, until you get to 40 turns.
At 40 turns, poke two holes next to the last turn of wire. Cut the wire off so that you have 1–2 ft. extra to connect to the rest of the circuit. Poke the wire into the first hole and back out the second hole. Tape the wire in place inside the box. You now have your coil wound, as in Figures 4 and 5.

Figure 5. Photo showing a crystal radio coil with taps every 5 turns. (Photo courtesy of Rick Marz, 2012)

Next you will need an antenna and a ground. The antenna can be any wire (insulated or bare), as high and as long as possible. Make sure not to place it near electrical wires for your safety and the performance of the radio. Also don't let the antenna "ground out" to trees or the earth (ground). You can make insulators from plastic water pipe or couplings. See Figure 6, below.
The ground can be made by connecting to a metal water pipe (plastic pipes won't work), or to a metal rod that is pounded at least 2 ft. into the ground.
Figures 7 and 8, below show the remaining connections that you need to make.

Hook it all up as shown in Figures 7 and 8. Connect the antenna lead alligator clip to the top of the tuner coils and the diode alligator clip to one of the center taps. Do you hear anything? Try moving the diode alligator clip to different taps to tune the crystal radio. You can also try moving the antenna alligator to various taps. How many AM stations can you tune?
Share your story with Science Buddies!
I Did This Project!
Please log in and let us know how things went.
Variations
Building a radio is your first step. To make a good science fair experiment, you should investigate some of the following questions.
A number of interesting experiments become possible if you add meters to measure the current and voltage in your radio. "To measure the current in our radio, we will need to have the current flowing through the meter. To do this, we connect the microammeter between the earphone and the ground connection, so that any electricity that is going to flow through the earphones to make noise is going to have to flow through the meter also. The meter can be connected in two ways, one is forward and one is backward. If the meter is connected backward, the needle will start reading below zero. If this happens, just reverse the connections, so the needle reads above zero. To measure the voltage, we connect the meter to both of the earphone wires." (Field, date unknown) Depending on the radio stations near you, you need a meter that will read as low as 5 microamps and around 100 millivolts. You can calculate the power (in watts) that your radio receives by multiplying the volts times the amps.
Simon Field suggests these variations: "Try different lengths of antenna, and watch the current go up as the longer antennas catch more of the power from the radio station. Try more than one antenna. Try connecting the ground wire to different things that are connected to the ground, such as pipes, metal fences, etc. As you try each test, make sure you tune the radio again, because your changes may affect the tuning." (Field, date unknown) You should check out this source for more details and additional ideas.
Lewis Whaley suggests another variation for this project, based on the "foxhole radios" which American soldiers in World War II built using razor blades and a safety pin (or graphite pencil point) in place of the germanium diode. How could this work? Build one and compare its performance to the circuit described above. For more information, see: http://bizarrelabs.com/foxhole.htm.
Share your story with Science Buddies!
I Did This Project!
Please log in and let us know how things went.
Frequently Asked Questions (FAQ)
If you are having trouble with this project, please read the FAQ below. You may find the answer to your question.
Q: Is the microammeter necessary to use so this radio can function?
A: No. The experiment says that the multimeter or microammeter and voltmeter are optional, so these are not necessary for the radio to function.
Q: I am not picking up any sounds. What should I do?
A: This radio will only pick up AM stations, and in some areas there are very few AM stations left. To search your area for AM stations, check out this website:
http://www.fcc.gov/encyclopedia/am-query-broadcast-station-search
.
In addition, you can try stretching the long-wire antenna in a direction perpendicular to the direction where the AM broadcast station antenna is located in order to pick up the maximum signal strength. Keep in mind that you'll need a very good antenna! You can try clipping a wire lead to a long wire antenna run between two objects that do not conduct electric signals, like trees for instance, to see if you can pick up any signal. See the Project Idea
Build Your Own Crystal Radio
for more information on the antenna.
Finally, try tuning the crystal radio at night when the signals from distant stations are more likely to be strong enough.
Q: My wire is not insulated. Could this cause a problem?
A: Yes, this definitely could cause a problem because the loops of the coil need to be separated to prevent a "short circuit," and if you do not have insulation, this separation might be lost. You should use either regular insulated wire with a plastic sheath or "magnet wire" which has an enamel coating to insulate it.
Q: Do I need a ground wire?
A: Yes! You actually need a very good ground for this type of radio to work. You can attach a wire lead for the ground to a metal water pipe. Plastic pipes will not work. Alternatively, you can connect a wire lead to a metal rod that is pounded at least 2 ft. into the ground.
Q: Where do I connect the antenna on a crystal radio?
A: The basic AM radio has four parts: antenna, tuner, detector, and reproducer. In the crystal radio, the antenna length acts as a tuner, the diode is the detector, and the earphone is the reproducer. With those parts, how they are connected almost does not matter, you only have two choices, diode and earphone in series or in parallel, with the antenna and ground connected to the combination.
Q: Will my radio work?
A: This radio works and will receive nearby AM signals. The loudest station will be faint and probably the only one. A nearby TV station will sound like a 60 Hertz buzz caused by the video signal. Nearby airport and airplane radar will sound like a buzz at some other (higher) frequency. FM stations will not be heard at all.
Q: How do you tune a crystal radio?
A: There are a few ways to tune the radio to a particular frequency, such as adjusting the length of the antenna wire, or adding a capacitor to the radio.
Here is a link that may help:
http://www.midnightscience.com/howxtal.html
Q: What about capacitors to improve performance?
A: If you want to use capacitors, get a selection of small capacitors in the range of 100pf to 1500pf and connect them one-at-a-time across the coil (between the top and the bottom leads of the coil). You should hear a louder signal when you get close to the correct value. Fine tune by doing one of several things:
Add one of the smaller capacitors in parallel with the prior capacitor. If it gets better, try the next larger one. Select the best combination based on how loud the signal is.
Use the biggest capacitor and move down the coil one tap at a time to tune for the loudest result.
Basically, what you are doing here is adjusting the resonant frequency of the coil and capacitor to match the station's frequency.
Q: Is there an alternative to the taps on the coil?
A: Yes. You can build the coil using magnet wire, which is wire insulated with enamel. Wind the magnet wire on the paper tube, glue it in place and then sandpaper the enamel insulation off along a single narrow strip perpendicular to the coils. Then make a slider from a piece of metal that can make contact at various points along the coil and build a means to hold it in place — this makes up the tuner portion.
(Image credit: By Hihiman (Own work) [GFDL (
http://www.gnu.org/copyleft/fdl.html
) or CC-BY-SA-3.0-2.5-2.0-1.0 (
http://creativecommons.org/licenses/by-sa/3.0
)], via Wikimedia Commons,
http://upload.wikimedia.org/wikipedia/commons/b/b1/D_1925_Jahnke_Schiebspulendetektor.jpg
)
Ask an Expert
Contact Us
If you have purchased a kit for this project from Science Buddies, we are pleased to answer any question not addressed by the FAQ above.
In your email, please follow these instructions:
What is your Science Buddies kit order number?
Please describe how you need help as thoroughly as possible:

Examples

Good Question I'm trying to do Experimental Procedure step #5, "Scrape the insulation from the wire. . ." How do I know when I've scraped enough?
Good Question I'm at Experimental Procedure step #7, "Move the magnet back and forth . . ." and the LED is not lighting up.
Bad Question I don't understand the instructions. Help!
Good Question I am purchasing my materials. Can I substitute a 1N34 diode for the 1N25 diode called for in the material list?
Bad Question Can I use a different part?
Contact Us
Related Links
If you like this project, you might enjoy exploring these related careers: