The Power of Balance *
*Note: This is an abbreviated Project Idea, without notes to start your background research, a specific list of materials, or a procedure for how to do the experiment. You can identify abbreviated Project Ideas by the asterisk at the end of the title. If you want a Project Idea with full instructions, please pick one without an asterisk.
Abstract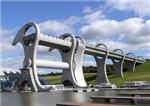 The Falkirk Wheel is a rotating boat lift connecting the Forth and Clyde Canal with the Union Canal near Falkirk in central Scotland. It consists of two diametrically opposed caissons which rotate to lift boats between the two canals through a height of 35 meters. The wheel is always perfectly balanced and, despite its enormous mass, rotates through 180° in less than four minutes, using just 1.5 kilowatt-hours (Wikipedia contributors, 2006). Do background research to find out how much energy would be required if a system of locks were used to raise the boats instead of the Falkirk Wheel. How much energy is saved? For a more advanced project, include a comparision of construction costs for a system of locks vs. the Falkirk Wheel.
Share your story with Science Buddies!
I Did This Project!
Please log in and let us know how things went.
Last edit date: 2013-01-10
Share your story with Science Buddies!
I Did This Project!
Please log in and let us know how things went.
Ask an Expert
The Ask an Expert Forum is intended to be a place where students can go to find answers to science questions that they have been unable to find using other resources. If you have specific questions about your science fair project or science fair, our team of volunteer scientists can help. Our Experts won't do the work for you, but they will make suggestions, offer guidance, and help you troubleshoot.
Ask an Expert
Related Links
If you like this project, you might enjoy exploring these related careers:
Civil Engineers
If you turned on a faucet, used a bathroom, or visited a public space (like a road, a building, or a bridge) today, then you've used or visited a project that civil engineers helped to design and build. Civil engineers work to improve travel and commerce, provide people with safe drinking water and sanitation, and protect communities from earthquakes and floods. This important and ancient work is combined with a desire to make structures that are as beautiful and environmentally sound, as they are functional and cost-effective.
Read more
Economist
Every country has resources—people, land, raw materials, capital, and machinery—and economists study how those resources are distributed to create the goods that people buy, and the services people need or want. In their studies, economists monitor economic trends and collect data on things like energy costs, inflation, interest rates, exchange rates, business cycles, taxes, and employment levels. Based on their analysis of this data, they develop forecasts of economic activity so that businesses and governments can better plan for the future.
Read more