Veggie Power! Making Batteries from Fruits and Vegetables
| | |
| --- | --- |
| Difficulty | |
| Time Required | Short (2-5 days) |
| Prerequisites | None |
| Material Availability | Readily available |
| Cost | Average ($50 - $100) |
| Safety | Do not eat the fruit or vegetables that have been used to make batteries! |
Abstract
Did you know that you can get electricity out of a potato? In this project you will learn how to build a simple battery using a variety of different fruits and vegetables — REALLY! You will be able to figure out things like: How many lemons does it take to turn on a light bulb? Does an orange make a better battery than a potato? Can you use each segment of a grapefruit to make a super-grapefruit battery? You will also learn some of the basics of electricity and circuits: What is voltage? What is current? What is resistance? How much power can you get out of a veggie battery? Does an orange battery run out of "juice"? So, do a little produce shopping and then learn about batteries and electricity.
Objective
In this science fair project, you will make batteries from fruits and vegetables using metal electrodes. You will use a digital voltmeter or multimeter along with resistors and other loads to determine the voltage, current, and power that your batteries can produce.
Credits
Written by Craig Sander

Edited by Andrew Olson, Ph.D., Michelle Maranowski, Ph.D., and Terik Daly, Science Buddies.
Share your story with Science Buddies!
I Did This Project!
Please log in and let us know how things went.
Last edit date: 2013-03-26
Introduction
Batteries are like mini power plants that derive electrical energy from chemical reactions. You can make batteries with some pretty simple everyday materials. In general, all you need are:
Two different kinds of metal to act as electrodes (though not just any kind of metals will work),
A liquid solution, called the electrolyte, which will react chemically with the metal electrodes, and
A way to conduct the electricity from the metal electrodes to something that uses the energy provided by the battery.
Different kinds of batteries have different characteristics. Some produce different voltages than others—like a flashlight battery at 1.5 volts and a car battery that is typically about 12 volts. Some can deliver a lot of current, and some will deliver less current. You will learn more about voltage and current as you work on this project, but as you might already know, some things will not work at all unless the battery can provide a high enough voltage. Once this voltage is applied some things will draw more current from the battery than others. Current is a measure of how many electrons are flowing per second. The more electrons that flow per second (or the higher the current) the faster the battery will discharge. Also, if the item that you are trying to power with the battery tries to draw two much current, then the voltage of the battery will drop and the item might not work.
Many batteries are made up of more than one battery cell, also called a voltaic cell. When these voltaic cells are hooked up in series (see Figure 1, below), the voltage of the battery becomes the sum of the voltages provided by each cell. Car batteries typically have six cells, each producing about 2 volts (V), which added together create a 12-volt battery. (This is why you see six little caps on most car batteries, allowing you to add water to each of the six cells.) The battery in Figure 1, below, is made up of 4 1.5 V cells in series, producing 6 V total.
If a battery or a voltaic cell does not provide enough current, you can connect a number of batteries or cells together in parallel (see Figure 2 below). This keeps the total voltage the same, but now the total current is the sum of the currents from each of the cells. Another reason to connect more cells or batteries together in parallel is that batteries in parallel will power an item for a longer time before discharging. You will learn more about these concepts as you work on this project.
Probably one of the most interesting things about batteries is the way that different materials and how they are used affect the characteristics of the battery, such as the battery's output voltage and current. They can also affect something called the internal resistance of the battery. A battery cell made with a potato might provide a different amount of current than a battery cell made with a lemon or an onion. Battery cells made with different electrode materials, like copper, nickel, or zinc might produce different voltages. Batteries with different electrode shapes or surface areas might have different internal resistances. You will learn that the way the battery cells are made and connected with each other will determine if you can generate enough voltage and current to power an electrical load, like a portable radio, a digital clock, or whatever small electronic device you choose to try.
So, go to the grocery store, buy some fruits and vegetables and then have some fun!
Terms and Concepts
To do this project, you should do research that enables you to understand the following terms and concepts:
Batteries and battery chemistry
Electrical energy
Electrode
Electrolyte
Voltage
Current
Voltaic cell
Series circuit
Parallel circuit
Internal resistance
Electrical load
Electrical power
More advanced students should also study:
Voltage dividers
Ohm's law
Kirchoff's laws
Ionic bonds
Bibliography
This site gives a good history of the invention and development of batteries:
This is a great site with a lot of basics on electronics:
The colored stripes on resistors are a code that tells you the value and the tolerance of the resistor. This reference has more information:
Here are two websites with information on internal resistance. (Note: the first reference is a 3.3 MB pdf file and may take a while to download):
DOE. (1992). "Internal Resistance," U.S. Department of Energy, Fundamentals Handbook, Electrical Science, Volume 2 of 4, p. 12. Retrieved July 7, 2012, from http://www.earth2.net/parts/doe/h1011v2.pdf.
Energizer Holdings, Inc. (2005). "Battery Internal Resistance," Energizer Technical Bulletin. Retrieved July 7, 2012, from http://data.energizer.com/PDFs/BatteryIR.pdf.
Materials and Equipment
Supplies for this project are available in one convenient kit from the Science Buddies Store
Here some basic materials that can be used. However, you should use your imagination and try some others.
Electrodes: The easiest electrode materials to use with vegetable and fruit batteries are probably zinc-coated nails and copper wires. Nails are easy because you can just stick them into the fruit. It is also possible to push coins into some vegetables, like a potato.

Zinc-coated ("galvanized") nails, ~3 inches long (20), available at almost any hardware store, where they are usually referred to as galvanized nails
12 gauge, bare copper wire (3 feet of wire, cut into 3 inch segments)
Note: You can also use small strips of galvanized sheet metal and copper sheet metal (cut with tinsnips into ½ inch by 3 inch rectangles). These will make even better electrodes than the galvanized nails and copper wire!

10-20 jumper leads (with alligator clips).

Note: In many cases you can use the alligator clips to connect the battery terminals to an electronic device you would like to power with your veggie battery. If you need additional connector(s) for your electronic devices, Radio Shack is a good place to look for them.

Potatoes (2)

Note: Even though the following directions are written for a potato, you could follow the same steps with other fruits and vegetables, like citrus fruits, onions, or any other type of produce you would like to try. You will probably need more than one of each fruit or vegetable. In some cases, you can cut your produce into multiple pieces to make more than one voltaic cell.

Various loads to hook up to the batteries:

Resistors, 10 kohm (2)
Other loads, like battery-operated timers, calculators, low power buzzers, 3-volt radios, etc. It is best to look for items that run at 3 volts or less and draw less than 0.5 mA (500 μA). These will be things that run on small watch-like batteries. It is best to use only things that you are willing to destroy in the process. Some things, like the buzzer mentioned above, will work "partially." The buzzer works; it just is not very loud.
Science Buddies Kit: The kit includes an assortment of resistors, a small calculator, and a stop watch to use as loads for your fruit or veggie battery.

Tools:

Voltmeter or multimeter

Note: If you do not have a multimeter or cannot borrow one, you can buy one at electronics stores, hardware stores, or online retailers like Amazon.com. They range in price from about $14 to several hundred dollars; the lower-priced meters work well for this experiment. You can get analog or digital meters. For this project, we recommend a digital multimeter. If you choose an analog multimeter, select one that has a high ohms/volts rating (> 1000 ohms/volt). The ohms/volt rating is usually printed somewhere near the scale or in the instruction manual. In general, look for a meter that will measure volts and resistance. If you can find a meter that measures current on a 200 μA scale this could be useful, but it is not really necessary. In general, the price starts to go up as you look for meters that can measure smaller amounts of current.
Troubleshooting Tip: Learn how to use a multimeter here: How To Use a Multimeter

Wire cutters
Tin snips (optional)
Soldering iron and rosin-core solder (optional)
Order Product Supplies
FREE SHIPPING
(Continental U.S. only)
Let us shop for you! We've gathered all the right supplies for you to complete this project.
Buy Kit
Project Kit: $99.00

Share your story with Science Buddies!
I Did This Project!
Please log in and let us know how things went.
Experimental Procedure
Note Before Beginning:
This science fair project requires you to hook up one or more devices in an electrical circuit. Basic help can be found in the
Electronics Primer
. However, if you do not have experience in putting together electrical circuits you may find it helpful to have someone who can answer questions and help you troubleshoot if your project is not working. A science teacher or parent may be a good resource. If you need to find another mentor, try asking a local electrician, electrical engineer, or person whose hobbies involve building things like model airplanes, trains, or cars. You may also need to work your way up to this project by starting with an electronics project that has a lower level of difficulty.
Safety note: Do not eat the fruit or vegetables that have been used to make batteries!
To get you started, here are two simple experimental procedures to make one- and two-cell batteries. You will see how to increase the available voltage by connecting individual cells in series. There are many more ideas in the Variations section (below) to get you thinking about experiments you can design for yourself.
Experiment 1
How much voltage can be generated using a potato cell with zinc and copper electrodes? How does the voltage change as you hook up different loads (values of resistance) across the terminals of the potato battery?
Create a voltaic cell by poking one zinc (galvanized) nail and one 3 inch piece of copper wire into each end of a potato. The buried ends of the electrodes can actually be pretty close together (maybe an inch apart), but they should not touch each other. The battery will work best if the nails and copper wire are parallel to one other. The zinc nail will become the "-" or negative terminal of the battery (also called the anode) and the copper wire will become the "+" or positive terminal of the battery (also called the cathode).
Hook up the voltmeter or multimeter across this voltaic cell by connecting the "+" terminal of the voltmeter or multimeter to the copper wire and the "-" or "common" terminal to the zinc nail.

Troubleshooting Tip: Leaving the multimeter connected to your veggie battery for several minutes can "drain" your battery, so make sure to disconnect the multimeter from the battery after making each of your measurements.

Measure and record the voltage. This voltage is referred to as the open circuit voltage, because this is the voltage present when nothing is connected across the terminals of the battery-the circuit is "open". (For more information on using a multimeter, see the Science Buddies page How to Measure Voltage and Current.)
While leaving the voltmeter or multimeter connected across the battery, use the alligator clips to connect a 10 kohm resistor across the battery terminals. Record the voltage.
While leaving the first resistor in place, use more alligator clips to connect another 10 kohm resistor across the battery. Record the voltage.
You will notice that the voltage dropped as you connected the loads (the resistors) across the battery. This is because current is being drawn through each of the resistors and through the internal resistance of the battery. For this simple "veggie" battery cell, the internal resistance is pretty high, so a noticeable portion of the battery cell's voltage is dropped across its internal resistance. This in turn reduces the amount of voltage that you measure at the terminals of the battery.
Experiment 2
How much voltage can be generated using two zinc-copper voltaic potato cells hooked up in series? Can this be used to power something like a calculator or a low-voltage (ear-plug) transistor radio?
Create two separate veggie battery cells following the same procedure you used in Experiment 1, step 1, above. If you are using large potatoes, you can cut them into pieces and then use each piece as a separate cell.
Measure and record the open-circuit voltage of each of the cells.
Using alligator clip leads, hook these two cells up in series to make a two-cell battery. (Note: Figure 1 in the Introduction shows how to connect cells in series.)
Measure and record the open-circuit voltage of the two-cell battery.
You should find that each individual cell has an open-circuit voltage of about 0.75 volts. When you connect the cells in series and measure the open-circuit voltage of the two-cell battery you should measure about 1.5 volts (maybe a little less). Now, this is a battery that you can actually use to power any electronic device that is designed to operate at about 1.5 volts and that does not draw too much current. You will find that this means it will probably only power up things that will run on small watch-sized or calculator-sized batteries.
On Your Own
Working with veggie batteries is a lot more fun and interesting if they actually do something! Try powering up a calculator (see Figure 3, below) or maybe a small buzzer or low-voltage transistor radio.
Science Buddies Kit: The kit includes a small calculator that can be powered using your veggie battery. See Figure 3, Figure 4, and the directions below.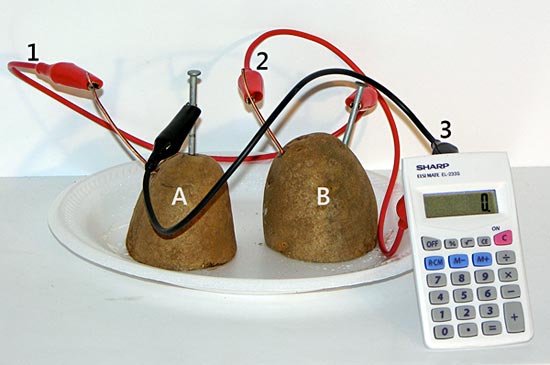 Figure 3. Running an electronic calculator on veggie power! This is an illustration of a multi-cell veggie-power battery, described in Experiment 2, above.
Science Buddies Kit: To use your veggie battery to power the calculator in the kit, you will need to remove the back of the calculator by taking out the four screws that connect the back of the calculator to the front of the calculator. Then remove the calculator's battery, but leave the wiring of the calculator intact.
As you can see in Figure 3, above, you will need three pairs of alligator clip jumper cables: Cable #1 connects the copper wire in potato A to the galvanized nail in potato B, #2 connects the copper wire in potato B to the positive battery terminal of the calculator, and #3 connects the galvanized nail in potato A to the negative battery terminal of the calculator. Figure 4, below, shows where the alligator clips from potatoes A and B connect to the battery terminals of the calculator.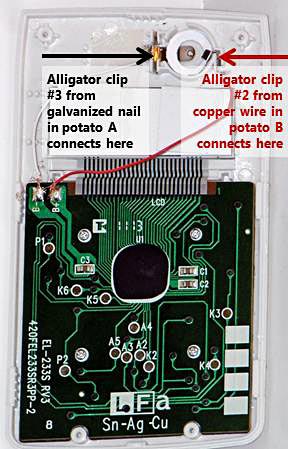 Figure 4. If you are using the Science Buddies kit for this project, connect your veggie battery to the calculator by connecting alligator clips 2 and 3 (from Figure 3) as shown here.
There are even talking greeting cards that you might be able to find and power with your veggie battery. You might need to get some help opening up the back of the calculator or other device and getting wires attached to the electrodes that normally hold the battery. (If you find that you need to solder a connector, the Science Buddies resource Electronics Primer: How to Solder Electronic Components has some helpful tips on using a soldering iron and making good, lasting connections between electrical components.) See the Variations section (below) for more ideas to get you thinking about experiments you can design for yourself.
Troubleshooting the Veggie Power Circuit
Sometimes, in hands-on projects like this one for making a veggie battery, something happens and you cannot explain why. Or, you were expecting something to happen and it did not. In both of these cases, you will have to troubleshoot what you have put together in order to figure out how to fix it. Here is a list of things to think about when troubleshooting this particular electrical circuit.
Clean electrodes work better than dirty ones, and copper forms an oxide layer that can prevent accurate electrical measurement. Try scrubbing the electrodes with a Scotch-Brite pad to clean the electrodes and remove the unwanted oxide layer.
Clean and dry the fruit or vegetable prior to use.
Make sure that the electrodes are completely inserted into the fruit or vegetable and do not touch.
Place the electrodes an inch apart, and place them so they are parallel to each other.
If you are trying to power a device, use a multimeter (for tips on using one, read Science Buddies' Electronics Primer: Using a Multimeter) to measure both the voltage and the current the device needs. Make sure your veggie battery circuit can supply enough voltage and current.

To increase the amount of voltage supplied by the veggie battery, connect the vegetable or fruit cells in series mode. See Figure 3 to understand how to connect the cells in a series correctly. Notice that the copper wire of the first cell (labeled "A") is connected to the nail of the second cell (labeled "B"). In this case, there is one path for current flow, and that is from one cell through the other.
To increase the amount of current supplied by the veggie battery, connect the vegetable or fruit cells in parallel mode. See Figure 5, below, to understand how to connect the cells in parallel correctly. The copper electrodes are all connected, and the nails are all connected.
It is possible to create a circuit where the cells are in both in series and in parallel. You may want to look this up if you are having trouble getting enough current and voltage.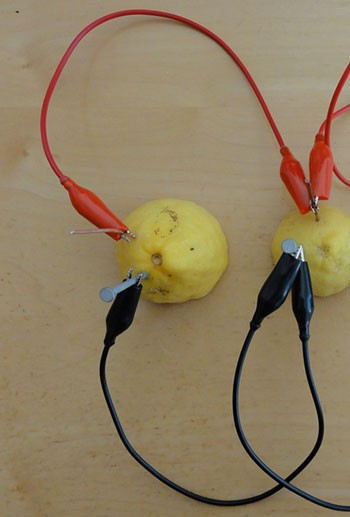 Figure 5. In this image, lemon cells are connected in parallel. Avoid having the cells touch.
If you have several cells connected and you feel that something is not correct, take everything apart and test each cell separately with the voltmeter or multimeter.
If the battery cells are connected properly (supplying enough voltage and current), and the device that you have connected to the battery is still not working, try reversing the electrodes to the device. It could be that the negative/positive polarity is not correct.
Share your story with Science Buddies!
I Did This Project!
Please log in and let us know how things went.
Variations
Many factors can affect the performance of batteries, and many variations can be done on the simple experiments suggested above. Here are some things you might think about to lead you to other variations that you can devise on your own. These are not listed in any particular order. They are just a number of different things you might think about or try.
How does varying the amount of load (resistance placed across the battery terminals) affect the voltage and current output from the battery?
By applying different loads on a battery, can you determine its internal resistance? (See the references on internal resistance in the Bibliography, above.) What do you think you could do to lower the internal resistance of your veggie cell battery? (For some ideas, see Variations 3, 4, and 5 below.)
With a particular set of electrodes and electrolytes, the battery voltage should be about the same (when driving high-resistance loads). Can anything be done with the configuration of a voltaic cell to change the amount of current that it can deliver before the voltage drops considerably? Does the distance between the electrodes matter? If so, why? Does the surface area of the electrodes in contact with the electrolyte matter? If so, why?
How do other materials affect the characteristics of the battery? For example:

What happens if you use other kinds of fruit or vegetables?
What happens if you use different metals for the electrodes?
Would the battery work with just vegetable juice? How about just vinegar or salt water?

Increase the number of cells that you hook up in parallel, or in series, or both. How does this affect the voltage and current that the battery can deliver? Can you predict based on the characteristics of a one-cell battery how much voltage or current a given configuration of similar cells hooked up in series or parallel will behave? Could you build a multiple-cell battery that would power a flashlight light bulb? How about a 9-volt transistor radio? How many cells in parallel and/or series would this take? (Remember for something like a transistor radio you have to provide both the right voltage and sufficient current.)
In general, given the specifications (voltage and current requirements) for a load (the thing that you are trying to power up with the battery), can you predict how may cells (of a given configuration) it will take to power the load?
How much electrical power can a particular veggie cell or battery produce?
How long does it take for a veggie battery to run out of "juice" (electrical juice that is)? Why does it run out?
Using fruits and vegetables (or pieces of them), can you think of other physical configurations that will make good batteries? How about a little piece of potato sandwiched between a penny and 1-inch squares of galvanized (zinc) sheet metal? Can you stack up these penny-potato-zinc cells to create a higher voltage battery?
Share your story with Science Buddies!
I Did This Project!
Please log in and let us know how things went.
Frequently Asked Questions (FAQ)
If you are having trouble with this project, please read the FAQ below. You may find the answer to your question.
Q: How can I develop a hypothesis for this project?
A: Remember that a hypothesis must be something testable; that is, your hypothesis should be a claim that you can then support or refute with evidence from your project. For this project, a common hypothesis is comparing two or more fruits and vegetables and choosing which one you think will provide the most voltage or current. You could also try to test which fruit or vegetable requires the least amount (by volume or mass) to power the same electronic. If you want to stick to one fruit or vegetable, you can play around with the configuration of, and distance between, the electrodes to see what provides the most power.
The following Science Buddies resources may help:
Q: I can't power anything with my battery. How can I fix this?
A: If you are having difficulty powering anything with your battery, you should double check the following for possible issues:
Make sure your vegetable or fruit is fresh. The longer you use one piece of fruit or vegetable, the more moisture it will lose;

a dry fruit or vegetable will not provide power

. It helps to pre-soak your fruit or vegetable in water (this is particularly effective with potatoes) and keep the fruit or vegetable in a sealed container during the experiment.
Your electrodes will also influence how much power you can get from the battery. Make sure they are clean and fully inserted into the fruit or vegetable. Increasing the surface area of the electrodes will also increase the output of your battery. Try using long, flat strips of metal instead of nails, if possible.
Check the energy requirements of the device you are trying to power. If it requires too much current or voltage, no feasible vegetable or fruit battery will be able to power it. Look for items that run at 3 volts or less and that draw less than 0.5mA. Good choices include a small calculator, a 3 volt radio, a battery-powered timer, or an LED light.
Often a battery has either sufficient voltage or current to power the device, but not both. It is important that your battery meets both the voltage and current requirements for whatever you are trying to power. Using your multimeter, measure the voltage and current of your battery. If one of those values is lower than what is needed to power the device, try rearranging your battery in a series (to create more voltage) or in parallel (to create more current). Look at the project idea for more instructions on how to do this.
As with any project dealing with electrical components, check your connections! Just one wire that is poorly connected to something else can keep your entire experiment from working properly.
Q: How can I measure current?
A: Measuring current can be difficult in more complex circuits. In a battery such as this, you want to "break" the flow of electrons (the current) and insert your multimeter so that the electrons have to flow through the meter. You also want to make sure that your multimeter is set to the right sensitivity to measure amperes (a good start is 200A). This Science Buddies resource helps you learn how to measure current:
http://www.sciencebuddies.org/science-fair-projects/project_ideas/Elec_HowToMeasure.shtml
.
Q: Does it matter what gauge of wire I use in this experiment?
A: Smaller gauge wire is probably better, but any gauge will work for this experiment. Larger gauge wires generally cause more resistance than smaller gauge wires. For copper, 12-gauge wire will have a resistance of about 1.5-1.7 ohm per 1000 feet of wire, versus about 4.0ohm/1000ft for 16-gauge wire. However, even though 16-gauge wire has twice as much resistance, it is still a very small amount of resistance, especially over the short lengths of wire used in this project.
Q: (Science Buddies Kit) My battery won't power the calculator, what should I do?
A: First, check your connections, using Figures 3 and 4 in the Project Idea to help you. Circuits are sometimes funny, and sometimes simply taking your battery apart and assembling it again can solve problems. You may find it helpful to label your two voltaic cells "A" and "B," as shown in Figure 3. One alligator clip jumper cable should connect the copper wire from potato A to the galvanized nail in potato B. A second alligator clip pair should connect the copper wire in potato B to the positive battery terminal in the calculator, and a third alligator clip pair should connect the galvanized nail in potato A to the negative battery terminal in the calculator.

You should also use the multimeter to check the voltage being produced by the battery, as described in step 2 of Experiment 1 in the Project Idea. If your battery is out of "juice," it will not power the calculator even if the connections are correct.
Q: (Science Buddies Kit) I accidentally disconnected the wires in the calculator or stopwatch, what do I do?
A: If this happens, find a pair of wire strippers and carefully strip the ends of the wires that were disconnected until you have enough of the wire stripped so that you can twist the wires back together. Tweezers might make it easier to twist the wires together.
Ask an Expert
Contact Us
If you have purchased a kit for this project from Science Buddies, we are pleased to answer any question not addressed by the FAQ above.
In your email, please follow these instructions:
What is your Science Buddies kit order number?
Please describe how you need help as thoroughly as possible:

Examples

Good Question I'm trying to do Experimental Procedure step #5, "Scrape the insulation from the wire. . ." How do I know when I've scraped enough?
Good Question I'm at Experimental Procedure step #7, "Move the magnet back and forth . . ." and the LED is not lighting up.
Bad Question I don't understand the instructions. Help!
Good Question I am purchasing my materials. Can I substitute a 1N34 diode for the 1N25 diode called for in the material list?
Bad Question Can I use a different part?
Contact Us
Related Links
If you like this project, you might enjoy exploring these related careers:
Electrician
Electricians are the people who bring electricity to our homes, schools, businesses, public spaces, and streets—lighting up our world, keeping the indoor temperature comfortable, and powering TVs, computers, and all sorts of machines that make life better. Electricians install and maintain the wiring and equipment that carries electricity, and they also fix electrical machines.
Read more
Electrical & Electronics Engineer
Just as a potter forms clay, or a steel worker molds molten steel, electrical and electronics engineers gather and shape electricity and use it to make products that transmit power or transmit information. Electrical and electronics engineers may specialize in one of the millions of products that make or use electricity, like cell phones, electric motors, microwaves, medical instruments, airline navigation system, or handheld games.
Read more