Get Rid of Those Leftovers: How Much Organic Waste Can Composting Worms Eat? *
| | |
| --- | --- |
| Difficulty | |
| Time Required | Very Long (1+ months) |
| Prerequisites | None |
| Material Availability | Composting worms will need to be ordered online. A worm farm can be constructed or purchased. |
| Cost | High ($100 - $150) |
| Safety | No issues |
*Note: This is an abbreviated Project Idea, without notes to start your background research, a specific list of materials, or a procedure for how to do the experiment. You can identify abbreviated Project Ideas by the asterisk at the end of the title. If you want a Project Idea with full instructions, please pick one without an asterisk.
Abstract
What happens to the food leftovers in your home? Do they go in the trash? Down the garbage disposal? Or get gobbled up by the family dog? Food leftovers are a type of
organic waste,
a waste that comes from a plant or animal. Organic waste, like table scraps, agricultural waste, and human and animal waste, is
biodegradable.
This means, if oxygen is present, it can be broken down by various microorganisms through a process called
composting.
If oxygen is not present, it can be broken down using bacteria that do not need oxygen in a process called
anaerobic digestion.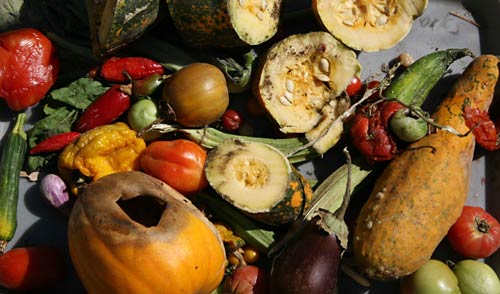 Figure 1. This photo shows examples of organic waste. (City of Davis, California; 2010.)
Although organic waste is biodegradable, it is a big problem for the environment. In landfills, it decomposes anaerobically to produce a gas called biogas, which is mostly methane, a significant greenhouse gas. It also breaks down from a solid state into a liquid leachate, which can contaminate ground water and release heavy metals, such as mercury from old batteries, into the ground water. In sewage systems, some organic wastes can also contain heavy metals or nutrient pollutants, and uncontrolled disposal can lead to water pollution. Despite the difficulties in its disposal, organic waste is a highly valuable resource. It is energy-rich and full of nutrients. When processed properly, it can greatly enrich soils or run biogas generators to produce electricity.
In this environmental science project, you will explore how composting worms, called red wigglers or Eisenia fetida, can be used to break down organic waste, like food leftovers.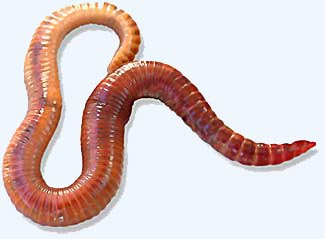 Figure 2. This photo shows a red wiggler, a special type of worm used in composting. (Wikipedia Commons, 2006.)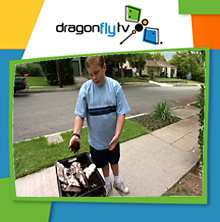 Click here to watch this DragonflyTV episode as Kevin uses food leftovers to build a worm farm. This video was produced by DragonflyTV and is presented by pbskidsgo.org.
Using the DragonflyTV video on the right as a guide, you will build a worm farm, and then test how much organic waste your worms can process, and how fast they can do it. You will need to collect data for several weeks. You will measure out and record a sample of organic waste, add it to the worm farm, and then record how many days it takes for the sample to disappear. You can then create a bar chart, graphing the weight of each sample on the x-axis, and the number of days it took for each sample to decompose on the y-axis.
As variations, you could consider keeping the weight and type of organic waste samples a constant, but then collecting temperature or pH data to see if that has any impact on the rate at which the worms decompose organic waste. You can also collect and measure "worm urine" from the bottom of your worm farm and see how it impacts the growth of identical plants. Use plain tap water as a source of water for some plants, and worm urine as a source of water and fertilizer for the others.
Credits
Kristin Strong, Science Buddies
This science project was inspired by the following DragonflyTV Episode:
Share your story with Science Buddies!
I Did This Project!
Please log in and let us know how things went.
Last edit date: 2012-12-07
Bibliography
In this video, you can learn how to build and test a worm farm:
This source describes ways in which different countries handle organic waste:
This source provides information about making your own worm farm:
Share your story with Science Buddies!
I Did This Project!
Please log in and let us know how things went.
Ask an Expert
The Ask an Expert Forum is intended to be a place where students can go to find answers to science questions that they have been unable to find using other resources. If you have specific questions about your science fair project or science fair, our team of volunteer scientists can help. Our Experts won't do the work for you, but they will make suggestions, offer guidance, and help you troubleshoot.
Ask an Expert
Related Links
If you like this project, you might enjoy exploring these related careers: