Investigate the Vitamin C Level in Bell Peppers During Various Stages of Ripeness *
| | |
| --- | --- |
| Difficulty | |
| Time Required | Average (6-10 days) |
| Prerequisites | Access to chemicals and a science lab with a vented hood. |
| Material Availability | Specialty items required. You will need to use iodine or iodine containing chemicals. |
| Cost | Average ($50 - $100) |
| Safety | Minor injury is possible. Adult supervision is recommended. When working with chemicals, always wear safety goggles, gloves, and aprons. If using acids, work in a vented hood. For more tips, consult the Chemistry Safety Guide. |
*Note: This is an abbreviated Project Idea, without notes to start your background research, a specific list of materials, or a procedure for how to do the experiment. You can identify abbreviated Project Ideas by the asterisk at the end of the title. If you want a Project Idea with full instructions, please pick one without an asterisk.
Abstract
Vitamin C is a water-soluble
vitamin
that has many functions in the body. Vitamin C is needed to bolster the immune system. It is an antioxidant that protects LDL cholesterol from
oxidative damage
, and it is needed to make
collagen,
a substance that strengthens many parts of the body, such as muscles and blood vessels. Our bodies do not make vitamin C, so we must get it from dietary sources. Citrus fruits, carrots, avocados, and spinach all have vitamin C. Bell peppers also contain vitamin C. Red, yellow, and orange bell peppers are all ripe versions of the green bell pepper. But how do the vitamin C levels vary among the different colors or ripeness of bell peppers? Does ripeness matter? To quantify the amount of vitamin C, you'll need to do some titrating. For information on how to titrate, consult the references below, in the Bibliography and the Experimental Procedure of the
Which Orange Juice Has the Most Vitamin C
science fair project.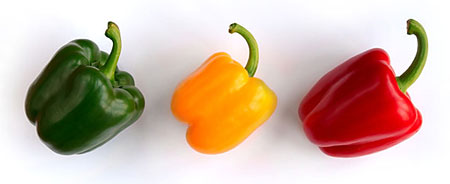 Figure 1. Colorful bell peppers. (Luc Viatour, 2008.)
Share your story with Science Buddies!
I Did This Project!
Please log in and let us know how things went.
Last edit date: 2012-12-07
Bibliography
This next entry is an article that discusses the level of vitamin C as a function of ripeness in a variety of bell peppers.
Antoniali, S. et al. (2007). Physico-Chemical Characterization of 'Zarco-HS' Yellow Bell Pepper for Different Ripeness Stages. Scientia Agricola, Vol. 64, No. 1, Retrieved October 8, 2008, from http://www.scielo.br/pdf/sa/v64n1/a03v64n1.pdf
Share your story with Science Buddies!
I Did This Project!
Please log in and let us know how things went.
Ask an Expert
The Ask an Expert Forum is intended to be a place where students can go to find answers to science questions that they have been unable to find using other resources. If you have specific questions about your science fair project or science fair, our team of volunteer scientists can help. Our Experts won't do the work for you, but they will make suggestions, offer guidance, and help you troubleshoot.
Ask an Expert
Related Links
If you like this project, you might enjoy exploring these related careers: