Growing a Soil Menagerie
| | |
| --- | --- |
| Difficulty | |
| Time Required | Very Long (1+ months) |
| Prerequisites | None |
| Material Availability | Readily available |
| Cost | Very Low (under $20) |
| Safety | No issues |
Abstract
Everything on our planet is linked by a giant recycling system called the
biogeochemical cycle.
Learn how our planet recycles and reuses everything we need to support life by making a miniature biosphere. Which nutrients will be important for your miniature life-support system?
Objective
In this project, you will make a mini biosphere (Winogradsky Column) to test the response of soil microorganisms to environmental changes in a closed system.
Credits
Sara Agee, PhD, Science Buddies
Share your story with Science Buddies!
I Did This Project!
Please log in and let us know how things went.
Last edit date: 2012-12-07
Introduction
Did you know that nature reuses and recycles? Most of the nutrients that are needed by the living part of the earth, or biosphere, are passed along by the biogeochemical cycle. Important for ecology and Earth science, a biogeochemical cycle is the pathway by which chemical elements and molecules move through both the living ("bio-"tic) and nonliving ("geo-" or abiotic) parts of an ecosystem (Wikipedia, 2007).
Chemical elements move through the biotic parts of an ecosystem by being part of organisms. Chemical elements also move through abiotic parts of ecosystems, like water (hydrosphere), land (lithosphere), and the air (atmosphere). Some important chemicals, nutrients, and elements that are recycled through an ecosystem are carbon, nitrogen, oxygen, phosphorus, and sulfur. The biogeochemical cycle is called a closed system, because these elements are not lost or created, but are constantly being re-used and recycled. Some examples of biogeochemical cycles are the water cycle, the carbon cycle, and the nitrogen cycle (shown below):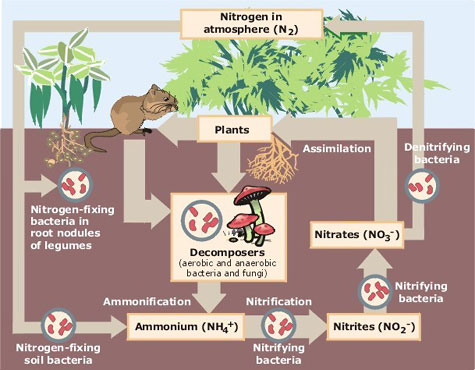 One of the pioneers of the "Cycle of Life" concept was a Russian microbiologist named Sergei Winogradsky. By studying the unique microbes that live in different soil conditions, he discovered how nitrogen was recycled in a process called nitrification. He went on to study different soil microbes that each recycle different elements in the biosphere, like nitrogen, sulphur, phosphorous, and carbon. Sound familiar? These are all elements of the Earth's biosphere, recycled by biogeochemical cycles. Now you know why those soil-dwelling microbes are all so important!
One of the tools that Sergei invented to study these processes was a long, sealed column of soft muddy soil, now called a Winogradsky Column, after his important discoveries. In this project, you will make your own miniature Winogradsky Columns to study soil samples. Each miniature column will model the biosphere and will represent a closed system. By adding different combinations of elements to each column, you will test which elements are necessary for your miniature biosphere to maintain itself. By changing the elements present in the bio-system, will you cause the populations of soil-dwelling microbes to also change?
Terms and Concepts
To do this type of experiment you should know what the following terms mean. Have an adult help you search the Internet or take you to your local library to find out more!
Biosphere
Biogeochemical cycle
Closed system
Nitrogen
Sulphur
Phosphorous
Carbon
Questions
What microbes will you find in the mud?
Why do the microbes layer in different patterns?
What elements does a microbial biosphere need in order to be in balance? In this context, balance means where all elements are being reused and recycled and the soil is healthy (there isn't a population of microbes that dies off).
How is a Winogradsky Column made and what does it demonstrate?
Bibliography
Here are two video resources showing the construction of a Winogradsky Column:
Read these resources from Wikipedia to learn about the structure of a Winogradsky Column and about its inventor, classic microbiologist Sergei Winogradsky:
Materials and Equipment
Containers for collecting the mud and water samples (2)
Recycled, clean 0.5-liter water or soda bottles (4+)
Scissors
Small scoop or shovel
Plastic wrap
Rubber bands
Masking tape
Permanent marker for labeling
Some additives to test:

Shredded paper (carbon)
Powdered chalk (calcium sulfate)
Blood meal - an organic nitrogen fertilizer available at a nursery or garden center (nitrogen)
Hard-boiled egg yolk (sulphur)
Share your story with Science Buddies!
I Did This Project!
Please log in and let us know how things went.
Experimental Procedure
Go out and collect some mud from a muddy location. A good place would be near a stream, pond, or marsh. Scoop the sample into a container. Then collect some water, from the same location, in another container so you can keep your mud the consistency of a milkshake after you've brought it home. Bring your containers home and go wash your hands! If you have a cut or wound, you should wear latex or rubber gloves when collecting and working with the soil.
Prepare your bottles by removing the labels and cutting off the top spouts. You will later use one of the spouts as a funnel, so don't throw it away!
Prepare your additives:

Cut a sheet of used paper or newspaper into thin strips. This will be a source of carbon.
Mash the yolks of three hard-boiled eggs into a dry powder. This will be a source of sulphur.
Crush a few sticks of white chalk into a fine powder. This will be a source of calcium sulfate.
Purchase some powdered blood meal, an organic nitrogen fertilizer at a nursery or garden center.

Prepare your Winogradsky Columns:

Get your container with your soil sample and pick out all the sticks, leaves, and pebbles.
While stirring, slowly add the water (collected from the same source) to the soil until your mixture becomes like a milkshake. The amount of water you need to add will depend on how wet your soil is at the start. Be sure the mud is wet enough that it will flow easily through the funnel.
Using the funnel, pour approximately 2 inches of your mixture into the bottom of each bottle.
Add the additives to each bottle, using a different combination of additives for each bottle. Make sure the additives get incorporated well into each mixture. One bottle should not have any additives (negative control) and one should have all of the additives (positive control). Add about a tablespoon of each additive, and using masking tape, make a label for each bottle with the name of the additive(s) on it (e.g. Paper and Chalk). Keep track of your mixtures in a data table:

| | | |
| --- | --- | --- |
| Bottle Label | Additives in Bottle (Tbsp) | Other Notes |
| None | Nothing added. | This is my negative control. |
| Paper | 1 Tbsp of paper added. | |
| ... | | |
| ... | | |
| ALL | 1 Tbsp of everything added. | This is my positive control. |

Continue to mix the mud mixture in your container, making sure the mixture is wet and mixed thoroughly.
Tap each bottle lightly on the table to settle the mud mixture and burp out any bubbles. Each bottle should be filled to within 2 inches from the top.
Top off each bottle with a layer of the water collected from your mud location, then cover the bottles tightly with plastic wrap, secured with rubber bands.
Place your bottles in a well-lit place, but not in direct sunlight. Keep them out of heat and at room temperature.
For the next 6-8 weeks, observe the bottles daily, looking for color changes in the mixtures. Record your observations in a notebook. Draw, label, and color a picture of each of the jars at the end of each week.
After 6-8 weeks, you should notice a layering effect. Each layer represents a different kind of microbe. Compare the layering of each different bottle. How did your additives change the layering patterns from bottle to bottle? What do you think this means about the different microbial communities you have in your bottles?
Share your story with Science Buddies!
I Did This Project!
Please log in and let us know how things went.
Variations
There are many possible ways to make this project unique:
You can test several different sources of mud or soil to see if the microbial growth will be different from location to location. What do you think this says about the soil quality at each site?
You can test different kinds of additives to look for microbes that live in unique and challenging environments:
Salt Lovers (Halophiles) - You can test for salt tolerance in different microbes by increasing the amount of salt added to a series of bottles.
Acid Lovers (Acidophiles) - You can test for differences in pH tolerance by changing the pH of each bottle by adding an acid (vinegar) or a base (baking soda).
Heat Lovers (Thermophiles) - You can place the bottles at different temperatures to find organisms that like heat (near a heat vent) or cold (in the refrigerator).
Sun Lovers - Test how the microbes respond to light or dark by placing one bottle in a window and the other under a box.
Share your story with Science Buddies!
I Did This Project!
Please log in and let us know how things went.
Ask an Expert
The Ask an Expert Forum is intended to be a place where students can go to find answers to science questions that they have been unable to find using other resources. If you have specific questions about your science fair project or science fair, our team of volunteer scientists can help. Our Experts won't do the work for you, but they will make suggestions, offer guidance, and help you troubleshoot.
Ask an Expert
Related Links
If you like this project, you might enjoy exploring these related careers: