What Is Home Sweet Home to a Bug?
| | |
| --- | --- |
| Difficulty | |
| Time Required | Average (6-10 days) |
| Prerequisites | None |
| Material Availability | Specialty items |
| Cost | Very Low (under $20) |
| Safety | No issues |
Abstract
If you had to choose between having your favorite dessert, going to a movie, or spending the night at a friend's house, which would you choose? This project shows you how you can "ask" a sowbug (or pillbug) a similar question in order to learn about a bug's preferences.
Objective
The goal of this project is to investigate what types of micorenvironments are preferred by sowbugs (or pillbugs).
Credits
Andrew Olson, Ph.D., Science Buddies
Sources
This project is based on:
Lent, G.J., 2004. "The Sowbug's Dilemma: Shelter, Shade, or Swamp?" California State Science Fair Abstract [accessed August 8, 2006] http://www.usc.edu/CSSF/History/2004/Projects/J1917.pdf, and
Burnette, R., 1999. The Pillbug Project: A Guide to Investigation., NSTA Press, Arlington, VA.
Share your story with Science Buddies!
I Did This Project!
Please log in and let us know how things went.
Last edit date: 2013-09-27
Introduction
You can often find sowbugs and pillbugs in damp, dark places, like the soil under rocks or decaying wood. Do you think that they are insects? Think again! Unlike insects, they have seven pairs of legs (insects have three pairs). Sowbugs and pillbugs are both crustaceans called isopods, and look fairly similar. Pillbugs are commonly known as "roly-polies" for their defensive behavior of rolling up into an armored ball. Sowbugs don't roll themselves up, and also have a pair of tail-like structures on the last segment of the body. The pictures below (Figures 1 and 2) show examples of each type of "bug."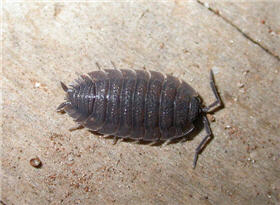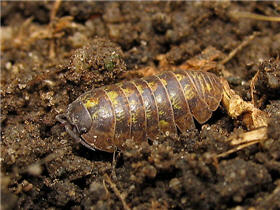 Unlike insects, sowbugs and pillbugs breathe with gills, so they need moisture in order to breathe. In this project, you will observe how these bugs behave in an experimental habitat that you construct in order to learn about their preferred habitat. Your habitat will be divided into compartments that provide different benefits to the bugs, e.g., moisture, or shelter, or food. Where do you think they will spend the most time?
Terms and Concepts
To do this project, you should do research that enables you to understand the following terms and concepts:
Questions
How do sowbugs and pillbugs breathe?
Are sowbugs and pillbugs insects?
What do sowbugs and pillbugs eat?
Bibliography
Here are some sources to get you started on researching isopods:

For photographs, see:

This book is a teacher's guide to using pillbugs in the classroom for science investigation:
Burnette, R., 1999. The Pillbug Project: A Guide to Investigation., NSTA Press, Arlington, VA.
Materials and Equipment
To do this experiment you will need the following materials and equipment:
sowbugs or pillbugs,

you can collect these yourself—look under stones or in decaying wood; you may also find them in gardens, along house foundations and basements (Staff, 2005), or
they can be purchased online from Carolina Biological, part number 143050;

materials for constructing experimental habitat:

two clean, shallow plastic containers,
sharp utility knife or small modeling saw to cut doorways between them,
materials for creating test habitats: soil, water, wood, leaf litter, etc.
Disclaimer: Science Buddies occasionally provides information (such as part numbers, supplier names, and supplier weblinks) to assist our users in locating specialty items for individual projects. The information is provided solely as a convenience to our users. We do our best to make sure that part numbers and descriptions are accurate when first listed. However, since part numbers do change as items are obsoleted or improved, please send us an email if you run across any parts that are no longer available. We also do our best to make sure that any listed supplier provides prompt, courteous service. Science Buddies does participate in affiliate programs with Amazon.com
, Carolina Biological, and AquaPhoenix Education. Proceeds from the affiliate programs help support Science Buddies, a 501( c ) 3 public charity. If you have any comments (positive or negative) related to purchases you've made for science fair projects from recommendations on our site, please let us know. Write to us at scibuddy@sciencebuddies.org.
Share your story with Science Buddies!
I Did This Project!
Please log in and let us know how things went.
Experimental Procedure
Build an experimental habitat for testing sowbug preferences using two shallow plastic containers, placed side-by-side. Cut access holes between the containers where they touch, so that the bugs can pass from one container to the other.
Create separate microenvironments in each container to test the bugs' preferences. Change only one variable at a time. For example, you could try moist soil in one container, and dry soil in the other.
Release a dozen or more bugs into the containers (put an equal number in each container), and allow them to explore while you observe.
At five- or ten-minute intervals, count the number of bugs in each container, and record the results in your lab notebook.
Make a graph of the fraction of bugs in the moist soil container (y-axis) vs. time (x-axis).
Repeat the experiment for several different pairs of conditions. Test preferences for light vs. darkness, potential food sources, different soil types. Use your observations of sowbugs in natural environments to think of additional tests.
Share your story with Science Buddies!
I Did This Project!
Please log in and let us know how things went.
Variations
An alternative method would be to use time-lapse photography to estimate how much time the bugs spend in each available microenvironment when given a choice. How frequently do you need to take pictures to make this work?
Share your story with Science Buddies!
I Did This Project!
Please log in and let us know how things went.
Ask an Expert
The Ask an Expert Forum is intended to be a place where students can go to find answers to science questions that they have been unable to find using other resources. If you have specific questions about your science fair project or science fair, our team of volunteer scientists can help. Our Experts won't do the work for you, but they will make suggestions, offer guidance, and help you troubleshoot.
Ask an Expert
Related Links
If you like this project, you might enjoy exploring these related careers:
Biologist
Life is all around you in beauty, abundance, and complexity. Biologists are the scientists who study life in all its forms and try to understand fundamental life processes, and how life relates to its environment. They answer basic questions, like how do fireflies create light? Why do grunion fish lay their eggs based on the moon and tides? What genes control deafness? Why don't cancer cells die? How do plants respond to ultraviolet light? Beyond basic research, biologists might also apply their research and create new biotechnology. There are endless discoveries waiting to be found in the field of biology!
Read more
Biology Teacher
Life is all around us, in beauty and abundance, and the people who introduce students to how life forms live and interact are biology teachers. Their work helps develop the next generation of doctors, nurses, life scientists, and engineers. Their enthusiasm and appreciation for all life helps students understand their own bodies, and how life forms are all connected to each other and to their environments.
Read more