Science Buddies Blog: July 2009 Archives
Which way does your house face?
In which direction do you sleep?
Your school is which direction from your house?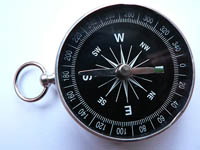 Learning to read a pocket compass - a long-lost art? (Image: Wikipedia)
If you don't know the answers, offhand, to those questions, you are likely not alone. We all know the sun rises in the East and sets in the West. And if you live on a coast and within view of the water, you can probably orient your sense of cardinal direction based on the water. Beyond that, however, your sense of North, South, East, and West may be entirely dependent on a gadget of one form or another.
With GPS becoming more and more commonplace, finding one's way has been reduced to an exercise in inputting starting and ending points and then listening carefully to turn-by-turn directions. Similarly, the availability of print-on-demand directions from a myriad of online mapping services has displaced the act of tracing a route on a printed map, highlighting the highways to take for a vacation or travel, and the art then of later refolding the map so that it can be stowed and used another time.
With technology at hand to manage navigation for us, it's easy to lose track of direction... where we stand, what we face, from which angle the sun hits our yard or bedroom windows.
Getting a better understanding of positioning and learning to "read" and understand natural clues will slow you down enough to really look, think, and process what's involved in knowing "where we are" at any given moment. Even if you don't have a camping trip (or a treasure hunt) planned anytime soon (where you might be able to show off your navigating skills), the following projects are perfect for the long days of summer and good for classes as well.
---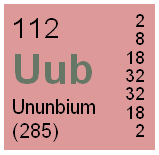 When you're an element - even a "super-heavy" one - getting an official name and spot on the Periodic Table isn't easy. A chemical element, Element 112 was first fusion-created more than a decade ago but only recently found a spot on the table. It was originally known as eka-mercury but has since been going by the temporary name "Ununbium" with a symbol of UuB. The scientists who discovered Unumbium have proposed to the International Union of Pure and Applied Chemistry (IUPAC) that it be officially named Copernicium, after Nicolaus Copernicus, with a symbol of Cp.
(Copernicus, of course, first developed a heliocentric view of the universe, positing the sun at the center rather than the Earth and thus changing the face of astronomy.)
Final approval of the name will take approximately six months, which gives you plenty of time to peruse the system of naming the IUAPC follows when assigning temporary names which they refer to as " Systematic element names."
For more on the history of Element 112 and its 107-111 precursors, see this article from the BBC: http://news.bbc.co.uk/2/hi/science/nature/8093374.stm

---
If you can remember the first time the Moon Walk was performed on stage (and I don't mean anything related to Neil Armstrong) and know the words to "Billie Jean," "Thriller" and "Beat It" even if you haven't heard them in years, you might be of a certain age. Or not. Often hailed as the King of Pop, Michael Jackson's popularity spanned many decades. His death in June took the music industry and fans by surprise, and in the days following, you may have heard Michael Jackson music played over and over again on radio and TV stations.
While Michael Jackson was a persona from the time he was young, his success can be attributed to more than simply stage presence and personality. Michael Jackson was a musical genius.
You know a Michael Jackson song when you hear it because you know the "sound" of him. All of us "make" sound with our voices. All of can "sing," but as we know from watching outtakes from American Idol try-outs... not all of us can sing "well" and few of us have perfect pitch.
Have you ever thought about how it all works? Have you wondered what variables influence pitch and range?
These Science Buddies' science fair project ideas take a look at the mechanics of sound and pitch:
Maybe there is a reason you can't tell a musical A from a C!
---

CNN Health reported last week on a woman who saved her husband's life by using the rhythm and pacing of the Bee Gees 1977 classic "Staying Alive" as a metronome for performing CPR. With no prior CPR training, she kept the song in her head and performed chest compressions for 15 minutes until the paramedics arrived.
Statistics show that 95% of people who suffer cardiac arrest die before reaching the hospital.
Rapid chest compressions, however, can make a difference, as the woman learned from the American Heart Association's (AHA) public service announcement she heard when she called 911 that day.
The AHA's Hands-Only CPR campaign is designed to raise awareness that chest compressions can save lives. The compressions, however, need to be at a certain speed, faster than many people may realize.
As always, being informed is critical and can mean the difference between life and death. For more information about Hands-On CPR, check the Hands-Only CPR FAQs.
The following Science Buddies' science fair project ideas help students gain a better understanding of the heart and its rhythms:
---