Extra Credit with the Fluor Challenge
This Texas-based teacher turns the Fluor Engineering Challenge into an afterschool opportunity to earn extra credit. Students show up and succeed with their Cricket Wicket Knockdown devices.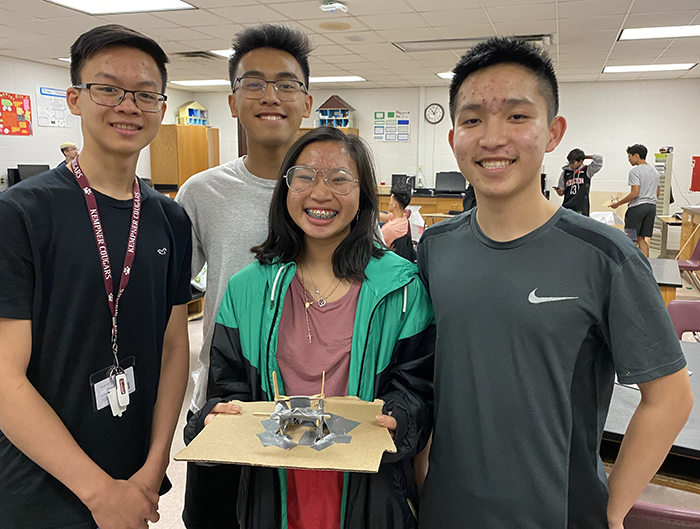 Above: These students at Kempner High School participated in the 2020 Fluor Challenge.
Kelly Bird teaches AP Physics 1 at Kempner High School in Sugar Land, TX. The 2020 Cricket Wicket Knockdown Fluor Challenge is her 3rd year doing the challenge with students. She did the Marble Machine challenge in 2016 and then the Ball Launcher challenge in 2018.
For physics teachers, innovative activities like the Fluor Challenge can be a great way to encourage students to get hands-on with engineering and STEM concepts. Plus, the challenge is fun!
Engineering After School
Kelly took an unusual approach this year to doing the challenge with her high school students. She turned it into an optional, afterschool project that students could do for extra credit. She says she took this step for several reasons. First, the "AP Physics 1 curriculum is too time-intensive to use up any days," says Kelly. At the high school level, especially, teachers are often challenged to find time for extra activities. "First semester, I did an old challenge, and it used up like three days," notes Kelly. It was fun, she says, but three days is a lot of classroom time to devote to something that doesn't fall directly within the class curriculum.
Shifting the challenge to after school helped Kelly with logistics overall. "It really needs to be done at one sitting, otherwise you have to store their contraptions," she says. Leaving all those in-process catapults and launch devices out may work with younger grades and single grade-level classrooms, but in high school, teachers often move from classroom to classroom throughout the day. Leaving devices in a room until the next class is not always possible.
Kelly opened the challenge to her four classes (86 students) during afterschool sessions. Interested students signed up to be on teams of 3-4 students. To maximize their time, Kelly circulated videos, directions, and resources in advance to help students get ready for the engineering activity. Each team then had an hour and a half to complete their Fluor Challenge device and testing, start to finish.
To date, 22 team entries have been submitted from Kempner High School for this year's challenge.
Extra Credit Plus Lots of Fun
Extra credit is often good incentive for students, but Kelly says her students really enjoyed this year's challenge. "I have several students who did not participate yet, but all the kids who did are like 'you guys gotta do it,'" says Kelly. The team whose Cricket Wicket Knockdown device performed best even decided to come back and test again. "They don't get any more extra credit," she laughs. "I think the kids REALLY liked it."
Having done the Fluor Challenge in the past, Kelly says this year's challenge was fun and especially accessible. "This year's challenge was easy for everyone to be successful," she notes. "In an hour and a half, every group was able to at least hit the eraser one time. This was not the case with the 2018 challenge as some groups worked a long time and never were able to complete the objective."
Teachers Make Hands-on Learning Happen
We love hearing from teachers who are enthusiastic about the Fluor Challenge and who go out of their way to make time (even after school) for their students to have the opportunity to explore hands-on engineering in this way. The Fluor Challenge is a great learning opportunity, helps boost teamwork and problem-solving skills, and builds confidence in engineering skills at all ages. Plus, there is $10,000 in prize money, generously donated by Fluor Corporation, awarded in random drawings for entries from certain locations!
"I personally have told SOOO many people about your challenges and how enjoyable they are," says Kelly. "So keep up the work!"
Entries for the 2020 Fluor Challenge can be submitted through the end of the day on March 13, 2020.
For more information about this year's Cricket Wicket Knockdown Challenge, see:
Looking for the submission form? Submit your entries online now!
Categories:
You Might Also Enjoy These Related Posts:
Explore Our Science Videos
Jumping Candle Flame Experiments – STEM activity
Can you solve this air pressure puzzle?
4 Easy Robot Science Projects for Kids