26 Projects to Jump-start Your Makerspace
Inspire students of all ages to enjoy STEM when you let them loose in a creative makerspace! These hands-on engineering activities use simple materials and encourage students to brainstorm, problem solve, and innovate.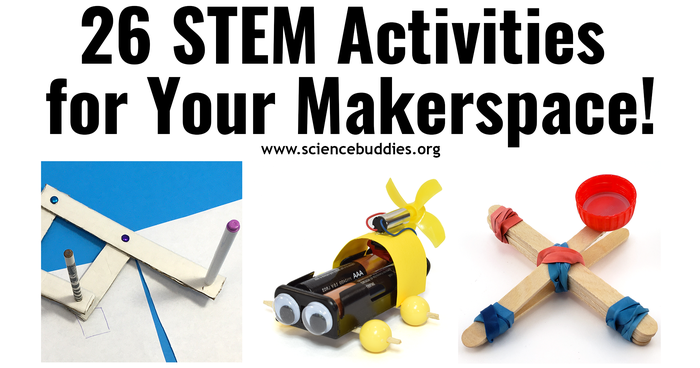 Enabling Exploration
Community makerspaces are collaborative spaces where people of all ages can get hands-on with science and engineering. With an array of materials available, a visit to a local makerspace is an invitation to play with science and engineering and really see how things work.
You may have a makerspace in your school or at the library, or maybe you have an area of your classroom dedicated to maker activities students can explore or certain days of the week on which you turn the room into a makerspace. With a few materials and a surface to work on, garage or basement spaces can easily be recast as home makerspaces, too!
You don't have to have expensive materials to start up your own makerspace. With an assortment of craft supplies, electronics parts, and recycled materials, you can set up a makerspace full of inspiring STEM that kids can explore. Figuring out what will work with the materials available is part of the challenge and part of the fun!
Bookmark or pin these projects to add to your makerspace!
Update! This post has been updated for 2022!
Free Projects and Activities for Your Makerspace
Try one of these STEM projects for creative hands-on science and engineering with a DIY "maker" flair:
Build a Wind-Powered Car: Add a sail to a DIY toy car and experiment to see how changes to the sail make a difference in the car's stability and speed.
Makerspace Learning in Action
The following STEM videos demonstrate some of the highlighted activities:
Ready for More Makerspace Ideas?
See 16 Next-Level Makerspace STEM Projects for projects and activities to help scale your makerspace for students ready for additional challenge.
Categories:
You Might Also Enjoy These Related Posts:
Explore Our Science Videos
Cricket Wicket Knockdown: 2020 Engineering Challenge
Measure Static Electricity With An Electroscope!
Liquid Density Column – STEM Activity