Using FlipGrid with Science Buddies for Remote Learning in Science Class
FlipGrid is a free tool that makes it easy to set up short response-driven STEM assignments. Make a grid of Science Buddies videos to see how it can work as part of your remote learning plan!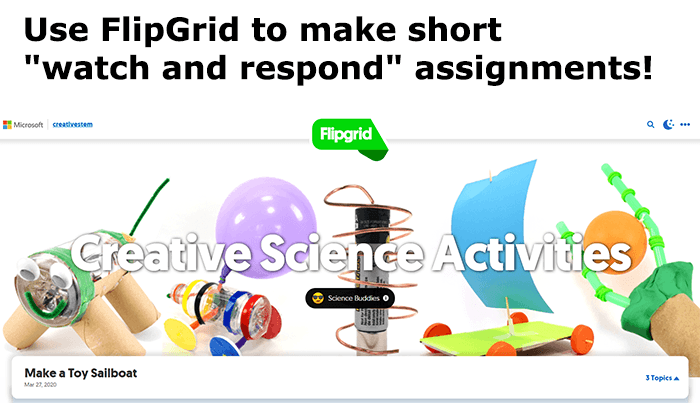 Do you already use FlipGrid? If not, this free tool may be a good addition to your remote learning strategy to engage students with STEM content. FlipGrid is a way for educators to ask questions and enable kids to respond with short videos.
Positioned for Remote Learning
With today's need for remote learning solutions during school closures, FlipGrid is a really compelling way to have kids respond to a question or prompt or have them give feedback on something they've been assigned to watch or read. With short assignments and an easy way for students to "reply" — something that's more fun than just typing and sending a written response — this system can keep students engaged. Even the youngest of students can use FlipGrid to connect with you as the teacher and to see other classmates during these days.
We think FlipGrid is a fun way to set up remote learning assignments and have students actively engaging in conversations with you and their peers so that they are thinking and articulating their ideas out loud — just as they might in the classroom. We especially like the idea of creating "watch and respond" assignments that ask student to watch short STEM videos (like those on our YouTube channel) and answer questions about what happened, what they think will happen, or what steps they might take to solve a problem.
Note: FlipGrid is free to use. After creating a FlipGrid for your students, they will access the grid in a browser. (To record a video, they will need a Microsoft or Google email address or an alphanumerical ID you create for each student.) When they are ready to record a response, they simply push the big green circle with the + icon. They can record their video response following the step-by-step prompts in the app, and it will be added to the FlipGrid. (Students who have audio capabilities but do not have a webcam or video option can still use the tool to record an audio reply.)
Once you have a number of student videos, you can create fun #mixtapes of videos from your students. But first, you need to make a grid!
Using FlipGrid for STEM
FlipGrid is easy to use. You need to:
Create a grid.
Add "topics" to the grid (think of these as prompts or small assignments).
Share the grid with your students.
Watch (and listen to) your students' video responses.
It's that easy!
A FlipGrid Walkthrough for Science Buddies
When using FlipGrid for your classes, you will create groupings called "grids." You can think of a grid as a "unit" for your students, multiple topics related to robotics, DNA Day, or plant science, for example. Or you might think of a grid as a weekly grouping of assignments or enrichment resources.
For this example, we'll be setting up a grid of Creative STEM Activities with the intent to share 3 videos we would like students to watch and respond to. (Tip: This kind of short watch-and-respond activity can work well for remote learning!)
FlipGrid has tutorials in their Getting Started Guide, but we will walk you through the basics here.
Create a grid: After logging in, click the button to "Create New Grid." Then follow the prompts to name the grid, set the grid type (who can view the grid), and, optionally, customize the URL for the grid.

We have titled this sample grid "Creative Science Activities" and set it to be public. (Tip: You will want to review the privacy options to determine the best approach for your students.) We also selected a custom URL.

(Note: You can always go back and edit these details later. You can also "personalize" your grid by uploading or selecting a cover image.)

Add a topic: Now that you've made your grid, you can start adding topics. Topics are the individual prompts you want your students to "respond to" using FlipGrid. You'll need at least one topic to share with students, but depending on how you plan to use the FlipGrid tool for remote learning, your grid might have several topics.

Tip: When you create a new grid, it will automatically have a single "say hello" topic. You can remove this using the Action dropdown menu.

To add a topic, click the Add New Topic button. You'll have to at least fill in the "essentials" (shown below). These include the title of the topic, the prompt (a short description), and the "recording time" (the maximum length for video responses). You can also add a "Focus" media source. For our example, we want students to watch and respond to a video, so we've selected the YouTube icon and entered the URL for the STEM video.

The "Prompt" allows 500 characters, so you have plenty of room to outline what you want students to do. Be sure that you ask specific but open-ended questions that will spark a response. You want to encourage students to say more than "yes" or "no"!

If you click the "More Options" button at the bottom of the "Create New Topic!" screen, you'll have access to a number of other settings for the topic, including whether or not students can respond to other videos. From the "More Options" screen, you can also add up to 9 supplemental links. (Tip: You can always reach these options later by choosing to "edit" the topic.)

Once you've filled in at least the "essentials," click "Create Topic" to add this topic to your grid.

Here's what our first topic looks like (from the educator's view):

We've gone on to add a few more topics, so our larger grid looks like this:

Tip: When you add a new topic, it appears at the top of the list. You can reorder the list however you want by simply dragging the topics to move them around.

Share with students: Use the "share" button to share with students. You can share the whole grid (by using the "share" button at the top near the grid title) or any individual topic (by using the individual "share" buttons). There are multiple ways to share, including sending students the link via email or adding it to Google Classroom (or your learning management system).

Note: When you share a specific topic, students also have access to all other topics from a dropdown menu. They will see the topic you shared as the "open" topic when following the link.

When students visit a FlipGrid topic, they see something like this:

When students are ready to record their response, they click the green circle with the + that appears below the topic information.
Lots of Options for Adding STEM Topics on Your Grids!
If you think creatively about what you want students to "respond to" with a video via FlipGrid, you can find lots of creative ways to use Science Buddies' free resources as part of your grids. Some options include:
Try it Out First
If this is your first time using FlipGrid, we encourage you to set up a topic and record your own video response to see how the recording process works. You also have the option to add drawings, stickers, and photos, in addition to making the recording. Trying it out a time or two yourself will help you anticipate some of the questions your students may have.
Have fun! If you set up a FlipGrid for Science Buddies resources, we would love to see. Send us the URL or a screenshot of your STEM FlipGrid!
You Might Also Enjoy These Related Posts:
Explore Our Science Videos
Make a Water Strider - STEM Activity
Why Won't it Mix? Discover the Brazil Nut Effect
Build a Simple Electric Motor