Science on the Move: One if By Land, Two if By Sea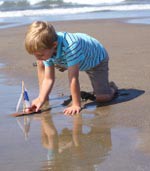 Paper airplanes are popular for all ages, and in my house we're continually at work testing new models or trying to memorize the steps of favorite, tried-and-true designs like the
Nakamura Lock
. Moving outside, however, opens up aerodynamic and hyrdrodynamic exploration even more, making these kinds of hands-on science projects perfect for summer days at the park, near a small stream, or poolside.

Here are a few projects suitable for all ages, with parental guidance and assistance, to try this summer:
Planes:
Paper airplanes offer endless variety for exploring aerodynamic principles, but you can take your flight dynamics to new heights when you add a bit of glue and build thicker and sturdier planes... layer by layer. If you've assembled a balsa wood glider, you'll see similarities in design as you begin modeling your own laminated planes and testing flight patterns to see which features add stability, flight duration, or distance.
What Makes a Good Aerodynamic Design? can help get you started thinking about assembly and designing your trials. (Difficulty 5-7)
Boats:
Switching to water and hydrodynamics, milk cartons put boat design on the radar—and float some recyclables! After watching a PBS DragonFly video, roll up your sleeves, rinse out some empty milk cartons, and find out which features best float your boat. In the Milk Does Your Body and a Boat Good—Design Your Own Milk Carton Boat project, create and test a variety of boat designs, ranging from a simple raft to a boat with a V-shaped hull. (Difficulty: 3)

Hovercrafts:
To switch things up even more, give the science of hovercrafts a whirl! How Does a Hovercraft Work? will walk you through constructing your own small balloon-powered hovercraft from readily available materials: a CD, a recycled bottle, and a balloon. As you might guess, how big you blow up the balloon will be a key factor in the performance of your hovercraft! No water is required, but you might try this one poolside! (Difficulty: 1)


Categories:
You Might Also Enjoy These Related Posts:
Explore Our Science Videos
Shrink a Potato with Osmosis – STEM activity
Underwater Color Bursts – STEM Activity
The First Cartoon: Make Your Own Thaumatrope!