16 Science Lessons About Visible Light
Use these free STEM lessons and activities to teach students about the science of visible light.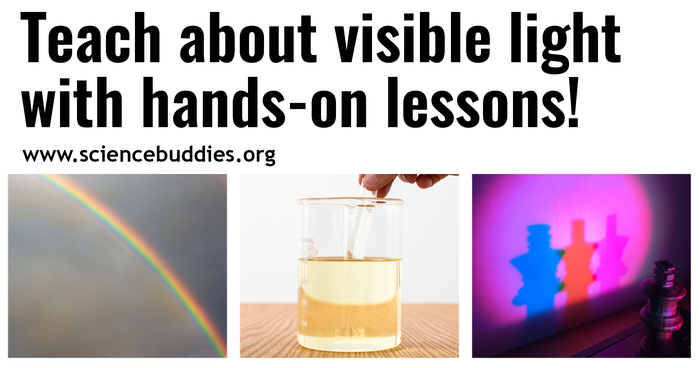 The free STEM lessons and activities below help educators teach K-12 students about the science of light, specifically, visible light, with hands-on exploration and active learning.
The resources below have been grouped by grade band to help educators select the experiments and lessons that best fit their needs. (Note: Our lesson plans offer NGSS-alignment information for specific grades. They can still be adapted by educators for use in other classes. Our informal STEM activities have been designed for use with a wide range of ages. While we have loosely sorted the resources below into grade levels, we encourage you to review all grade levels.)
For a summary of important concepts and key terms to review with students, see the information and vocabulary words at the bottom of this resource.
Note: Science Buddies Lesson Plans contain materials to support educators leading hands-on STEM learning with students. Lesson Plans offer NGSS alignment, contain background materials to boost teacher confidence, even in areas that may be new to them, and include supplemental resources like worksheets, videos, discussion questions, and assessment materials. Activities are simplified explorations that can be used in the classroom or in informal learning environments.
Lesson Plans and Activities to Teach About the Science of Visible Light
Light Science Lessons and Activities for Elementary School Students, Grades 1-3
In the Can You See Through Me? lesson, students experiment with materials to see how they absorb, scatter, transmit, or reflect light. As they observe how much light passes through a material, students correlate their findings with whether a material is labeled as translucent, transparent, or opaque. Questions: Are there any materials that allow all light through? Are there any materials that absorb all light?




What happens when you walk down the street and the sun is in front of you? A shadow appears behind you! Objects that block light cast shadows. In the Explore Shadows with a Shadow Play lesson, students use shadow puppets to explore how shadows are made and how they can be controlled to change their size or direction. For an informal version of this science lesson, see the Making Shadow Puppets activity. Questions: How can you make a shadow taller? Do translucent objects cast shadows? What determines how dark a shadow appears? (Note: This lesson is also part of our Imagine Your Story - STEM Activities for Storytellers of All Ages! collection.)




In the Mirror, Mirror on the Wall... lesson, students experiment to see how reflective surfaces like mirrors change the direction of light. Using what they learn, students experiment with bouncing light from a flashlight off of reflective surfaces and then see if they can redirect light in a series of mirror bounces to reach from a starting point to a target location in the room. (Note: This lesson is NGSS-aligned for 1st grade. For a more complex version aligned for middle school, see the Solve a Mirror Maze Challenge with the Law of Reflection lesson.)



Light Science Lessons and Activities for Grades 4-8
Physics of Light Lessons and Activities for High School Students
Teaching About Visible Light and the Physics of Light in K-12
When teaching about visible light, students learn that light is a form of energy and travels in waves (similar to sound). As students explore the physics of light, they are introduced to the electromagnetic spectrum and the portion that constitutes visible light. In a variety of hands-on experiments and activities, students can explore the absorption, transmission, reflection, refraction, and scattering of light and what it means for materials to be transparent, translucent, or opaque. Combining understanding of the electromagnetic spectrum, the wavelengths of different colors of light, and how light moves through mediums, students can explore questions related to sky colors, rainbows, and prisms and experiment with mixing light to create colorful light displays. Students can explore the science behind kaleidoscopes, mirrors, and infinity mirrors and can investigate how the speed of light may change when passing through certain mediums. In learning about the intensity of light, students can measure light using various devices, build and use a cell phone spectrophotometer, and investigate the relationship between light intensity and distance from the light source.
Vocabulary
The following word bank contains words that may be covered when teaching about visible light using the lessons and activities in this resource.
Angle of incidence
Electromagnetic radiation
Electromagnetic spectrum
Frequency
Illuminance
Index of refraction
Inverse square law
Infinity mirror
Infrared
Joly photometer
Law of reflection
Law of refraction
Light
Light absorption
Light intensity
Light transmission
Light wave
Lux
Opaque
Photometer
Photon
Reflection
Refraction
Scatter
Spectrophotometer
Speed of light
Snell's law
Total internal reflection
Translucent
Transparent
Ultraviolet
Visible light (visible spectrum)
Wavelength
Thematic Collections
Collections like this help educators find themed activities in a specific subject area or discover activities and lessons that meet a curriculum need. We hope these collections make it convenient for teachers to browse related lessons and activities. For other collections, see the Teaching Science Units and Thematic Collections lists. We encourage you to browse the complete STEM Activities for Kids and Lesson Plans areas, too. Filters are available to help you narrow your search.
Development of this resource to support educators teaching K-12 STEM curriculum topics was made possible by generous support from the Donaldson Foundation.
Categories:
You Might Also Enjoy These Related Posts:
Explore Our Science Videos
The Ambiguous Cylinder Illusion
Aluminum Foil Boat Design - STEM Lesson Plan
Build a Self-Driving Arduino Car