Balloon-Powered Car Challenge—2015 Fluor Engineering Challenge
Check out the Winners and High Scorers!
Designed to help students experience how real-life engineers design solutions and to show students first-hand how fun engineering can be, the 2015 Fluor Engineering Challenge asked students to design, build, and test their own balloon-powered cars using limited materials. Science Buddies and Fluor were thrilled to see the huge range of creative solutions engineered by K-12 students around the world in response to the challenge. Figure 1 shows a small sampling of the hundreds of balloon-car photos we received. Congratulations to the team from Coppell Middle School East in Coppell, Texas, whose team entry won the random drawing for the 2015 Fluor Engineering Challenge and earned $1,500 USD from Flour for their school!
Fluor offered additional prizes in each of four locations (Canada, Orange County, Houston, and Greenville).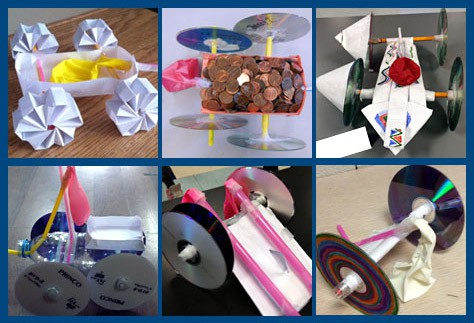 Figure 1.
2015 Fluor Engineering Challenge balloon-car samples.
Continue to Challenge Yourself
Even though the 2015 Fluor Engineering Challenge is over, the Balloon-Powered Car Challenge remains available for all students to try their hands at. Simply follow the online instructions to gather materials, design, build and test your version of a balloon-powered car.
Curious about how your car stacks up to entries from the 2015 Fluor Engineering Challenge? Figure 2 shows the distribution of scores across all entries received. The highest peak in the graph corresponds to the 20% of entries which scored between 4001 and 5000 points. In general, most entries (61% to be exact) scored 6000 or less points. The top ten highest scores are listed in Table 1. No matter what your score, a balloon car that can successfully roll along is worth a pat on the back!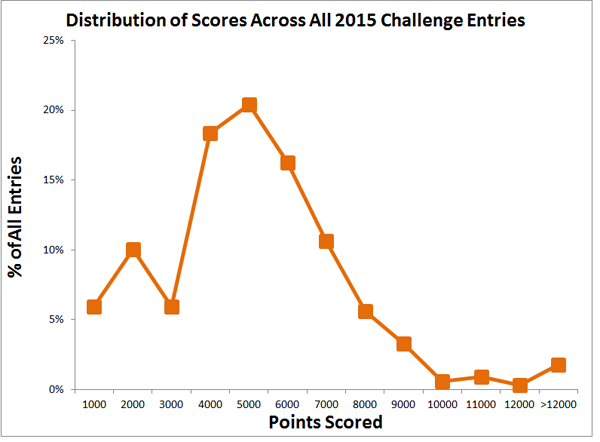 Figure 2.
2015 Fluor Engineering Challenge score distribution.
Top Ten Balloon-Car Scores
Team Name
Student Age(s)
Score
TESLA 2015
14
34,000
N/A
14-16
19,420
Anonymous
14
17,340
GTR
12-13
15,500
High Speed
15-16
13,340
David Crockett Middle School
11-14
12,290
Rollin'
15
11,190
Naomi
11
10,460
The Schilling Shuttle
11
10,420
The Jensen Jalopy
11
10,090
Table 1.
2015 Fluor Engineering Challenge top ten scores.
If you are looking for even more fun engineering challenges, check out the 2016, 2017, and 2018 challenges and come back early next year to find out about the 2019 Fluor Engineering Challenge!
Explore Our Science Videos
Cotton Ball Launcher - Fun STEM Activity
How Antibiotic Resistant Bacteria Take Over – STEM activity