Marble Machine Challenge—2016 Fluor Engineering Challenge
Check Out the Drawing Winners and High Scorers!
The 2016 Fluor Engineering Challenge, held February 11 – March 11, 2016, asked students to design marble machines capable of sorting a mixture of 6 mm and 12 mm spheres into separate cups. With over 600 entries worked on by more than 1700 students, the range of solutions was enormous! We were impressed by the ingenuity and perseverance students demonstrated, and enjoyed seeing each and every entry. Figure 1 shows just a small sample of the hundreds of marble sorting machines students created.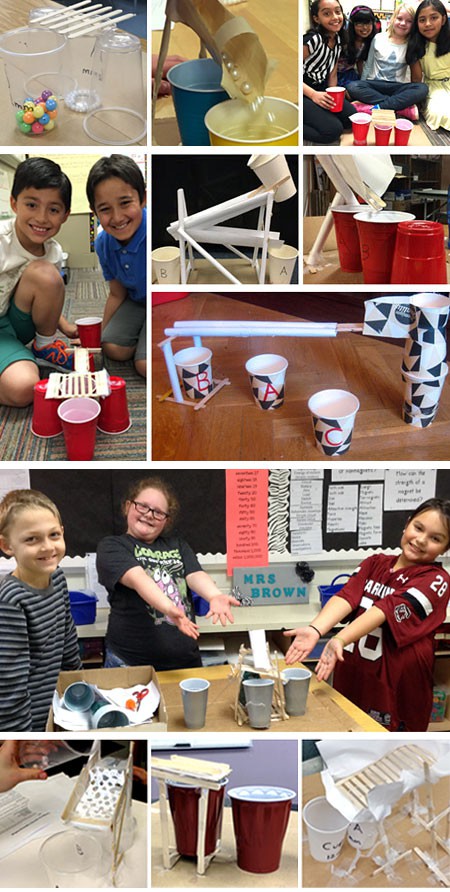 Figure 1.
A few examples of the marble sorting machines built during the 2016 Fluor Engineering Challenge.
All eligible team entries were placed into random prize drawings based on their geographic location. Congratulations to the ten winning teams listed in Table 1 whose names were drawn from the eligible pools! Each of these teams earned $1,000 USD from Fluor for their school or afterschool program.
Team
School / Program
Houston, TX
The Dragons
Attack Poverty in Richmond, TX
Greenville, SC
MCK
Mauldin High School in Greenville, SC
Orange County, CA
Peanut Butter and Jelly
Mission Basilica in San Juan Capistrano, CA
Calgary, Alberta
The Happy Stallions
Notre Dame High School in Calgary, Canada
United States (including Puerto Rico)
Legends
Los Alisos Intermediate in Mission Viejo, CA
The Undecided
Coppell Middle School North in Coppell, TX
Indian Creek A Team
Indian Creek High School in Wintersville, OH
International
Bobbington
Traditional Learning Academy in Delta, BC, Canada
The Cercons
TBD
Vicfia Fluor Team
TMS School in Richmond Hill, Ontario, Canada
Table 1.
Drawing winners of the 2016 Fluor Engineering Challenge
Continue to Challenge Yourself
Even though the 2016 Fluor Engineering Challenge is over, the Marble Machine Challenge remains available for all students to try their hands at. Simply follow the online instructions to gather materials, design, build and test your version of a marble sorting machine.
Curious about how your machine stacks up to entries from the 2016 Fluor Engineering Challenge? Figure 2 shows the distribution of scores across all entries received. The highest peak in the graph corresponds to the 17% of entries that scored less than 500 points. In general, most entries scored 4580 points or less. The top ten highest scores are listed in Table 2. No matter what your score, a marble machine that is built of the limited materials allowed and can successfully sort even some of the spheres is something to be proud of!
If you are looking for even more fun engineering challenges, check out the 2015, 2017, and 2018 challenges and come back early next year to find out about the 2019 Fluor Engineering Challenge!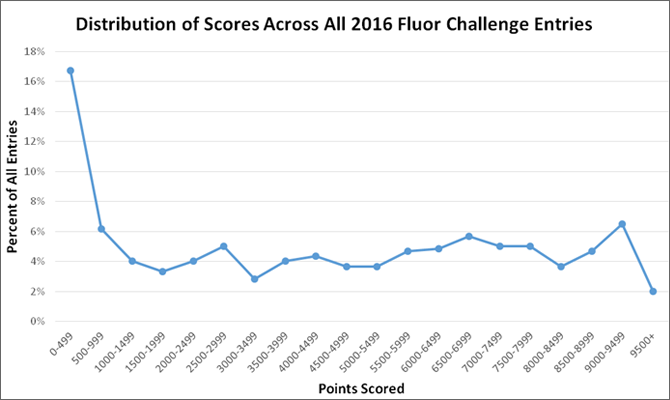 Figure 2.
2016 Fluor Engineering Challenge score distribution.
Top Marble Machine Scores
Team
Age(s)
Score
Christopher's Clemson Sorters
16
9880
ABET
18
9785
thebom.com
13
9715
Lejit Pandaz
15-17
9655
Knukelés
13-14
9645
Angelica Awesomeness
13
9590
The Rebels
12-14
9530
DanRich Duo
15
9515
CNT
13
9495
Rutabaga
15
9470
Orange Extreme
9-11
9460
Table 2.
2016 Fluor Engineering Challenge top scores.
Fluor is a registered service mark of Fluor Corporation. All rights reserved.
Explore Our Science Videos
Build a Light-Tracking Bristlebot
Jumping Candle Flame Experiments – STEM activity
DIY Mini Drone Part 7: Automatic Balancing