Follow the Flow Challenge—2017 Fluor Engineering Challenge
Congratulations to the Drawing Winners and High Scorers!
Over 3000 students from 11 countries participated in the 2017 Fluor Engineering Challenge. Starting with a few simple materials (cups, aluminum foil, tape, and popsicle sticks) students came up with creative ways to build a water flow system to move beads through terraced layers. A small sampling of the hundreds of entries can be seen in Figure 1. We were impressed with the range of solutions students came up with, as well as the innovative spirit and 'can-do' attitude demonstrated by teams around the world!
Figure 1.
A few examples of water flow solutions built during the 2017 Fluor Engineering Challenge.
All eligible team entries were placed into random prize drawings based on their geographic location. Congratulations to the ten winning teams listed in Table 1 whose names were drawn from the eligible pools! Each of these teams earned $1,000 USD from Fluor for their school or afterschool program.
Team
School / Program
Houston, TX
Engineering Robotics
Southwest Glen Mission
Greenville, SC
The KLT Waterworks
Sevier Middle School
Orange County, CA
Outlawed
Kennedy High School
Calgary, Alberta
The Wall
Chinook Council Scouts
United States (including Puerto Rico)
Raindrop
Los Alisos Intermediate
The Waterworks
YBH of Passaic
Galaxy
Rabbi Pesach Raymon Yeshiva
International
Girls Rule Engineering Club
École Victoria-Albert School
TerraSys
De La Salle Santiago Zobel School
Pealed Potatoes
Wisdom College
Table 1.
Drawing winners of the 2017 Fluor Engineering Challenge
Students Embrace the Challenge
Students who entered the 2017 Fluor Engineering Challenge learned, firsthand, what it means to be an engineer and to collaborate with others to solve a problem and improve a solution. Here are a few examples of what students told us about their experience doing this year's water flow challenge:
"I really liked the planning phase of building. It felt good to design methods of water flowing, to see if it worked, and If it didn't, then we would re-design it, and that was the fun part."
"Our favorite part of the Flour Engineering Challenge was constructing our design and testing it to see how well it worked."
"Our favorite part of the challenge was going through the engineering process and creating our product. When a problem arose, we would change and think of a way out. Working as a team really helped."
"My favorite part of this challenge was actually building the model of the Banaue Rice Terraces and how much fun it was to see the water going down with the beads."
"We got to experience the problem solving that engineers do when they work."
The top 10 scores for the 2017 Fluor Challenge are shown in Table 2. All scores are validated by Science Buddies staff based on submission photos and the Challenge rules. The theoretical maximum for this challenge, given the limitation of 9 levels, is less than nine thousand points. Regardless of score, all entries that met the geographic requirements were entered in the random drawings.
Top Water Flow Solution Scores
Team
Age
(average)
Score
Team ParaSaKinabukasan
17
8580
SS Squad
14
8380
RAMs RHS S.L
17
8370
Water Flo
14
8350
B.A.R.S
13
8310
Manon's Project
17
8210
Elements
13
8200
Threeos
11
8180
Waterspirals
14
8180
Homeslice
13
8100
Fantastic Four
16
8090
Wacky Waving Inflatable Arm Men
14
8030
Table 2.
2017 Fluor Engineering Challenge top scores.
Continue to Challenge Yourself
Even though the 2017 Fluor Engineering Challenge is over, students can still try their hands at the Follow the Flow engineering activity! Simply follow the online instructions to gather materials, design, build, and test your version of a terraced water flow system.
If you are looking for even more fun engineering challenges, check out the 2015, 2016, and 2018 challenges and come back early next year to find out about the 2019 Fluor Engineering Challenge!
Meet the Team of Fluor Engineers Who Came Up With the 2017 Fluor Engineering Challenge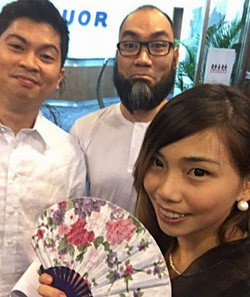 Fluor employees who came up with this year's challenge include structural engineers Christopher Reybuenan (left) and Benson Angeles (right), & civil engineer Leann Ababon-Sanggalang.
It is Fluor's tradition to hold an internal Friendly Competition between its engineers every year. The winning team gets bragging rights, ownership of the official trophy for the year, and the honor of devising the next challenge. When Team Wabu, pictured, from Fluor's Manilla office in the Philippines won, they knew what they wanted to do next:
"The team came up with an idea [to] showcase something related to the abundant Filipino heritage, hence, the Banaue Rice Terraces, a man-made, historical structure that the Philippines is very proud of. With this challenge, the team hopes that it can stir up the minds of fellow engineers to come up with their best designs and at the same time have fun."

– Leann, Benson, and Christopher, members of Team Wabu
With the help of three other colleagues from the Manilla office, the engineers on Team Wabu spent many hours perfecting the challenge details. Team Wabu found that there was one major similarity between their everyday engineering jobs, winning the Friendly Competition, and designing the next one—engineering works best as a team effort! The result of their team effort was a rousing competition between fellow Fluor engineers. Now it is your turn to gather your team, collaborate, and have fun!
Fluor is a registered service mark of Fluor Corporation. All rights reserved.
Explore Our Science Videos
Social Distancing Simulator with Scratch
DIY Mini Drone Part 2: Altitude Control Circuit