Volleyball Machine—2019 Fluor Engineering Challenge
Congratulations to the 2019 Fluor Challenge Drawing Winners and High Scorers!
More than 4,300 students from 10 countries participated in the 2019 Fluor Engineering Challenge—our fifth anniversary of this annual event. Challenged to create a volleyball machine consisting of two devices, separated by a paper net, which could launch and return a ping pong ball, students brainstormed and built innovative solutions out of simple materials like cups, rubber bands, paper, tape and craft sticks. Striving to minimize the materials used and maximize the number of successful back-and-forth volleys required iterative problem solving and persistence and led to some truly creative solutions.

Figure 1.
A few of the teams who submitted Ball Launcher solutions for the 2019 Fluor Engineering Challenge
All eligible team entries were placed into random prize drawings based on geographic location. Congratulations to the twenty winning teams listed in Table 1 whose names were drawn from the eligible pools! Each of these teams earned $1,000 USD from Fluor for their school, organization, or afterschool program.
Team
School / Program
Houston, TX
MKG 6Enrichment
St. Laurence Catholic School
Greenville, SC
Candy Gods
Summit Drive Elementary
Orange County, CA
David
Samueli Academy
Calgary, Alberta
Guide Group 3
Cybermentor – Pathfinder STEM Day
United States (including Puerto Rico)
Team Fluff
Wedgwood Elementary School
Sra Batista – Malia, Lola & Lalaih
Viejo Elementary
IBA Tanks
Unioto Elementary
Science Experts
Jonesboro Visual & Performing Art Magnet
Unbeatables
Bess Campbell Elementary
Caesar Dressing Lovers
The Moriah School
CF & TR
Slavens K-8 School
We Don't Know What We Are Doing
Horton Middle School
Team Team
Arizona Agribusiness ad Equine Center
Rosie Gar-bage III
John Curtis Christian School
Team DEAW
Halifax Elementary
The Ballers
Wayne High School
International
Taylor & Olivia Team
Goomeri State School
Super N
John De Graff Elementary School
Team #craftycandygirls
Cloverdale Traditional — SD 61
Cupaccino
Chinook Council Scouts
Table 1.
Random drawing winners of the 2019 Fluor Engineering Challenge
Top Scores for the 2019 Fluor Engineering Challenge
The Fluor Challenge is open to students in grades K-12. The top 10 scores, overall, for the 2019 Fluor Challenge are shown in Table 2. All scores are validated by Science Buddies staff based on submission photos and the Challenge rules. Regardless of score, all entries that met the geographic requirements were entered in the random drawings.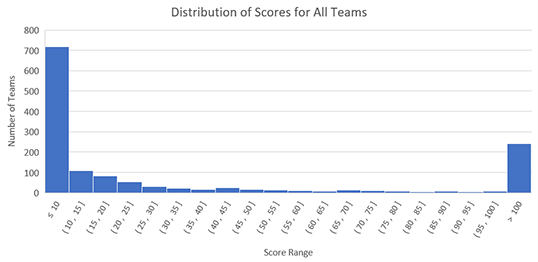 "The best thing about the Volleyball challenge was that it gave us a realistic look at what engineers have to face from the actual building to deciding between costs and value to teamwork. We learned a lot."

(Team Spike, St Clare School)
Top Volleyball Machine Scores
Team
Age
(average)
Score
Decomposers
10
2,881
Team Golden French Fries
10
2,545
Nightmare
14
2,004
Rabbit 101
9
1,998
Demons
15
1,951
Udaan
16
1,881
Fresaiah
15
1,877
Rainbow Warriors
8
1,560
Team Hat
12
1,547
Team GG
14
1,527
Table 2. 2019 Fluor Engineering Challenge top scores
2019 Fluor Challenge Scores by Age
Students entering the Fluor Challenge work in teams of up to four students. To recognize the hard work students did creating and testing their solutions and to give students a better sense of how their solutions and scores compare to other students of similar age, the tables and graphs below show the top scores and score distribution for submissions from ages 6-10, 11-14, and 15-18. (Note: The age used for each team is the average age of all members on the team.)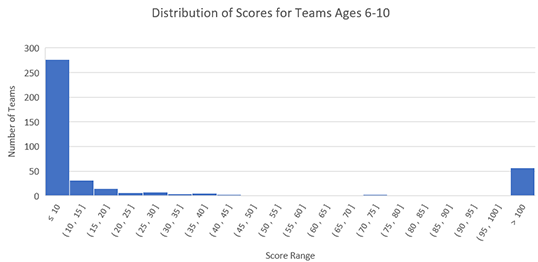 "Our favorite part about this challenge was the building and trying to work together and learning from our mistakes."

(Junior Rainbow Magic Keepers, Rio Vista Elementary)
Top Volleyball Machine Scores—Ages 6-10
Team
School/Program
Score
Decomposers
St Mary Star of the Sea School
2,881
Team Golden French Fries
Rio Vista Elementary
2,545
Rabbit 101
Brainworks International School
1,998
Rainbow Warriors
Brainworks International School
1,560
The Engineers
Rio Vista Elementary
1,463
HTET MYAT KO
Brainworks International School
1,193
NYAN YE LIN
Brainworks International School
1,103
Dream Works
Brainworks International School
1,101
Just Us
Brainworks International School
1,053
Starlight
Brainworks International School
1,027
Table 3. 2019 Fluor Engineering Challenge top scores for ages 6-10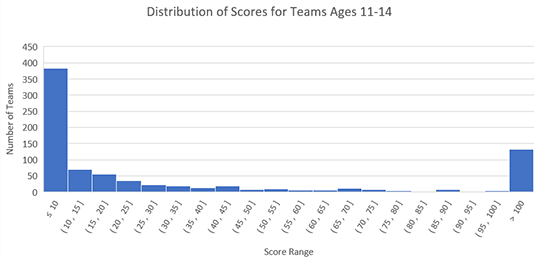 "Our favorite part, was having the satisfaction of having something we built work and work well. After, going through many steps of trial and error, and even using different designs to optimize the affect of our machine, it was pleasing to see that we could shoot the ball over the net many times."

(Team Epic Gamers, Paul Laurence Dunbar Middle School)
Top Volleyball Machine Scores—Ages 11-14
Team
School/Program
Score
Nightmare
Brainworks International School
2,004
Team HAT
Brainworks International School
1,547
Team GG
Brainworks International School
1,527
Team SM
Brainworks International School
1,385
The Chow Chow
Brainworks International School
1,379
The Group 42
Brainworks International School
1,279
The Girlz
Brainworks International School
1,200
THET PAING TUN
Brainworks International School
1,186
Fish Lasagna
Brainworks International School
1,184
Violet
Brainworks International School
1,184
Table 4. 2019 Fluor Engineering Challenge top scores for ages 11-14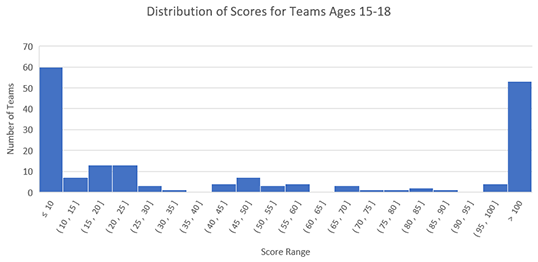 "Our favorite part of the 2019 Flour Engineering Challenge was when our machine finally worked. We tried multiple different designs and strategies, but it proved to be much harder than we originally thought. When we finally got a good volley going, we were extremely excited. Every time we beat our top score we'd jump around and cheer."

(Team Beta, Governor's Career and Technical Academy for Engineering Study)
Top Volleyball Machine Scores—Ages 15-18
Team
School/Program
Score
Demons
Brainworks International School
1,951
Udaan
Swatantra Talim Foundation
1,881
Fresaiah
Brainworks International School
1,877
Team Sandra
Brainworks International School
1,385
Team H & MS
Brainworks International School
1,289
Lethal
Brainworks International School
1,244
Doldaegalreedul (rockheads)
AG Admissions
1,242
Team N.J.S
Brainworks International School
1,070
The below city
Calamba City Senior High School
1,038
Jaku
Calamba City Senior High School
1,000
Table 5. 2019 Fluor Engineering Challenge top scores for ages 15-18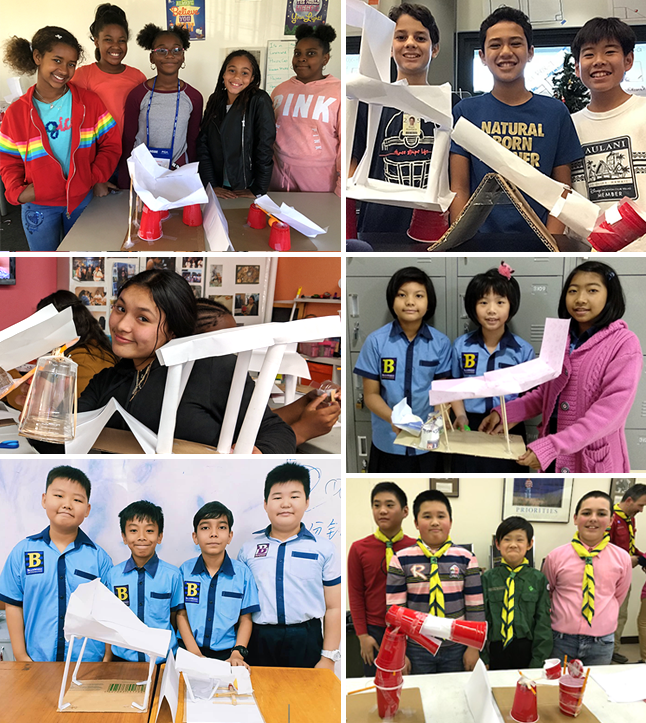 Figure 2.
Some of the teams who submitted Volleyball Machine solutions for the 2019 Fluor Engineering Challenge
Students Embrace the Challenge
Students who entered the 2019 Fluor Engineering Challenge had the chance to explore, firsthand, what it means to be an engineer and to collaborate with others to solve a problem and improve a solution. Here are a few examples of what students (and their teachers) told us about their experience doing this year's Volleyball Machine Challenge:
"My favorite part of the challenge was the 'team-building' skills that each member of the team acquired. Each member had to find their own 'role' and carry it out to help the team achieve success. It was amazing to see their enthusiasm and the creative thinking involved in each team's design. Students took ownership of their machines and took pride in what they were able to accomplish." (Teacher, Clara Barton Elementary School)
"Super pumped to be able to accomplish this challenge even though it took a LOT of trial and error before finding a design concept that worked." (STEAM Team Color Code, Stillwater Christian School)
"Love all the science and math tie ins!" (Teacher, William Mason Cooper Elementary)
"Never have I seen this group of students so off the charts excited about accomplishing a STEAM challenge. They wanted to keep trying to increase the number of times they could volley their ball, but alas, I had to make them leave so they wouldn't miss their lunch time." (Teacher, Barton Creek Elementary)
"I saw enormous growth in their thinking and reasoning skills as they worked through issues with their designs." (Teacher, Brookstone School)
"My class is always excited for hands-on science activities, but nothing prepared me for their enthusiasm towards this challenge." (Teacher, Garden City School)
"Our favorite part of the Fluor Challenge was the ups and downs of the project. We really enjoyed when our contraption worked but found that when the contraption didn't work we could always find a way to fix it. We really liked how we could work together to complete a task like this that we never imagined we could do." (Team AME, Punahau School)
"My favorite part of the 2019 Fluor Engineering Challenge was the limit in the amount of materials you can use. In other engineering competitions, usually the teams with the best materials won, but the point penalty for using too many materials led this to be a fun challenge. Everyone has an equal chance to win, and innovation was tested, rather than the quantity of materials. Making the challenge a goal to make a cheap and effective mechanism is what allowed me to enjoy this project. Thank you!" (Educator, AG Admissions)
"TEAM work rocks! We loved the challenge and 'doing science.' We demonstrated what we CAN DO and loved the results. Thank you for challenging us to do our best!" (Team Bayou Boys, John Curtis Christian School)
Continue to Challenge Yourself
Even though the 2019 Fluor Engineering Challenge is over, students can still try their hands at the Volleyball Machine Challenge engineering activity! Simply follow the online instructions to gather materials, design, build, and test your version of a volleyball machine.
If you are looking for even more fun engineering challenges, check out the 2015, 2016, 2017, and 2018 challenges and come back early next year to find out about the 2020 Fluor Engineering Challenge!
If you have questions about the Fluor Challenge, please email us at fluorchallenge@sciencebuddies.org.
Meet the Team of Fluor Engineers who Created the 2019 Fluor Engineering Challenge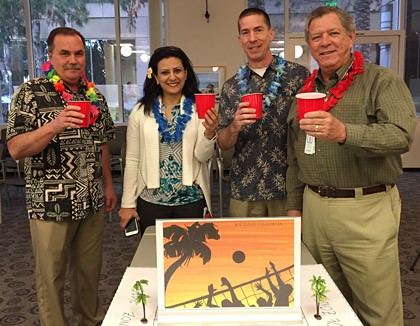 Fluor employees who came up with this year's challenge include engineers (from left to right) Michael Bower, Tina Tajalli, Mark Thies, and Rafael Villegas.
Fluor holds a Friendly Competition between its engineers every year. The winning team then gets the honor of devising the company challenge for the next year.
Michael Bower, Tina Tajalli, Mark Thies, and Rafael Villegas, four engineers from Fluor's Southern California USA office, are the inspiration behind the 2019 Fluor Engineering Challenge. When they sat down to design the challenge, Michael, Tina, Mark, and Rafael wanted to pay tribute to the local beach culture. What they developed is an engineering challenge based on beach volleyball. In the challenge, two devices keep a ping pong ball (representing a volleyball) in play, going back and forth over a paper net. The result is a fun and sometimes wacky engineering challenge!
Although they come from different engineering backgrounds and have different jobs, Michael, Tina, Mark, and Rafael (along with many other engineers at Fluor) work together on big projects. It takes the combination of their different skills (along with those of other engineers at Fluor) to design and build complex systems like oil refineries and power plants. The ability to work well as a team helped them come up with the Volleyball Machine Challenge! Students can read more about Michael, Tina, Mark, and Rafael's jobs, hobbies, and what got them interested in engineering and then use this special career worksheet to explore the rich world of engineering.
Fluor is a registered service mark of Fluor Corporation. All rights reserved.
Explore Our Science Videos
The Jumping Flame Trick Revealed! | #VeritasiumContest
Making Ice Cream with Science