Cricket Wicket Knockdown—2020 Fluor Engineering Challenge
Congratulations to the 2020 Fluor Challenge Drawing Winners and High Scorers!
More than 4,900 students from 8 countries participated in the 2020 Engineering Challenge to create a machine capable of repeatedly launching a ball to knock down a wicket. Over 1750 teams built their machines from simple materials (like cups, craft sticks, rubber bands, tape, and cardboard tube) and then competed to see how many times they could knock down a wicket in a three-minute window. We were impressed by the wide range of creative designs, perseverance, and excellent teamwork we saw from the participants. Figure 1 shows a small sample of the hundreds of fantastic knockdown machines students created.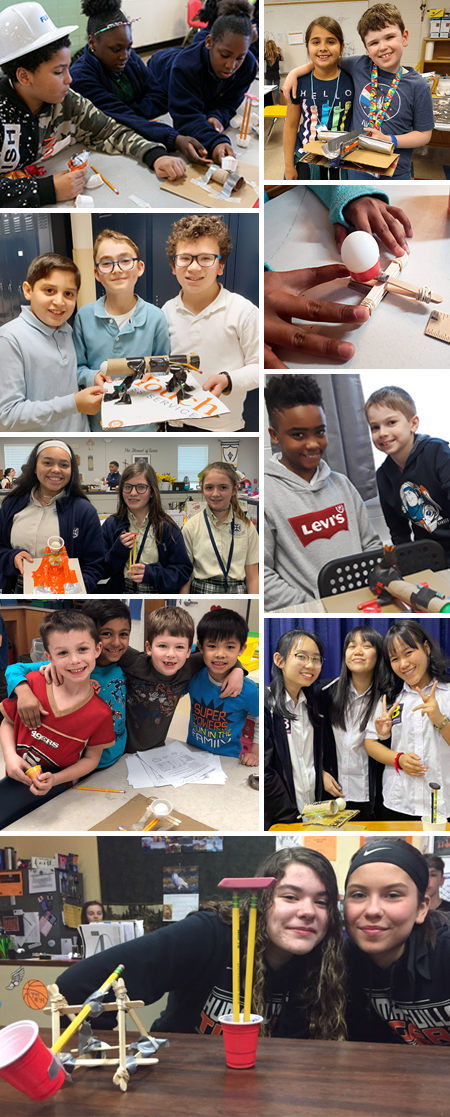 Figure 1.
A few of the teams who submitted Cricket Wicket solutions for the 2020 Fluor Engineering Challenge
All eligible team entries were placed into random prize drawings based on their geographic location. Congratulations to the ten winning teams listed in Table 1 whose names were drawn from the eligible pools! Each of these teams earned $1,000 USD from Fluor for their school or afterschool program.
Team
School / Program
Houston Metropolitan Area, TX
Star Base
Southwest Glen Mission in Sugar Land, TX
Greenville Metropolitan Area, SC
Candy Crushers
Northwood Middle School in Taylors, SC
Orange County, CA
Jumbo Squad;)
Samueli Academy in Santa Ana, CA
Calgary, Alberta
No
Centennial High School in Calgary, Canada
United States (including Puerto Rico)
CHEEZ ITs
Pilgrim Lutheran School in Menomonee Falls, WI
The Purple Musketeers and the Girl
St Laurence Catholic School in Sugar Land, TX
The Wickets
St Joan of Arc School in Aberdeen, MD
International
The Brains
Cloverdale Traditional School in Victoria, BC, Canada
Yabut's Brothers
Philippine Christian School of Tomorrow, Paranaque City, Philippines
ASP Team 3
Abingdon Science Partnership in Abingdon-On-Thames, Oxfordshire, United Kingdom
Table 1.
Random drawing winners of the 2020 Fluor Engineering Challenge
Top Scores for the 2020 Fluor Engineering Challenge
The Fluor Challenge is open to students in grades K-12. The top 10 scores, overall, for the 2020 Fluor Challenge are shown in Table 2. All scores are validated by Science Buddies staff based on submission photos and the Challenge rules. Regardless of score, all entries that met the geographic requirements were entered in the random drawings.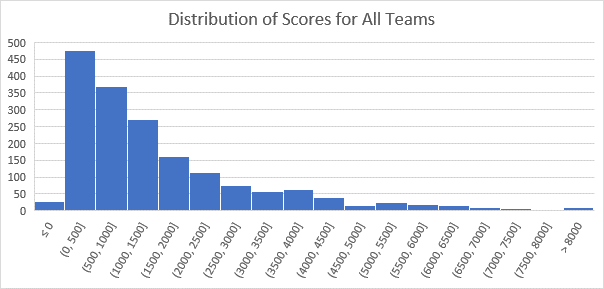 "I just love seeing the students discover how failure leads to success. So many students were frustrated with their projects initially but ended up so excited about their outcome. We LOVE the Fluor challenge! My students look forward to this challenge all year. "

(Teacher, Visual & Performing Art Magnet School)
Top Cricket Wicket Knockdown Scores
Team
Age
(average)
Score
The Pizza Rolls
12
11,954
The Lads
11
8,900
UwU
13
8,767
Team Blank
15
8,463
The Muffinades
13
8,181
French Pies
11
8,056
Endless Time
14
8,055
TRIPLE B
12
8,054
OwO Group
11
7,785
H2O
13
7,560
Team Infinity
13
7,560
Table 2. 2020 Fluor Engineering Challenge top scores
2020 Fluor Challenge Scores by Age
Students entering the Fluor Challenge work in teams of up to four students. To recognize the hard work students did creating and testing their solutions and to give students a better sense of how their solutions and scores compare to other students of similar age, the tables and graphs below show the top scores and score distribution for submissions from ages 6-10, 11-14, and 15-18. (Note: The age used for each team is the average age of all members on the team.)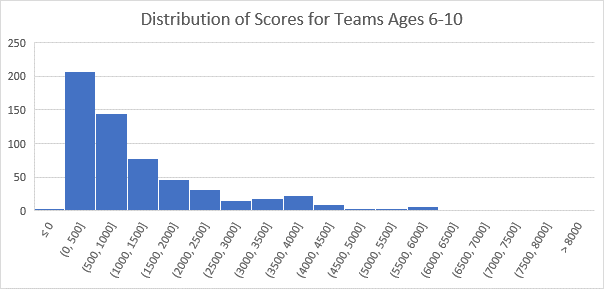 "Using teamwork was our teams' favorite part!"

(GOATS, Albertus W. Becker School)
Top Cricket Wicket Scores—Ages 6-10
Team
School/Program
Score
King Midas
Taunggyi International School
7,536
AESTHETIC GIRL POWER
Brainworks International School
7,289
KHINE MIN KHANT
Brainworks International School
6,869
CANNABOLT
Brainworks International School
6,374
ROBOTOXIAN
Brainworks International School
6,274
Pegasus
Unioto Elementary
5,955
PHWAY
Taunggyi International School
5,948
Fluor Girls1
Brainworks International School
5,775
Galaxy Girl
Taunggyi International School
5,671
The Creative Brain
Brainworks International School
5,662
Table 3. 2020 Fluor Engineering Challenge top scores for ages 6-10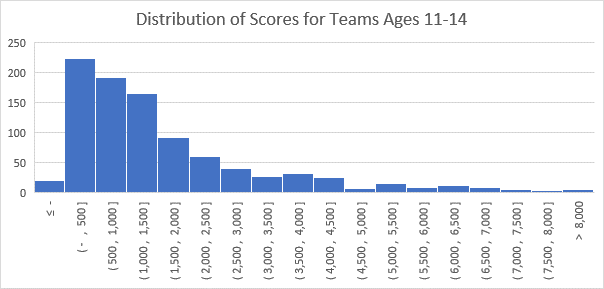 "My favorite part of the Fluor Engineering Challenge was being able to come up with an invention that worked and was able to complete a task. It was so cool to see our idea come to life."

(Party Poppers, White Pine Charter School)
Top Cricket Wicket Scores—Ages 11-14
Team
School/Program
Score
The Pizza Rolls
Churchill County Middle School
11,954
The Lads
Unioto Elementary
8,900
UwU
Brainworks International School
8,767
The Muffinades
Brainworks International School
8,181
French Pies
Brainworks International School
8,056
Endless Time
Brainworks International School
8,055
TRIPLE B
Taunggyi International School
8,054
OwO Group
Unioto Elementary
7,785
H20
Brainworks International School
7,560
TEAM INFINITY
Brainworks International School
7,560
Table 4. 2020 Fluor Engineering Challenge top scores for ages 11-14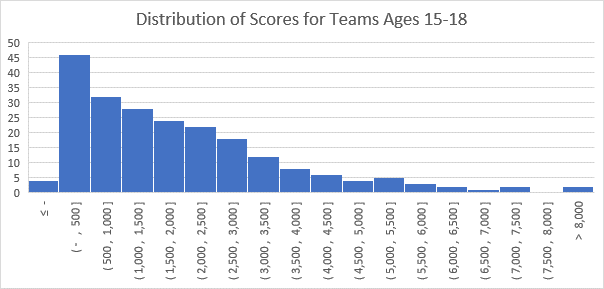 "We really felt the adrenaline rush! Knocking down the widget was F. U. N.! Above all, the bond we shared as we did challenge together as a team was remarkable."

(Ramonian Shooters, Ramon Duterte Memorial National High School)
Top Cricket Wicket Scores—Ages 15-18
Team
School/Program
Score
Team Blank
Brainworks International School
8,463
Carpet Company LTD
Brainworks International School
7,476
Flower Hashiras
Brainworks International School
7,179
KOOKIE
Taunggyi International School
6,685
SOLO
Brainworks International School
6,463
TISA NHS "WHY TEAM"
TISA National High School
6,171
Team Single
Brainworks International School
5,965
Team XD
Brainworks International School
5,762
Squadx
North Bay Haven Charter Academy
5,543
E-Tech 15
Vern Riffe Career Technology C
5,457
Table 5. 2020 Fluor Engineering Challenge top scores for ages 15-18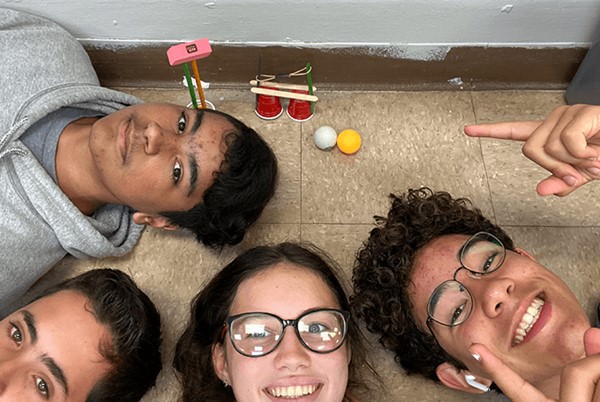 Figure 2.
One of the teams who submitted Cricket Wicket solutions for the 2020 Fluor Engineering Challenge
Students Embrace the Challenge
Students who entered the 2020 Fluor Engineering Challenge had the chance to explore, firsthand, what it means to be an engineer and to collaborate with others to solve a problem and improve a solution. Here are a few examples of what students (and their teachers) told us about their experience doing this year's Cricket Wicket Kockdown Challenge:
"It was cool, even though we didn't score. We tried." (YEET, Homeschool Plus)
"Our favorite part of the 2020 Fluor Engineering Challenge was building the launching device and the wicket together. We also loved laughing when we messed up a funny shot, and also had a good time laughing when we thought about naming our device lopsided launcher. But in all we had a good time." (Tater Tots, Westtown-Thornbury Elementary School)
"The students' perseverance. They came in during recess to try and get more "knock downs"! " (Teacher, SS Mary-Alphonsus Catholic School)
"My favorite part of this project was the experience of working together on making the design. This project allowed our team to think creatively and build on our thinking. We were able to work as a team and grow together using new methods of problem solving." (Dragon Fruits, Ellington Middle School)
"This challenge gives them a glimpse of what it takes to be an engineer. The students actually realized that it is fun to design and that they too can become an engineer." (Teacher, TISA National High School)
"The students were engaged, actively collaborating, and problem solving. Some who didn't feel like they were going to do well, were surprised at their successes. Many students could also see the importance of a positive mindset, and perseverance." (Teacher, Colverdale Traditional School)
"Our favorite part of the challenge was working together. We failed a few times but we kept trying until we succeeded." (LeMaWi, St. Wenceslaus School)
Continue to Challenge Yourself
Even though the 2020 Fluor Engineering Challenge is over, students can still try their hands at the Cricket Wicket Knockdown engineering activity! Simply follow the online instructions to gather materials, design, build, and test your version of a wicket knockdown machine.
If you are looking for even more fun engineering challenges, check out the 2015, 2016, 2017, 2018, and 2019 challenges and come back early next year to find out about the 2021 Fluor Engineering Challenge!
If you have questions about the Fluor Challenge, please email us at fluorchallenge@sciencebuddies.org.
Meet the Team of Fluor Engineers who Created the 2020 Fluor Engineering Challenge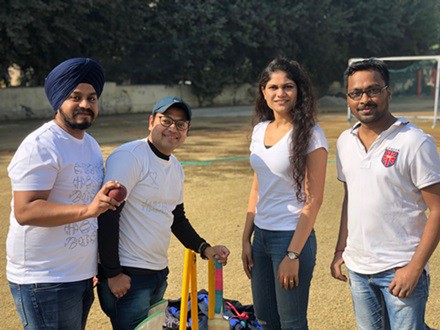 Fluor employees who came up with this year's challenge include engineers (from left to right) Ramanjeet Singh, Aviraj Chatterjee, Gitanjali Tomar, and Aman Singla.
Fluor holds a Friendly Competition between its engineers every year. The winning team then gets the honor of devising the company challenge for the next year.
Ramanjeet Singh, Aviraj Chatterjee, Gitanjali Tomar, and Aman Singla, four engineers from Fluor's New Delhi, India office, are the inspiration behind the 2020 Fluor Engineering Challenge. When they sat down to design the challenge, Ramanjeet, Aviraj, Gitanjali, and Aman wanted to pay tribute to India's love for the sport of cricket. What they developed is an engineering challenge based on knocking down the wickets during a game of cricket. Science Buddies' staff scientists took this core idea and simplified it further for a K-12 audience. The result is a fun and sometimes wacky engineering challenge!
Fluor is a registered service mark of Fluor Corporation. All rights reserved.
Explore Our Science Videos
Explore Concave and Convex Mirrors– STEM Activity.
Paper Roller Coasters - Fun STEM Activity!
Build a Simple Electric Motor