Tallest Paper Tower—2021 Fluor Engineering Challenge
Congratulations to all 2021 Fluor Challenge Participants!
The 2021 Fluor Challenge was one for the record books! More than 6100 students, the highest number to-date, from 20 countries participated in the 2021 Fluor Engineering Challenge. Students competed to build the tallest possible paper tower that could support a can of food for at least a minute. With the Covid-19 pandemic as the background we were impressed to see how the students embraced the challenge and the circumstances and built an amazing diversity of towers from their homes and socially distanced classrooms. Equipped with just thirty sheets of paper and a roll of tape, kindergarteners through seniors in high school built impressive structures by rolling, folding, taping, and twisting. Ranging from a few centimeters tall to over three meters high it was awesome to see the creativity, perseverance, and problem solving that the students put into their paper towers. Figured 1 shows a small sample of the more than 3500 paper towers built during the competition. Congratulations to all the students who participated; you worked hard and we enjoyed seeing all the towers you engineered!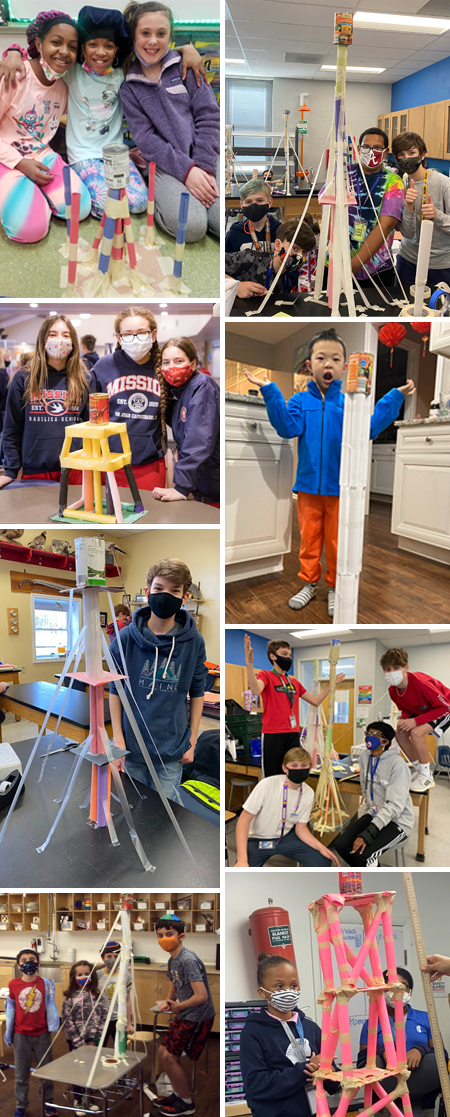 Figure 1.
A few of the teams who built Paper Towers for the 2021 Fluor Engineering Challenge.
Below we are thrilled to announce:
Drawing winners
Top ten highest scorers (all grades)
Top scores by age
Continuing the challenge
2021 Fluor Challenge Drawing Winners
All eligible team entries were placed into random prize drawings based on their geographic location. Congratulations to the ten winning teams listed in Table 1 whose names were drawn from the eligible pools! Each of these teams earned $1,000 USD from Fluor for their school.
Team
School / Program
Houston Metropolitan Area, TX
TTTN
Kempner High School in Sugar Land, TX
Greenville Metropolitan Area, SC
Scam Artists and Dakota
Sterling School in Greenville, SC
Orange County, CA
Funny Monkes
Mission Basilica School in San Juan Capistrano, CA
Calgary, Alberta
EMHS Team #4
Ernest Manning High School in Calgary, Alberta
United States (including Puerto Rico)
Team Max
Locke Middle School in Billerica, MA
P2G12
Serrano Intermediate School in Lake Forest, CA
Sheyla
Carrollton Middle-Upper Elementary School in Carrollton, GA
International
Team Pack
Muskoka Beechgrove Primary School in Gravenhurst, Ontario, Canada
Australian Cats
St. Monica Gifted Program in Toronto, Ontario, Canada
Alpha
TISA National High School in Cebu City, Philippines
Table 1.
Random drawing winners of the 2021 Fluor Engineering Challenge
Top Scores for the 2021 Fluor Engineering Challenge
The Fluor Challenge is open to students in grades K-12. The top 10 scores, overall, for the 2021 Fluor Challenge are shown in Table 2. All scores are validated by Science Buddies staff based on submission photos and the Challenge rules. Regardless of score, all entries that met the geographic requirements were entered in the random drawings.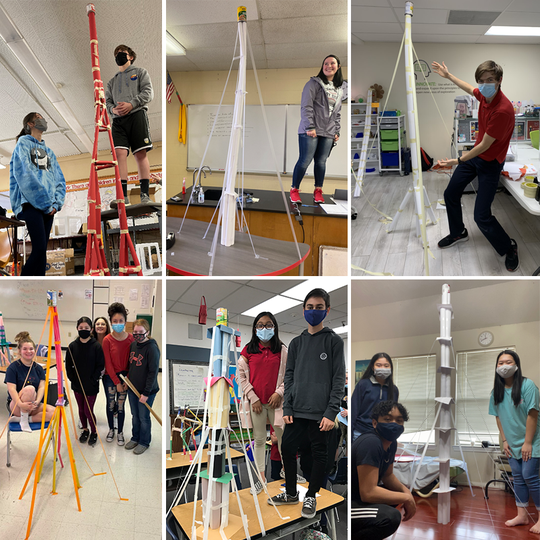 Figure 2.
Some of the paper towers built for this year's challenge were impressively tall.
Top 10 Tallest Paper Tower Scores
Team
Age
(average)
Score
The Cavemen
16
320
Brother's Grimm
<6
310
Team Skyscraper
13
300
Team Anonymous
14
292
Cyrus Sinha
6
280
Can
10
278
g.o.a.t
16
247
Bulldogs Rock
12
245
Super Mighty
9
245
SC
9
243
Table 2.
2021 Fluor Engineering Challenge top scores
"I loved that all of my students were interested and engaged in this activity, even those hesitant to participate in STEM. My students typically struggle with independence and thinking for/executing projects themselves. I was so proud of the ideas that they came up with and the effort that each student put in! "

(Teacher, Fairland Program at IU13)
2021 Fluor Challenge Scores by Age
To recognize the hard work students did creating and testing their solutions and to give students a better sense of how their solutions and scores compare to other students of similar age, the tables and graphs below show the top scores and score distribution for submissions from ages up to age 10, 11-14, and 15-18. (Note: The age used for each team is the average age of all members on the team.)
"As a parent, it was wonderful to see my son come up with the idea and put it into motion as well as testing his tower to see what worked and what he needed to fix. He had a great time, dancing, and working on his tower."

(Parent, child age 7)
Top Tallest Paper Tower Scores—Through Age 10
Team
School/Program
Score
Brother's Grimm
Ryder Hayes School
310
Cyrus Sinha
Sandyston Walpack Consolidated School
280
Can
Homeschool
278
Super Mighty
Westmount Charter Elementary School
245
SC
Westmount Charter Elementary School
243
Architecture Awesomeness!!!!!
Westmount Charter Elementary School
212
The Space Racers
Birches Elementary School
212
Purple laser
College Graduate
199
Captain Silly
Kau Yan School Primary Section
188
Team Tall Tower
Hurffville Elementary School
187
Table 3. 2021 Fluor Engineering Challenge top scores for teams of students up to and including age 10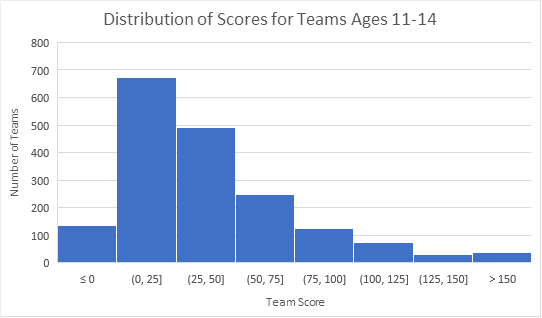 "I really enjoyed the laughs we had and the teamwork we put in. There were a lot of fails, but we still managed to do good and proceed with the challenge!"

(Soup the Loop, Elmwood High)
Top Tallest Paper Tower Scores—Ages 11-14
Team
School/Program
Score
Team Skyscraper
Saint Mary Catholic School
300
Team Anonymous
Saint Mary Catholic School
292
Bulldogs Rock
West York Area Middle School
245
Jake
Sheridan Junior High School
236
The Non-Smettie
St. Monica Gifted Program
232
Gophers
Kaycee School
220
Baby Chickens
West York Area Middle School
211
Tobias Towers
Tincer Prepatory
203
Yellow Jackets
Humansville High
201
Team Pepper
Maranatha Christian Academy
198
Table 4. 2021 Fluor Engineering Challenge top scores for ages 11-14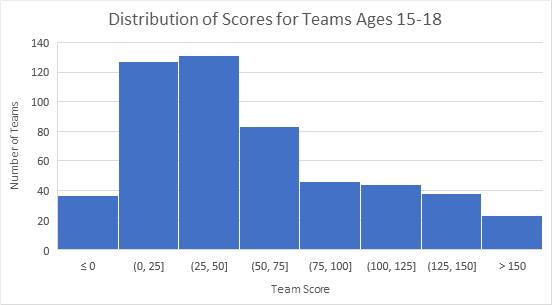 "Working as a team and being able to develop our fine motor and communication skills; these skills are extremely important to us as pupils with a Visual Impairment. By completing challenges like this, it gives us time to work on these and have fun with friends at the same time. We problem solve every day of our lives without sight, so tasks like this help us on a daily basis! Thank you."

(Saint Vincent's Team 4, St Vincent's School for Sensory Impairment and Other Needs)
Top Tallest Paper Tower Scores—Ages 15-18
Team
School/Program
Score
The Caveman
Prairie Junior-Senior High School
320
g.o.a.t.
Ferris High School
247
EMHS team #10
Ernest Manning High School
220
Company
Cebu City National Science High School
213
Kopernik
III Liceum Ogólnokształcące Kopernik
213
Crusaders 1
Trinity Christian School
198
Tall Man
Rose Bay High School
197
Los Frijoles
Ferris High School
184
St. Vincent's Team 4
St. Vincent's School for Sensory Impairment and Other Needs
176
Paper Pals
Centennial High School
170
Table 5. 2021 Fluor Engineering Challenge top scores for ages 15-18
Figure 3.
Students built many different styles of towers and showed great creativity and problem solving.
Students Embrace the Challenge
Students who entered the 2021 Fluor Engineering Challenge had the chance to explore, firsthand, what it means to be an engineer and to work independently or collaboratively with others to construct a stable structure with limited materials. Here are a few examples of what students, teachers, and parents told us about their experience doing this year's Tallest Paper Tower Challenge:
"I loved working hard and engineering this project!" (The Team, Oregon Episcopal School)
"It was nice to see kids motivated about a project in this tricky hybrid learning year!" (Teacher, Great Bay E-learning Charter School)
"Oh my goodness—these kids loved this so much! They kept talking about it and trying to find ways to make it even taller. I made them stop when I could not reach the top standing on a desk. Thank you for this great challenge! We loved it!" (Teacher, West York Area Middle School)
"Seeing my children working together and discussing options for hours in a civil manner was very refreshing!" (Parent, Homeschool)
"My favorite part of this engineering challenge was working together to make the tallest tower even through the difficult moments." (Team Avocado, Freeport Middle School)
"As a teacher I loved watching students find success with this project. It brought out students' strengths in design and building. I'm grateful for the lesson plans included with this contest." (Teacher, Northwood Middle School)
"My first tower was a complete fail! But I kept with it and was so excited I could get something to work! I had so much fun!" (Team Noah, Palmetto Elementary School)
"Seeing students excited about learning and investigating was heart-warming. To see students running to get into class, staying until after the bell, passionate and engaged about learning again is truly magnificent." (Teacher, Macon Middle School)
Continue to Challenge Yourself
Even though the 2021 Fluor Engineering Challenge is over, students can still try their hands at the Tallest Paper Tower engineering activity! Simply follow the online instructions to gather materials, design, build, and test your version of the tallest paper tower.
If you are looking for even more fun engineering challenges, check out the 2015, 2016, 2017, 2018, 2019, and 2020 challenges and come back early next year to find out about the 2022 Fluor Engineering Challenge!
If you have questions about the Fluor Challenge, please email us at fluorchallenge@sciencebuddies.org.
Meet the Team of Fluor Engineers who Created the 2021 Fluor Engineering Challenge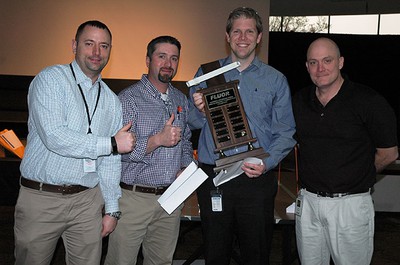 Fluor employees who came up with this year's challenge include engineers (from left to right) Paul Mazur, David Clarke, David Hosking, and Sean Swearns.
Fluor holds a Friendly Competition between its engineers every year. The winning team then gets the honor of devising the company challenge for the next year. Paul Mazur, David Clarke, David Hosking, and Sean Swearns, four engineers from Fluor's Greenville, South Carolina office, are the inspiration behind the 2021 Fluor Engineering Challenge. When they sat down to design the challenge, David, Paul, David, and Sean wanted to pay tribute to a tower-shaped baseball monument scheduled to be built in Greenville. What they developed is an engineering challenge based on the best way to construct a tower with limited materials. Science Buddies' staff scientists took this core idea and simplified it for a K-12 audience.
Curious what it is like to be an engineer? Read our interviews with David Clarke, David Hosking, and Sean Swearns.
Fluor is a registered service mark of Fluor Corporation. All rights reserved.
Explore Our Science Videos
Can you solve this air pressure puzzle?