Explore X-Rays

Are your students looking for

extreme

science projects that kick things up a notch from popular experiments that explode, pop, or burst into flame? Bring on the heavy atoms, the radiation warnings, and the palpable excitement of working on the edge of DIY science!

A

suite of

new Science Buddies resources and Project Ideas

encourages and guides students in the

exploration of radiation-based research. Using a blueprint for a homemade X-ray machine based on the one built by the winners of the 2011 Intel ISEF, students can construct their own machine and conduct their own radiation studies.





We Want Your Feedback


Take our

short educator survey to be entered in our quarterly drawing for a chance to win project display boards for your whole class, courtesy of Elmer's

®

Products, Inc. This month's survey asks a few questions about a new Science Buddies resource.




Science Connections and Student Successes


Galaxy Games


An international team of astronomers released exciting first photos of a dwarf galaxy absorbing an even smaller galaxy last month. Learn more about galaxy "shredding" in this

tale of two galaxies

before moving on to investigate other galactic questions in related science projects. Science Buddies'

Astronomy Project Ideas

are sponsored by generous support from the Northrop Grumman Foundation.




Wiggly Worm Science
April showers can bring May flowers, but if you take a closer look, you might find the spring rains also reveal worms all around you. Dig in the dirt to learn more about the important roles worms play--beyond being bait for fishing.


Family Science: Hard-boiled and Naturally-dyed
Hard-boiling and dyeing Easter eggs invites a number of mini science experiments, perfect for informal family exploration. Join one of our science moms on the quest for the "perfect" hard-boiled egg--and try your hand at using natural ingredients for dyeing!


Previous Science Buddies Student Mentor Wins Intel Science Talent Search
Nithin Tumma, a high-school senior in Michigan, took top honors in this year's Intel Science Talent Search with his research into

protein interactions related to leukemia and breast cancer. Nithin won the Craig Sander Outstanding Mentoring Award in 2011 for his volunteer work on the Science Buddies Ask an Expert Forums.






"

I investigated hydropower. I built a turbine (like one from a dam) and used it to convert the energy in water to lift a metal nut. I had a lot of fun, and I learned that water can be used to make electricity."




Nicholas, 4th grade, San Jose, CA




Do you incorporate hands-on science in the classroom? Email us

a

short description of your favorite classroom science activity or tip. (Also encourage your students to tell us what they did for their science projects this year.) You and your students might be featured in an upcoming newsletter in our new section, Your Science!






Awesome Free

Science Magazine



The Spring 2012 issue of Science Matters is now available. This issue includes short science projects created by Science Buddies! Science Matters, developed especially for grades 4 to 6, and available online and in hard-copy for classrooms, is published by the Medtronic Foundation. The Medtronic Foundation is the sponsor of Science Buddies' Human Biology and Health and Zoology areas.




Science Kits Help You Bring On the Science


The local science fair season may be winding down, but a Science Buddies kit makes it easy to set your students up with a solo or family science activity. Check out the full kit list for great projects that are perfect for at-home exploration. With a Science Buddies kit, it's all in the box!



10% of the purchase price helps support Science Buddies. Shipping and handling i

n the U.S.

is free.




Savvy Family Surfing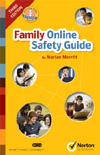 Today's students live and breathe technology. From research for school assignments to email, social media, online games, and videos, more and more students are "online." Our
Internet Safety Guide
and the
Family Online Safety Guide
, developed by Symantec, are designed to help educate you and your students about Internet safety. Taking steps to ensure they develop smart and safe surfing habits is something you want to do
now
--and then be sure to review your family policies and strategies regularly.
Galaxy photo, R. Jay GaBany, Blackbird Observatory