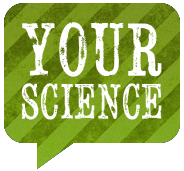 "I love roller coasters and building things. For my project, I explored what affects the speed of a marble on a model roller coaster that I built with plastic and foam pipes. I learned that energy is never truly lost, but that the marble's potential energy gets converted into kinetic and thermal energy."

Matthew (pictured below with his project display board)
fifth grade, Danville, CA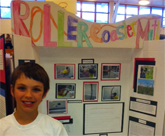 Share your science teaching tips!
Email us
a short summary (one to three sentences)
of a favorite class science activity or exercise you did this year
. You might just end up featured in the
Your Science
section of the Science Buddies newsletter!
Chemistry Contest Winners




The winners of the Rosalind Franklin Chemistry Contest have been announced! The judges were impressed by the high caliber of the contest submissions.

We applaud everyone who entered.