Science Buddies is a 501(c)(3) charity that continues to offer science resources to students and teachers
free of charge thanks to generous support from sponsors and donors.


Cutting-edge Science and Engineering

Science Buddies is proud to announce the new

Robotics Interest Area

. This addition to the Science Buddies library of

Project Ideas encourages and supports student exploration of robotics engineering and design. With suggestions for robotics investigations that use readily available materials like ordinary drinking straws, these Project Ideas show that diving into robotics for a science fair project doesn't always require expensive equipment or programming experience.




For students with an interest in engineering, computer science, electronics, or even

science fiction,

this new collection of Project Ideas offers a launchpad for exciting and inventive research and exploration.




What robotic tool might your students build? With an understanding of the design and engineering principles involved, imagination may be the only limit!

Students can get started with robotics engineering and design projects like these:

Robots can do amazing things and may transform industrial systems, but trained human engineers are needed to both develop robots and to keep them running. Students interested in brainstorming robotic possibilities, tinkering with a bot's nuts and bolts, or programming models to perform certain tasks might explore career paths like these:

Robotics Engineer

: using skills from several areas of science, a robotics engineer is critical in the design, implementation, and testing of robotic tools.

Robotics Technician: helping to keep robotic tools and systems running smoothly, robotics technicians may help design, test, install, maintain, troubleshoot, and fix robotic applications.

Science and Engineering Project Kits

Project Kits are now available for more than forty Science Buddies Project Ideas, including the

"Grasping with Straws" robotics project. Project Kits make it convenient and easy to purchase materials for a science or engineering project. The materials you need arrive in one box, and you know that the supplies you are using are the right ones for the project.

Project Kits are available for a variety of Project Ideas, including:




10% of Project Kit sales go to help support Science Buddies.

Solar Robot Savvy

As a fourth-grade student, Keeley Hilliard expanded his interest in electronics and engineering with an exploration of solar energy.

Using the "The Frightened Grasshopper: Explore Electronics & Solar Energy with a Solar-Powered Robot Bug" Project Idea as a starting point, Keeley tested an inexpensive robot to learn more about how solar panels convert radiant energy to electricity. Keeley wanted to know, "Is artificial light an effective source of solar power?"




Share Your Student and Classroom Science Project Successes!

What science and engineering projects are your students choosing this year? What hands-on science are you doing in your classroom? Email us a summary, and you might end up featured in a future newsletter!




The Science Project Lab Notebook




Updated Resource!

Our laboratory notebook resource offers an overview of various types of lab notebooks, provides tips for setting up a lab notebook, and summarizes strategies for using a lab notebook during a science or engineering project.




Tips for Teachers

Teacher Giveaway!

We are giving away one classroom set of

carbonless duplicate lab notebooks

, courtesy of Hayden-McNeil. The drawing is open to U.S. teachers only. Details for entering are on the

Science Buddies Blog entry

.

Deadline: October 18, 2012.
Supporting K-12 Robotics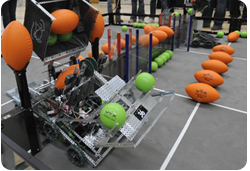 After-school robotics programs have gained a following among students, teachers, and even sponsors, as a fun, exciting, and successful approach to getting students to tackle
science, technology, engineering, and math (STEM)
questions. In robotics clubs, students engage in the
Engineering Design Process
and collaborate on the innovation and design of task- and challenge-specific robots.
Thanks to companies and organizations
that believe in the value of robotics education,
like Symantec Corporation and the Northrop Grumman Foundation, students can now choose
Science Buddies Robotics Project Ideas
for science and engineering assignments or fairs. Availability of robotics Project Ideas enables and encourages students who do not have access to an after-school robotics program to explore robotics.
Motorola Solutions Foundation also invests in robotics education efforts by sponsoring local robotics teams and robotics-specific outreach throughout the U.S. As part of its Innovation Generation grant program, Motorola Solutions Foundation supports Michigan State University's robotics programs and curriculum development for local school districts. Other Innovation Generation grantees include U.S.
FIRST
Robotics, the Girl Scouts, who are encouraging all-girl robotics teams, and the John G. Shedd Aquarium in Chicago, which offers an underwater robotics professional development program for teachers interested in starting local underwater robotics clubs.

Symantec Corporation and the Northrop Grumman Foundation provided major funding for the creation of the new Robotics Interest Area. Motorola Solutions Foundation, TIBCO Software, and other donors also provided support.
Science Buddies is a Motorola Solutions Foundation Innovation Generation grant recipient.
Science Buddies is a
501(c)(3) charity that continues to offer science resources
to students and teachers
free of charge
thanks to
support from sponsors and donors.