An Eye on Radiation and Radioactive Decay
Building and using a cloud chamber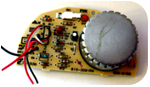 Two new
physics
Project Ideas help students investigate background radiation and radioactive particles, particles that are too small to reflect light and too small to see.
The
"Particles in the Mist: See Radioactive Particles Decay with Your Own Cloud Chamber!"
Project Idea guides students in isolating a safe radioactive source and building and using a cloud chamber to observe the process of radioactive decay. As particles move through the chamber, they leave a trail of ions in their wake, a trail students can observe, chart, and test. One of the radioactive sources that may be used in this experiment involves dismantling an
ionizing
smoke detector.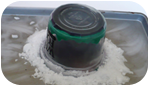 The
"Watching Nuclear Particles: See Background Radiation Zoom Through A Cloud Chamber"
Project Idea guides students in using a homemade cloud chamber to analyze tracks created by background radiation particles. The particles are invisible, but under the right circumstances, you can tell they exist by the trail of condensation droplets they leave!
Support for these Project Ideas was provided
by P
G&E.
Arduino: Giving New Life to Robotics Explorations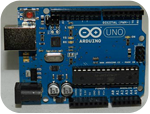 Putting 'Brains' Behind Your Inventions
For students interested in robotics and computer programming, Arduino may open up exciting new terrain--in a small and accessible form factor. Using solderless breadboard techniques, the open source microprocessor can be used to control switches and LEDs in engineering and robotics projects. Science Buddies' new
"Getting Started with Arduino"
resource helps students take first steps with Arduino, from buying parts to testing the
Blink
program (or "sketch").
Students ready for an advanced engineering design or robotics project might use Arduino to create innovative solutions to the challenges in these abbreviated Project Ideas:
Science Buddies resources for Robotics are sponsored by
Northrop Grumman and Symantec Corporation.
Real-world Science Connections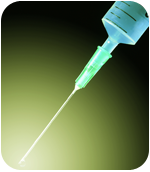 "Blasting" Flu Statistics
This year's flu season is proving to be a bad one, epidemic in some areas. Using an online bioinformatics tool, students can analyze flu data to see how effective the flu vaccine is compared to the strains of flu circulating this year.
(
Continue reading "BLASTing Flu Season Frenzy."
)
Science Buddies' Project Ideas in Medical Biotechnology are sponsored by the Amgen Foundation.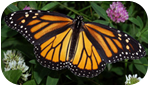 Wintering Butterflies
Parts of California play host each year to migrating masses of monarch butterflies that pass a number of months in protected groves before returning to milkweed breeding grounds. Students intrigued by the monarchs' annual movement can explore similar science in projects related to bird migration, food sources, and habitat changes.
(
Continue reading "Yearly Migration of the Monarchs."
)