Heart Rate Recovery Times
153 reviews
Abstract
Over an average lifetime, the human heart beats more than 2.5
billion
times, supplying blood to the entire body. When a person exercises, the heart has to work harder than usual. Have you ever wondered how quickly your heart beats when you exercise, or how long it takes to recover back to its normal rate after you are done exercising? Is the heart rate recovery time faster for people who get regular exercise compared to people who do not? Try out this science project to find out!
Summary
Areas of Science
Difficulty
Time Required
Long (2-4 weeks)
Prerequisites
Material Availability
Readily available
Cost
Very Low (under $20)
Safety
No issues
Credits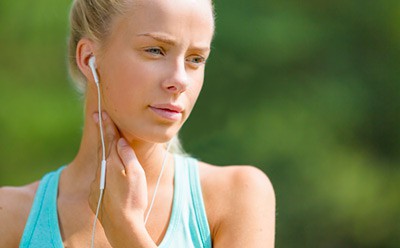 Objective
To determine whether athletes have faster heart rate recovery times than non-athletes.
Introduction
An average-sized adult has about 5.5 liters of blood, which the heart circulates about three times every minute. Your heart is constantly beating—even before birth!—to keep the blood circulating. The heart of an average 65-year-old person has contracted more than 2.5 billion times. That is a lot of heartbeats! You can see a picture of a real human heart in Figure 1, below.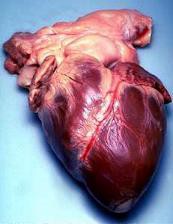 Figure 1.
A human heart.
Experts on cardiac health tell us that the best way to keep our hearts healthy are through a balanced diet, avoiding smoking, and exercising regularly. Exercise that is good for your heart should elevate your heart rate. Heart rate is a measure of how many times a person's heart beats in a minute (technically measured in beats per minute, or bpm.) The American Heart Association recommends that you do exercise that increases your heart rate to your target heart rate zone for at least 30 minutes most days, or a total of about 150 minutes a week. Your target heart rate zone is 50 to 85% of your maximum heart rate, which is 220 bpm minus your age. For example, if you are 30 years old, your maximum heart rate would be 190 bpm (since 220 minus 30 equals 190), and your target heart rate zone would be 95 to 143 bpm (since this is 50 to 85% of 190 bpm).
After exercise, your heart needs some time to recover, or go back down to its normal resting heart rate. How long it takes for the heart to return to its resting heart rate is referred to as the heart rate recovery time. What do you think your heart rate recovery time is? In this human biology science project, you will determine whether athletes (who regularly exercise and therefore likely have healthier hearts) have faster heart rate recovery times than non-athletes. So round up some volunteers who want to get a little exercise and get your stopwatch ready!
Terms and Concepts
Heart rate
Target heart rate zone
Maximum heart rate
Resting heart rate
Heart rate recovery
The cardiovascular system
Questions
What is the average maximum heart rate for someone your age?
What is the range recommended for heart rate during exercise?
How much exercise does your body need each week for good cardiovascular health?
How do you think the heart rate recovery times of athletes will compare to non-athletes?
Bibliography
These resources from the American Heart Association give information on physical activity recommendations for good heart health:
This NOVA website has information on how the heart works and amazing heart facts:
This website has descriptions and calculators for several statistical tests, including the Student's t-test that you can use in this science project to calculate the statistical significance of your results:
Kirkman, T. (n.d.). Student's t-Tests. Department of Physics, College of St. Benedict & St. John's University. Retrieved January 16, 2014.
Materials and Equipment
Volunteers, both athletes and non-athletes (at least 50-100 subjects for each group).

See the Procedure for details on assigning volunteers to the "athlete" or "non-athlete" group.
More volunteers is better; see the Science Buddies resource Sample Size: How Many Survey Participants Do I Need?
Exclude people who have medical conditions that prevent them from engaging in vigorous physical exercise, e.g., people with heart conditions or severe asthma

Computer with a printer or paper and a pen or pencil. This is to create short volunteer surveys.
Stopwatch or clock with second hand
Simple and fun exercise equipment, or do an exercise that does not require equipment, such as jogging in place. Some equipment could use includes:

Jump rope
Stepping stool
Hula-hoop

Calculator or computer with spreadsheet program
Lab notebook
Experimental Procedure
Working with Human Test Subjects
There are special considerations when designing an experiment involving human subjects. Fairs affiliated with Regeneron International Science and Engineering Fair (ISEF) often require an Informed Consent Form (permission sheet) for every participant who is questioned. Consult the rules and regulations of the science fair that you are entering, prior to performing experiments or surveys. Please refer to the Science Buddies documents Projects Involving Human Subjects and Scientific Review Committee for additional important requirements. If you are working with minors, you must get advance permission from the children's parents or guardians (and teachers if you are performing the test while they are in school) to make sure that it is all right for the children to participate in the science fair project. Here are suggested guidelines for obtaining permission for working with minors:
Write a clear description of your science fair project, what you are studying, and what you hope to learn. Include how the child will be tested. Include a paragraph where you get a parent's or guardian's and/or teacher's signature.
Print out as many copies as you need for each child you will be surveying.
Pass out the permission sheet to the children or to the teachers of the children to give to the parents. You must have permission for all the children in order to be able to use them as test subjects.
Do your background research and make sure that you are knowledgeable about the terms, concepts, and questions in the Background.
For this science project, you will need to become proficient at measuring heart rate. Practice finding your pulse and measuring your own heart rate so that you can do it quickly and easily. Then practice measuring a helper's heart rate until you can do it quickly and easily.
Write a short survey to determine the activity level of each of your volunteers, in order to assign them to the "athlete" or "non-athlete" group. Your survey should gather the following information:

Participant's age
Participant's gender
Participant's activity level: e.g., ask how many times per week they get exercise, and have them classify the exercise as minimal, moderate, or intense.

Use the survey results to define two groups, "athletes" and "non-athletes," based on the amount and intensity of regular exercise.
In your lab notebook, create a data table to record your data in.

For each volunteer, you will record their resting heart rate, their heart rate immediately after exercising, and their heart rate every 1 to 2 minutes after exercising (until their heart rate has returned to their resting heart rate).
You will also calculate each volunteer's target heart rate zone and heart rate recovery time.
There are additional calculations you may want to include — see step 9, below, for details.

Use the following procedure for each participant:

Calculate the participant's target heart rate zone. Re-read the Introduction for how to calculate this.
Measure and record the participant's resting heart rate in beats per minute (bpm).
Have each participant engage in a vigorous activity for at least 2 minutes.

Choose a time and activity and use the same ones for all participants.
Try the exercise yourself beforehand to be sure that the time is reasonable and makes your heart rate reach its target heart rate zone. The exercise could be jumping rope, stepping on and off a low stool, hula-hooping, jogging in place or around a track, etc.

Immediately after the end of the exercise period, do the following:

Have the participant sit and rest.
Quickly measure and record their heart rate (in bpm). Make sure it is within their target heart rate zone.

If their heart rate is below their target heart rate zone, repeat steps 6.c.–6.d. until it is up within their target heart rate zone.
If their heart rate is above their target heart rate zone, have them sit and rest until their heart rate has returned to their resting heart rate. Then repeat steps 6.c.–6.d. but do the activity for a shorter amount of time, such as 1 minute instead of 2 minutes.
In your lab notebook, be sure to make a note if the participant's heart rate was above or below their target heart rate zone.

Quickly record the time or start your stopwatch.

While the subject continues to sit and rest, measure and record their heart rate at 1- or 2-minute intervals until two measurements in a row have returned to the resting heart rate (or below). Record the time of each measurement.

For each subject, calculate the heart rate recovery time (time from end of exercise until heart rate returns to baseline, their resting heart rate).
For each group (athletes vs. non-athletes), calculate the average heart rate recovery time and standard deviation.

More advanced students should use Student's t-test to determine whether any differences between the two groups are statistically significant.

There are other group statistics you may also want to calculate:

The decrease in heart rate in the first two minutes after exercise. To calculate this, subtract the heart rate at two minutes after exercising (in bpm) from the peak heart rate (taken immediately after exercise).
Average and standard deviation of the resting heart rate
Average and standard deviation of the peak heart rate (immediately after exercise period)

Make line graphs of heart rate (in bpm, on the y-axis) vs. time (in minutes, on the x-axis) for each participant. You can do this using graph paper or a computer spreadsheet program (like Excel®).
Compare your graphs.

Do you see similarities in how people's heart rates changed over time?
Do the graphs of the athletes look different from the graphs of the non-athletes? If so, how?
How does the heart rate recovery time compare between the athletes and non-athletes?
Can you identify the athletes and non-athletes from the shape of the graph alone?
Based on your results, how do you think having a healthier heart affects heart rate recovery time? Can you relate your findings to the cardiovascular system?
Measuring Heart Rate
Use the first two fingers of one hand to find the radial pulse on the inside surface of the wrist (see Figure 2, below). You will find it on the "thumb side" of the wrist, just below the base of the hand. Practice finding your pulse until you can do it quickly. Note: Do not use your thumb, because it has its own pulse, which could throw off your count.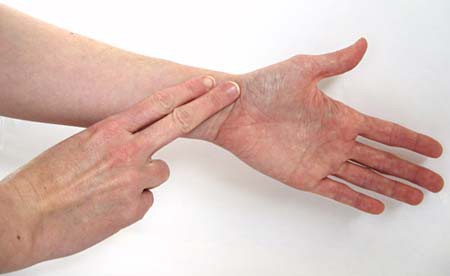 Figure 2.
The photo shows how to find the radial pulse.
The heart rate is the number of beats per minute, but you do not have to count for a full minute to get an accurate measurement. Counting the number of beats in either 10 or 15 seconds is fine. As practice, use a clock or timer to time your count, and write down the number of beats you counted in your lab notebook. Then calculate the number of beats per minute (bpm) to get your heart rate. If you counted for ten seconds what do you need to multiply by to get the number of beats per minute? How about if you counted for 15 seconds? That is it!

Ask an Expert
Do you have specific questions about your science project? Our team of volunteer scientists can help. Our Experts won't do the work for you, but they will make suggestions, offer guidance, and help you troubleshoot.
Variations
Do heart rate recovery times increase with age? Design an experiment to find out. Try to think of ways to address the issue of activity levels changing with age. Can you separate the two variables of age and activity level?
Do smokers have increased heart rate recovery times compared to non-smokers? Design an experiment to find out. Again, it is possible that differences in activity levels might be part of the difference, so see if you can think of a way to separate the two variables of smoking history and activity level.
For related Science Buddies science project ideas, see
Careers
If you like this project, you might enjoy exploring these related careers:
Related Links
Cite This Page
General citation information is provided here. Be sure to check the formatting, including capitalization, for the method you are using and update your citation, as needed.
MLA Style
Science Buddies Staff. "Heart Rate Recovery Times." Science Buddies, 1 Apr. 2022, https://www.sciencebuddies.org/science-fair-projects/project-ideas/HumBio_p008/human-biology-health/heart-rate-recovery-times?from=blog&from=Blog. Accessed 30 Sep. 2023.
APA Style
Science Buddies Staff. (2022, April 1). Heart Rate Recovery Times. Retrieved from https://www.sciencebuddies.org/science-fair-projects/project-ideas/HumBio_p008/human-biology-health/heart-rate-recovery-times?from=blog&from=Blog
Last edit date: 2022-04-01
Explore Our Science Videos
Is the Egg Raw or Cooked? STEM activity
Sweet Earthquake Shake- STEM activity