Gone With the Wind: An Experiment on Seed & Fruit Dispersal
229 reviews
Abstract
Up, up, and away! If you have ever made a wish and blown the fluff of a dandelion, you have witnessed how some plants are adapted to spreading their seeds using the wind. The tiny, furry parachute allows the seeds to be picked up by the wind and to be carried far away from their parent plant. In this experiment, you will make models of seeds and fruit to investigate dispersal by wind and to evaluate the relationship between the structure of the seed and its ability to be dispersed by the wind.
Summary
Areas of Science
Difficulty
Time Required
Very Short (≤ 1 day)
Prerequisites
None
Material Availability
Readily available
Cost
Very Low (under $20)
Safety
No issues
Credits
La Né Powers
based on "Sailing Seeds: An Experiment in Wind Dispersal," Steven K. Rice, Amy Russell, and the Botanical Society of America
Edited by Ben Finio, PhD, Science Buddies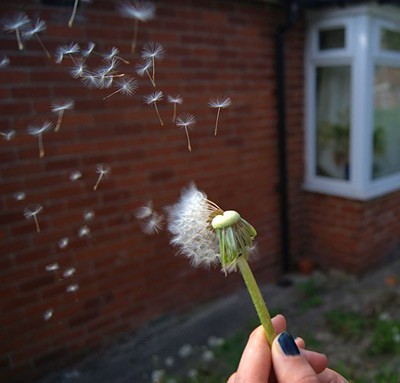 Objective
The goal of this experiment is to investigate how the size and shape of fruits or seeds influence their ability to be dispersed by wind.
Introduction
Dispersal of seeds is important for the continued survival of a plant species. If plants grow too closely together, they compete for light, water, and nutrients. Seed dispersal allows offspring to be spread over a wide area and decreases the competition between offspring.
Seeds are dispersed in several different ways. In flowering plants like apple trees, one or more seeds are housed within a fruit. The fruit is the portion of the apple that we eat. Sweet fruit, like apples, are eaten by animals that disperse the undigested seeds. Some fruits can be carried by water, like the coconut. Burdock fruits have hooks that attach to an animal's furry coat. Dandelion fruits are suspended from feathery "parachutes" that are carried on the wind (Figure 1). The fruit of maple and ash trees have wings that let them float on air.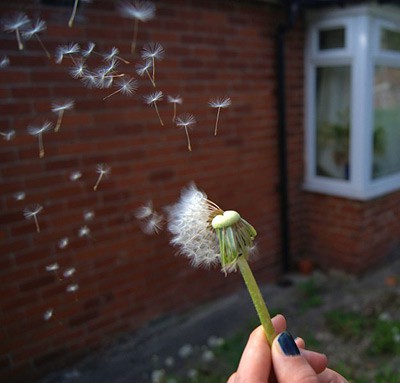 Figure 1.
Dandelion seeds being dispersed by the wind (Wikimedia Commons user Alex Valavanis, 2011).
In this experiment, you will investigate how the size and shape of seeds influence their ability to be dispersed by wind. You will design your own seeds and measure two important qualities that enhance their ability to disperse in the wind: distance traveled and time aloft.
Adapted from "Sailing Seeds: An Experiment in Wind Dispersal," by Steven K. Rice, used with permission.
Terms and Concepts
Seed
Fruit
Wind dispersal
Water dispersal
Animal dispersal
The relationship between seed shape, mass, size and dispersal method
The relationship between fruits and seeds
Questions
What are the advantages and disadvantages of each type of dispersal?
Is a fruit or a seed more likely to be dispersed by the wind?
Bibliography
Original online lab:
Great pictures and general information on seed dispersal:
Video and pictures of seed dispersal:
General plant information:
Stern, K.R. (2000). Introductory Plant Biology. (8th ed.). Dubuque, IA: McGraw Hill.
Materials and Equipment
Seed examples from sunflowers, dandelions, maple trees, coconuts, apples, peas, nuts, or other plants (you can look up pictures online, you do not need the physical seeds)
Small, uniform, lightweight objects that you can use as "seeds." For example, you could use small paper clips or thumbtacks. You could also purchase a bag of real seeds at the grocery store, like sunflower seeds.
Craft supplies to construct dispersal mechanisms for your artificial seed (paper, tape, scissors, glue, pipe cleaners, cotton balls, streamers, etc. — use your imagination!)
Window fan or large box fan
Meter stick or tape measure
Stop watch
Marker
An assistant
A video camera (not required, but it may help to analyze the data and enrich your observations)
Experimental Procedure
Investigate different types of fruits and seeds. Take notice of fruit or seed shape and size and research how each is dispersed. Is there a relationship between the structure of the fruits and seeds and how they are dispersed? Record your observations in your lab notebook.
Experiment with several of your artificial "seeds" by designing dispersal mechanisms for them. You can get ideas from your research on real seeds, or come up with your own ideas. Focus on what shape and size will allow your seed to travel the farthest and stay aloft for the longest amount of time. This part of the project follows Engineering Design Process because there is no fixed procedure. It is up to you to come up with your own ideas for designs, then build and test them. As you build, experiment with dropping your seeds. Do your dispersal mechanisms make the seeds fall slower? You can decide how many different designs you want to test for your project, but try to use at least two.
After you have made several different models, evaluate each seed's dispersal characteristics according to the following procedure. Also remember to test a "bare" seed as a control (for example, a paper clip with nothing else attached to it).

Set up the fan on a table blowing horizontally across the room.
Establish a standard drop site above the fan and set up a tape measure along the floor beneath the fan.
If you are using a video camera, set up the camera to record the complete flight.
Each seed model should be dropped at least four times from the same point above the fan. Experiment with your set-up to find the best height, then use that height consistently for all trials.
Record the time aloft and the distance traveled for each trial. You may need a volunteer to help operate the stopwatch while you drop the seeds. Use a data table like Table 1.
Average the time aloft and distance traveled for each fruit.

Graph your results.
Is there a correlation between maximum time aloft and the distance each fruit traveled?
Seed Dispersal Example Data Table
Time Aloft
(s)
Distance Traveled
(cm)
Average Time Aloft
(s)
Average Distance Traveled
(cm)
Control
Trial #1
Trial #2
Trial #3
Trial #4
Model #1
Trial #1
Trial #2
Trial #3
Trial #4
Model #2
Trial #1
Trial #2
Trial #3
Trial #4
Table 1.
Example data table.

Ask an Expert
Do you have specific questions about your science project? Our team of volunteer scientists can help. Our Experts won't do the work for you, but they will make suggestions, offer guidance, and help you troubleshoot.
Variations
Experiment with different masses or shapes or sizes of seeds to determine the best shaped seed for wind dispersal.
Focus on a different mode of dispersal (water) and conduct an experiment to see what size and shape of fruit or seed is dispersed best by water.
Careers
If you like this project, you might enjoy exploring these related careers:
Related Links
Cite This Page
General citation information is provided here. Be sure to check the formatting, including capitalization, for the method you are using and update your citation, as needed.
MLA Style
Science Buddies Staff. "Gone With the Wind: An Experiment on Seed & Fruit Dispersal." Science Buddies, 20 Nov. 2020, https://www.sciencebuddies.org/science-fair-projects/project-ideas/PlantBio_p013/plant-biology/seed-wind-dispersal?from=Home. Accessed 28 May 2023.
APA Style
Science Buddies Staff. (2020, November 20). Gone With the Wind: An Experiment on Seed & Fruit Dispersal. Retrieved from https://www.sciencebuddies.org/science-fair-projects/project-ideas/PlantBio_p013/plant-biology/seed-wind-dispersal?from=Home
Last edit date: 2020-11-20
Explore Our Science Videos
Light-Tracking Robot: BlueBot Project #2
Is the Egg Raw or Cooked? STEM activity