Smarter Than Your Average Slime: Maze-solving by an Amoeboid Organism
| | |
| --- | --- |
| Areas of Science | Zoology |
| Difficulty | |
| Time Required | Long (2-4 weeks) |
| Prerequisites | None |
| Material Availability | You will need a Physarum polycephalum culture kit. See the Materials and Equipment list for details. |
| Cost | Average ($50 - $100) |
| Safety | Use caution when working with sharp blades and when working with hot solutions. |
Abstract
Can a simple organism that lives off of dead trees and that grows as a mass of protoplasm actually have intelligence? The goal of this science fair project is to test the ability of the slime mold
Physarum polycephalum
to solve the problem of finding the shortest path through a maze.
Objective
Establish a culture of Physarum polycephalum and determine if it can find the shortest distance between two food sources in a maze.
Share your story with Science Buddies!

Yes,
I Did This Project!
Please log in (or create a free account) to let us know how things went.
Credits
David B. Whyte, PhD, Science Buddies
Cite This Page
General citation information is provided here. Be sure to check the formatting, including capitalization, for the method you are using and update your citation, as needed.
MLA Style
Science Buddies Staff. "Smarter Than Your Average Slime: Maze-solving by an Amoeboid Organism." Science Buddies, 6 Nov. 2017, https://www.sciencebuddies.org/science-fair-projects/project-ideas/Zoo_p060/zoology/slime-mold-solve-maze?class=AQUdfEdXVu3T_oGwTonZMbPBtaBzHjsbk9R1azAoVwhw-ZJs0xBDr_E-La83O26TEVkNYLZo-VXQpx1-hsA1OdxdJBC0tVm9TB_e8Qsog2V8dg. Accessed 16 Dec. 2019.
APA Style
Science Buddies Staff. (2017, November 6). Smarter Than Your Average Slime: Maze-solving by an Amoeboid Organism. Retrieved from https://www.sciencebuddies.org/science-fair-projects/project-ideas/Zoo_p060/zoology/slime-mold-solve-maze?class=AQUdfEdXVu3T_oGwTonZMbPBtaBzHjsbk9R1azAoVwhw-ZJs0xBDr_E-La83O26TEVkNYLZo-VXQpx1-hsA1OdxdJBC0tVm9TB_e8Qsog2V8dg
Last edit date: 2017-11-06
Introduction
With a name like slime mold, it's understandable that you would expect these organisms to be ugly and disgusting. Despite their unappealing name, slime molds are fascinating and, for some observers, beautiful organisms. They form colorful gliding masses as they creep over decaying wood and leaves. A particularly interesting and well-studied slime mold is called Physarum polycephalum, the many-headed slime mold.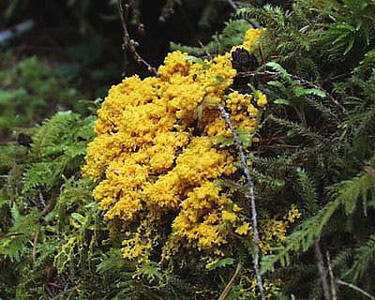 Figure 1.
Physarum polycephalum
growing in Olympic State Park. (Wikipedia, 2009.)
In its growing stage, Physarum polycephalum looks like a giant amoeba that spreads out like a fan, enveloping and eating everything in its path. It consumes bacteria and decaying organic matter. In this plasmodial stage, Physarum polycephalum is a bright yellow glistening mass that can grow to more than a foot across. If the conditions that the organism finds itself in become challenging—for example, the ground becomes dry or food becomes scarce—the plasmodium will begin to shrink and form sporangia. The sporangia produce spores that can be spread by the wind to new regions for the organism to grow. Germination of the spores leads to the formation of a new plasmodium.
A curious variation occurs when the plasmodium encounters conditions that are too severe for it to continue growing, but not severe enough to cause it to form sporangia. It goes into a kind of dry, dormant state, called sclerotium from which it can revive itself if it becomes moist. The organism is sometimes shipped as a sclerotium when purchased from scientific supply companies.
Physarum polycephalum is inexpensive to obtain and it can be easily cultured on a moist surface, such as a damp piece of filter paper or an agar plate (agar plates are easier to use because they stay moist). It can be fed rolled oats as it grows, and divided to a fresh plate when it has grown to cover the first surface.
Slime molds, like Physarum polycephalum are part of the kingdom Protoctista. This is probably the least understood of the five kingdoms of life; the others being animals, plants, fungi, and bacteria. One of the most interesting things about Physarum polycephalum is that it shows a quality that could be called primitive intelligence. Studies done by Dr. Nagakaki and colleagues in Japan have shown that Physarum polycephalum can find the shortest distance through a maze. You can watch the video below to get an idea of how this can work.
If the Physarum polycephalum organism is chopped up and dropped into a labyrinth (a maze), they put themselves back together and start to move. At the same time, if a food source is placed at the entrance and exit to the maze, they avoid dead ends in the maze and form a connection (as a single tube) between the food sources. In all cases, the Physarum polycephalum chose the path that was the shortest between the two food sources. In a way, it "solved" the puzzle of finding the shortest path through the maze!
According to the abstract of the paper, here is how the authors sum up the findings:
"The plasmodium of the slime mould Physarum polycephalum is a large amoeba-like cell consisting of a dendritic network of tube-like structures (pseudopodia). It changes its shape as it crawls over a plain agar gel and, if food is placed at two different points, it will put out pseudopodia that connect the two food sources. Here we show that this simple organism has the ability to find the minimum-length solution between two points in a labyrinth" (Nakagaki, et al., 2000).
The procedure, as described in the Nakagaki paper, is quoted below:
"We took a growing tip of an appropriate size from a large plasmodium in a 25 X 35 cm culture trough and divided it into small pieces. We then positioned these in a maze created by cutting a plastic film and placing it on an agar surface. The plasmodial pieces spread and coalesced to form a single organism that filled the maze, avoiding the dry surface of the plastic film. At the start and end points of the maze, we placed 0.5- x 1- x 2-cm agar blocks containing nutrient (0.1 mg/g of ground oat flakes). There were four possible routes (α1, α2, β1, β2) between the start and endpoints" (Nakagaki, et al., 2000).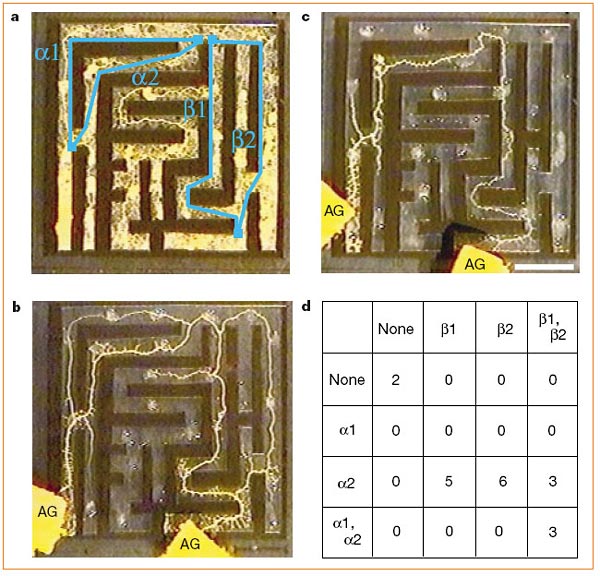 Figure 2.
Maze-solving by
Physarum polycephalum.
2.a.
Structure of the organism before finding the shortest path. Blue lines indicate the shortest paths between two agar blocks containing nutrients: α1 (4151 mm); α2 (3351 mm); β1 (4451 mm); and β2 (4551 mm).
2.b.
Four hours after the setting of the agar blocks (AG), the dead ends of the plasmodium shrink and the pseudopodia explore all possible connections.
2.c.
Four hours later, the shortest path has been selected. Plasmodium wet weight, 90 +/- 10 mg. Yellow, plasmodium; black, "walls" of the maze; scale bar is 1 cm.
2.d.
Path selection. Numbers indicate the frequency with which each pathway was selected. "None:" no pseudopodia (tubes) were put out. See Supplementary Information at the
Nature
website noted in the Bibliography for an animated versions of
2.a-c.
(Nakagaki, et al., 2000.)
Quoting again for the Nakagaki paper, here is a summary of their results:
"The plasmodium pseudopodia reaching dead ends in the labyrinth shrank [Figure 2.b., above], resulting in the formation of a single thick pseudopodium spanning the minimum length between the nutrient-containing agar blocks [Figure 2.c., above]. The exact position and length of the pseudopodium was different in each experiment, but the path through α2—which was about 22% shorter than that through α1—was always selected [Figure 2.d., above]. About the same number of tubes formed through β1 and β2 as the difference (about 2%) in their path lengths is lost in the meandering of the tube trajectory and is within experimental error" (Nakagaki, et al., 2000).
In this advanced biology science fair project, you will attempt to repeat the research results of Nakagaki, et al. Independent confirmation of results is a common and important practice in science. The goal is to address the question "Does the organism Physarum polycephalum demonstrate qualities that can be termed primitive intelligence?" The Procedure in this science project idea provides an outline for approaching this research problem, but you will have to work out many of the details independently. There are plenty of ways to expand on Nakagaki, et al.'s findings, some of which are suggested in the Make It Your Own section at the end of the procedure, but you may be able to think of others.
Terms and Concepts
Slime mold
Physarum polycephalum
Plasmodium
Sporangia
Germination
Sclerotium
Agar plate
Protoctista
Primitive intelligence
Amoeba-like cell
Dendritic network
Pseudopodia
Minimum-length solution
Questions
How many species have been described in the kingdom Protoctista?
What is a pseudopod?
What is meant by the term dendritic network?
What are the various forms that Physarum polycephalum can assume in its life cycle?
Do you agree with the authors of the paper by Nakagaki, et al. that slime molds are capable of demonstrating a form of "primitive intelligence"?
Bibliography
Materials and Equipment
Note: Keep in mind as you evaluate how many materials you will need that you will be running at least six trials of this experiment, and they can be run concurrently.
These items can be purchased from Carolina Biological Supply Company, a Science Buddies Approved Supplier:
Physarum polycephalum culture kit. The kit contains a Physarum polycephalum plate culture, agar, petri dishes, and Physarum polycephalum food, which is old-fashioned oatmeal flakes.
Heat-protective gloves
Forceps or tweezers
Sterile, cotton-tipped swab applicators
You will also need to gather these items:
Transparency paper; available at office supply stores (1 box)
Printer that can use transparency paper
Distilled water (1 gallon)
Optional: Digital camera
Lab notebook
Disclaimer: Science Buddies participates in affiliate programs with Home Science Tools, Amazon.com, Carolina Biological, and Jameco Electronics. Proceeds from the affiliate programs help support Science Buddies, a 501(c)(3) public charity, and keep our resources free for everyone. Our top priority is student learning. If you have any comments (positive or negative) related to purchases you've made for science projects from recommendations on our site, please let us know. Write to us at scibuddy@sciencebuddies.org.
.

Smarter Than Your Average Slime: Maze-solving by an Amoeboid Organism
PDF date: 2019-12-16
Experimental Procedure
Working with Biological Agents
For health and safety reasons, science fairs regulate what kinds of biological materials can be used in science fair projects. You should check with your science fair's Scientific Review Committee before starting this experiment to make sure your science fair project complies with all local rules. Many science fairs follow Intel® International Science and Engineering Fair (ISEF) regulations. For more information, visit these Science Buddies pages: Projects Involving Potentially Hazardous Biological Agents and Scientific Review Committee. You can also visit the webpage ISEF Rules & Guidelines directly.
Prepare the agar plates following the directions supplied with the Physarum polycephalum culture kit.

Microwave the agar to melt it. Loosen the caps prior to microwaving.
Use heat-protective gloves to handle the hot agar.
Uncover one plate at a time and pour just enough agar to cover the bottom of the plate.
Allow the plates to cool for about 1 hour.

Start growing the Physarum polycephalum culture.

Follow the directions that came with the kit to establish actively growing plasmodia.
Avoid exposing the culture to direct light. Also, the culture will grow best at about 25°Celsius (C) (77°Fahrenheit [F]) but should survive at most room temperatures.
Use a swab applicator to transfer a portion of the plasmodia supplied to the center of an agar plate.
Using forceps or tweezers, transfer three or four pre-moistened oat grains around the plasmodial mass. Pre-moisten the oatmeal with a few drops of distilled water.
Keep feeding the Physarum polycephalum culture moistened oats to enhance its growth.
Transfer part of the culture to new agar plates, as needed, to maintain the culture. Note: The culture can also be maintained using moist filter paper as a substrate, and oatmeal you buy at a grocery store for food.

Make the Physarum polycephalum labyrinth.

Look at Figure 2 to see the shape of the labyrinth used in the original paper. It is about 4 cm x 4 cm in size. The design is reproduced as a template in Figure 3.
Print the design below on transparency paper. You may need to adjust the size of the printed figure so that it is about 4 cm x 4 cm.
Cut out the clear portion of the labyrinth using Exacto blades or a small pair of scissors.
Place the maze on the agar surface of a clean agar plate.
Note that the maze has three pieces.
Placing the maze on the agar while it is still hardening may create a better attachment between the maze and the agar surface.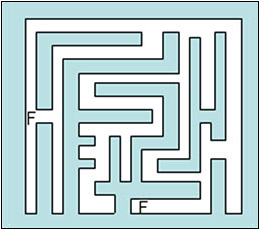 Figure 3.
Template of a
Physarum polycephalum
labyrinth. It should be about 4 cm x 4 cm when printed out. See the paper by Nakagaki, et al. in the Bibliography for more details.
Grow the Physarum polycephalum in the labyrinth, as follows.

Transfer several small pieces of the growing plasmodia culture in the maze. Note in your lab notebook the time and location at which you added the food.
Allow the Physarum polycephalum to grow until it fills the maze.

Add food to the labyrinth.

Place a pre-moistened piece of oatmeal at each spots labeled "F" in Figure 2.
You can also use agar blocks that already contain nutrients.

Observe the pattern of growth of the Physarum polycephalum. Record the Physarum polycephalum's pattern of growth using photographs or drawings.

Tip: Depending on your exact culture conditions, it may take more than several hours to see changes, and you may need to observe the pattern of growth for a few days.

Does the Physarum polycephalum establish a connection between the two pieces of food using the shortest route? Record all observations in your lab notebook.
Repeat the procedure at least five more times. These trials could be done in parallel, with replicates of the maze.
Record the results in a data table. How often did the Physarum polycephalum "choose" the shortest path to connect the two food sources?
.
If you like this project, you might enjoy exploring these related careers: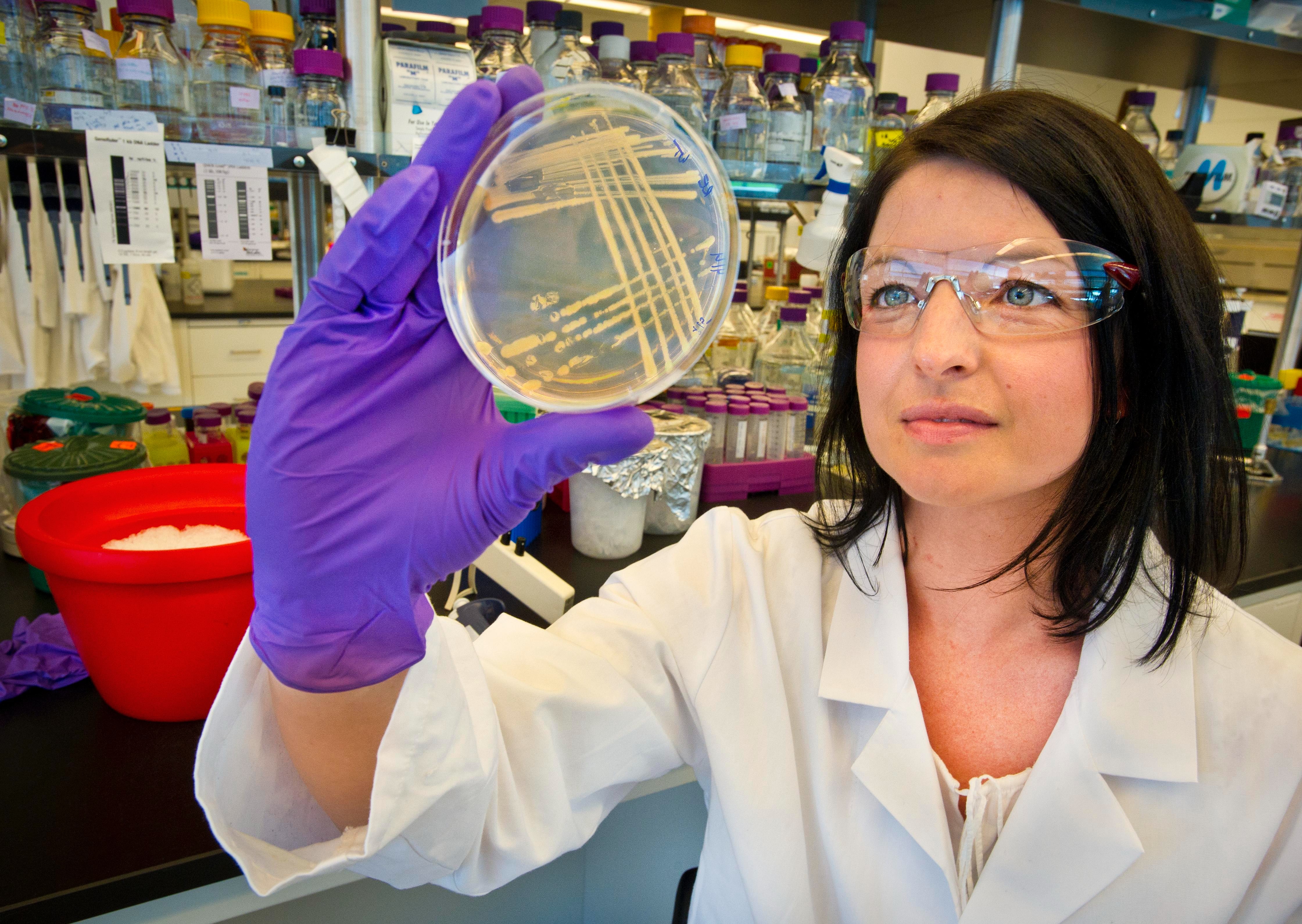 Life is all around you in beauty, abundance, and complexity. Biologists are the scientists who study life in all its forms and try to understand fundamental life processes, and how life relates to its environment. They answer basic questions, like how do fireflies create light? Why do grunion fish lay their eggs based on the moon and tides? What genes control deafness? Why don't cancer cells die? How do plants respond to ultraviolet light? Beyond basic research, biologists might also apply their research and create new biotechnology. There are endless discoveries waiting to be found in the field of biology!
Read more
Variations
Try other maze designs. Determine the lengths between the food sources for all possible connecting routes. What is the minimum percentage difference in length between routes that produces repeatable differences in the Physarum's choice of routes?
Devise other ways of making mazes. For example, you could try printing the maze on the filter paper directly, then coloring in the maze with crayons or other material the Physarum polycephalum will not grow over.
View the Physarum polycephalum growing on an agar plate with a microscope. Place the culture plate on the microscope stage and view at 40x magnification. Make the diaphragm small and focus on the bright yellow veins. Can you see the rapid fluid motion (streaming) of the cytoplasm? Does the streaming change at various times during the course of the experiment?
Place food (moistened oats) on an agar plate in a triangle and inoculate the plate with Physarum polycephalum. What is the final shape of the organism? Is it the minimal distance possible to connect the food sources? Try other patterns. What happens if one food source has more food than the others?
Share your story with Science Buddies!

Yes,
I Did This Project!
Please log in (or create a free account) to let us know how things went.
Ask an Expert
The Ask an Expert Forum is intended to be a place where students can go to find answers to science questions that they have been unable to find using other resources. If you have specific questions about your science fair project or science fair, our team of volunteer scientists can help. Our Experts won't do the work for you, but they will make suggestions, offer guidance, and help you troubleshoot.
Ask an Expert
Related Links
News Feed on This Topic
Note:
A computerized matching algorithm suggests the above articles. It's not as smart as you are, and it may occasionally give humorous, ridiculous, or even annoying results!
Learn more about the News Feed
Looking for more science fun?
Try one of our science activities for quick, anytime science explorations. The perfect thing to liven up a rainy day, school vacation, or moment of boredom.
Find an Activity
Explore Our Science Videos
| | | |
| --- | --- | --- |
| How to Make Elephant Toothpaste | 5 Science Experiments You Can Do With Peeps | Make A Tissue Paper Parachute - STEM Activity |