How Do Baseball Stadium Dimensions Affect Batting Statistics? *
| | |
| --- | --- |
| Difficulty | |
| Time Required | Short (2-5 days) |
| Prerequisites | Basic knowledge of Microsoft Excel, statistics, and baseball |
| Material Availability | Readily Available |
| Cost | Very Low (under $20) |
| Safety | No issues |
*Note: This is an abbreviated Project Idea, without notes to start your background research, a specific list of materials, or a procedure for how to do the experiment. You can identify abbreviated Project Ideas by the asterisk at the end of the title. If you want a Project Idea with full instructions, please pick one without an asterisk.
Abstract
Have you ever wondered how playing in a certain stadium affects how well the athletes perform? Major League Baseball (MLB) is played in ballparks that have their own individual quirks when it comes to the exact layout of the field. How an individual ballpark affects player performance, which is known as ballpark effects, is heavily investigated in the field of baseball. To name just a few parks and their different traits, Fenway Park (the long-time home ballpark for the Boston Red Sox in Boston, Massachusetts) has the famous "Green Monster" in left field, the original Yankee Stadium (located in the Bronx in New York City) was notorious for the "short porch" down the right field line, and Coors Field (in Denver, Colorado) is at a much higher altitude than any other ballpark. How do differences likes these and others affect batting statistics?
One characteristic of a ballpark that you can use to compare it to others is the ballpark's dimensions. Figure 1 below shows a general baseball field layout. But even in modern baseball not all stadiums are the same size, and this can affect batting statistics. For example, a player who hits .300 with 30 home runs in one stadium may be a .250 hitter with 15 home runs in another ballpark.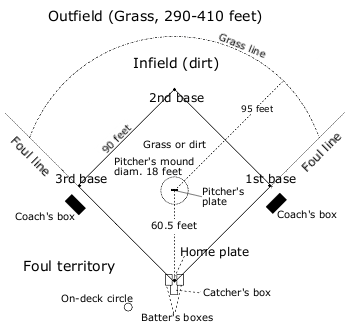 In this mathematics science project, you will determine how the dimensions of a baseball stadium affect batting statistics. You will need to do a little digging to pull the numbers together, but a nice thing about this project is that the experiments are already done, and the data is out there waiting for you. (See the Bibliography in the Background tab for some resources to help you find this data.) For each ballpark that you are interested in investigating, find out what its dimensions are. Then look up the team's batting statistics at the home ballpark and at road ballparks over the time that they have been playing in that particular home ballpark. (Do this for their opponents as well.) After you have collected the relevant data, average the batting statistics for each team for when they played in the home ballpark or in a road ballpark. Since the average road ballpark is nearly the same as the league's average ballpark, the difference between home and road performance should be the home ballpark's effect on offense. How do the dimensions of a ballpark affect which ones are good hitter's ballparks, and which are not?
You could also investigate how other factors, such as altitude, weather, and remodeling a stadium, affect how the athletes play. While altitude is easy to quantify since it does not change, matching weather data with batting statistics may be a bit harder and may require some programming. How does changing the dimensions of an existing ballpark, which sometimes happens when a stadium is remodeled, affect the players' batting statistics? For example, the Oakland Athletics' home ballpark used to have a lot more foul ground around home plate. How do you think doing something such as shrinking foul territory around home plate affects batting statistics? To investigate an effect such as this, you could select a group of players and analyze their batting statistics before and after the remodeling. You could even look at individual players to see if there are individual variations by hitting style. To investigate this, you will have to do some research to find out when changes were made, and what the ballpark dimensions were before and after remodeling.
Credits
Gabriel Desjardins
Cite This Page
MLA Style
Science Buddies Staff. "How Do Baseball Stadium Dimensions Affect Batting Statistics?" Science Buddies. Science Buddies, 16 Apr. 2015. Web. 20 July 2017 <https://www.sciencebuddies.org/science-fair-projects/project_ideas/Math_p003.shtml>
APA Style
Science Buddies Staff. (2015, April 16). How Do Baseball Stadium Dimensions Affect Batting Statistics?. Retrieved July 20, 2017 from https://www.sciencebuddies.org/science-fair-projects/project_ideas/Math_p003.shtml
Share your story with Science Buddies!

I Did This Project!
Please log in and let us know how things went.
Last edit date: 2015-04-16
Share your story with Science Buddies!

I Did This Project!
Please log in and let us know how things went.
Ask an Expert
The Ask an Expert Forum is intended to be a place where students can go to find answers to science questions that they have been unable to find using other resources. If you have specific questions about your science fair project or science fair, our team of volunteer scientists can help. Our Experts won't do the work for you, but they will make suggestions, offer guidance, and help you troubleshoot.
Ask an Expert
Related Links
If you like this project, you might enjoy exploring these related careers:
Looking for more science fun?
Try one of our science activities for quick, anytime science explorations. The perfect thing to liven up a rainy day, school vacation, or moment of boredom.
Find an Activity