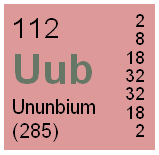 When you're an element - even a "super-heavy" one - getting an official name and spot on the Periodic Table isn't easy. A chemical element, Element 112 was first fusion-created more than a decade ago but only recently found a spot on the table. It was originally known as eka-mercury but has since been going by the temporary name "Ununbium" with a symbol of UuB. The scientists who discovered Unumbium have proposed to the International Union of Pure and Applied Chemistry (IUPAC) that it be officially named Copernicium, after Nicolaus Copernicus, with a symbol of Cp.
(Copernicus, of course, first developed a heliocentric view of the universe, positing the sun at the center rather than the Earth and thus changing the face of astronomy.)
Final approval of the name will take approximately six months, which gives you plenty of time to peruse the system of naming the IUAPC follows when assigning temporary names which they refer to as " Systematic element names."
For more on the history of Element 112 and its 107-111 precursors, see this article from the BBC: http://news.bbc.co.uk/2/hi/science/nature/8093374.stm

Explore Our Science Videos
Build a Self-Driving Arduino Car
Colorful Melting Ice Ball Patterns - STEM Activity
Measure Static Electricity With An Electroscope!