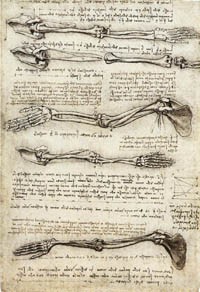 Born on April 15, 1452:
Leonardo daVinci, a "total package" when it comes to the quest for knowledge. Students learning the importance of a lab notebook might find inspiration in da Vinci's famed journals. The notebooks contain over ten thousand illustrated pages, written in mirror cursive, in which da Vinci recorded daily observations, including science and engineering schematics.

See our "Lab Notebooks" blog entry for helpful tips and tricks compiled from staff scientists at Science Buddies.

What do your science notebooks look like? Do you have a picture to share? We'd love to see!
Explore Our Science Videos
How Do Viruses React To Soap?
How Far Will It Fly? Explore Drag with Paper Airplanes
Solar Panel Angle for the Junior Solar Sprint