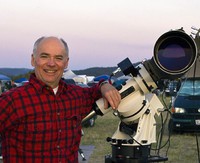 Science Buddies will soon be turning ten, and in recognition of countless volunteer hours donated to building, refining, and envisioning the nonprofit's award-winning, free resources, the Science Buddies' staff recognized Ken Hess, founder and president, as
"Volunteer of the Decade"
at a company meeting today.

Since he launched Science Buddies in 2001, Ken has worked to facilitate the creation of top-notch resources, tools, and project ideas designed to support students, teachers, and their families in all aspects of doing a science or engineering project.
For more information about Ken and his move from successful entrepreneur to author, educator, and philanthropist, visit http://en.wikipedia.org/wiki/Kenneth_Hess.
Please join us in congratulating and thanking Ken on close to a decade of volunteerism. Millions of students, teachers, and families have benefited from the services Science Buddies offers. And behind those services, at every step, has been the guiding hand and inspiration of Ken.

Categories:
You Might Also Enjoy These Related Posts:
Explore Our Science Videos
Squishy Circuits Classroom Activity Part 1
Reaction Rates: When Surface Area Matters! Lesson Plan Introduction