Watch Exclusive Iron Man 3 Footage on Monday to Support Science Buddies!
Science Buddies is gearing up to for special Iron Man 3 video footage on Monday from Verizon FiOS. As part of Verizon's View to Give program, Verizon will donate $0.01 to Science Buddies for every view of the video footage on Monday, April 29 only. Your view will help support Science Buddies! Please plan on catching the video Monday and sharing the link on Monday with your friends and family. The video will be available at verizon.com/ironman3.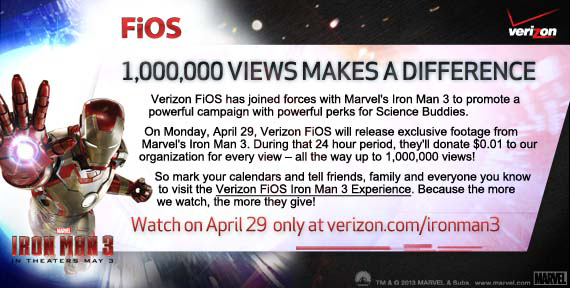 Please follow Science Buddies at Facebook to catch our Iron Man posts and updates throughout the day on Monday.

Looking for Iron Man Science Inspiration?
See our "Iron Man: Behind the Science" resource for connections students can explore between the big screen character and hands-on,real-world science.
Categories:
You Might Also Enjoy These Related Posts:
Explore Our Science Videos
Why Do Apples and Bananas Turn Brown? - STEM activity