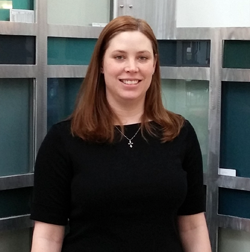 Name: Melissa Gerhart
Current employer: PPG Industries, the world's leading coatings company
Job title: Development Chemist at the PPG Architectural Coatings U.S. and Canada research and development lab in Cheswick, PA
Science Career: Chemist
Time working in this field: 10 years
How would you describe what you do on a typical day to a student?
I am responsible for developing specialty products for the North American PPG Architectural Coatings business unit. The specialty products I work on include wood cleaners, wood strippers, commercial paints sold directly to professional contractors, and faux finish wall coatings that replicate suede and other textures. These products are sold under well-known brands such as OLYMPIC® Paints and Stains, FLOOD®, GLIDDEN® and PPG PAINTS™. These brands may be used by your parents or a home improvement contractor on your very own home!
On a typical day, the vast majority of my time is spent in the lab testing products and developing formulas for new products. I also spend time evaluating data findings or in meetings communicating the results of the data.
How did you become interested in this area of science/engineering?
I had two great chemistry teachers in high school. Their classes were fun, exciting, and hands-on. It was because of them that I decided to pursue a career in chemistry.
What did you study in high school, undergraduate, and graduate school?
In high school I completed the general course work with only one Advanced Placement speech class. After high school, I attended Indiana University of Pennsylvania (IUP) and earned a bachelor's degree in chemistry. I also received a Certificate of Recognition in safety science from IUP, which is a program that introduced me to the fundamentals of occupational safety involving recognition, evaluation, and control of common workplace hazards. Looking back, I am so glad that I have this certification, as safety is always the #1 priority at PPG.
How would you describe your current work environment to a student?
The work environment is an industrial lab that houses instruments, equipment, and raw materials that allow my team to develop and test existing and new products. Most employees wear casual clothes, including jeans, because the lab work can be somewhat messy.
What are some of the key characteristics that are important for a person to succeed in your type of work?
The ability to effectively communicate with your supervisors, peers, and customers is essential. I often use these skills whenever I encounter problems such as manufacturing issues. I must concisely communicate to the team to determine where issues stem from and how to resolve them. Without sound problem solving abilities, I could not be successful in my job.
What do you enjoy most about your work? What do you not like or wish you could change?
I enjoy the casual atmosphere, ability to work independently, and the people I work with. The one thing I wish I could change is my hour-long commute to work.
What was a project that you have worked on that you found particularly interesting?
I always enjoy new product development. I get satisfaction knowing that I can walk into major home improvement retailers like Lowe's, The Home Depot, Walmart, and Menards and see customers buying products that I helped develop.
What can a student do in high school and in college to prepare for a career in your field in terms of coursework and extracurricular activities?
Taking extra math classes in high school and getting Six Sigma certification in college (or after) are extremely helpful in jobs similar to mine in science, technology, engineering, and mathematics fields. Six Sigma is a methodology that helps improve business processes by utilizing statistical analysis in order to increase operational productivity, customer satisfaction, and other measurable business outcomes. Also, internships (in college) can be valuable in order to gain real-world work experience and to apply it to your coursework.
Is there any advice you would give to someone interested in this field that you wish someone had given you when you were starting out?
Business is becoming more global, so learning another language can help open more opportunities for you. Also, talent and intelligence are great, but they won't get you where you want to go without hard work.
Is there anything about your profession that you think people misunderstand, or anything you think people would be surprised to learn about your job?
A common misconception is that being a chemist is boring and repetitive. I can honestly say my job is definitely not boring. There are new challenges presented to me and new problems to solve every day. However, there are days where I actually test how long it takes paint to dry.
Did you ever participate in science fairs as a student? What was your experience like?
My school only held science fairs in junior high. My brother and I developed a product called sticky paint. We mixed Elmer's glue and paint and used it to stick posters to the wall. After testing, we found that when the poster was removed from the wall, the sticky paint mixture did not damage the wall paint and could also be easily removed from the poster. We ended up winning first place in the science fair because we were able to use everyday items to fix a problem that many people have.
What do you do in your free time?
In my free time I read, watch science fiction movies, play with my two dogs, and hang out with my daughter.
Explore Our Science Videos
DIY Glitter Surprise Package with a Simple Circuit
Can You Charge Your Phone with a Potato?