Science Careers: Interview with Blake Bullock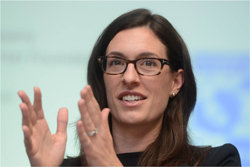 Name: Blake Bullock
Current employer: Northrop Grumman Aerospace Systems
Job title: Civil Air and Space Director, Business & Advanced Systems Development
Science Career: Engineering Manager
Time working in this field: 14 years
How would you describe what you do on a typical day to a student?
I think about the future of science, technology, and aerospace innovation so that I can help position our company for the next ten years.
How did you become interested in this area of science/engineering?
I'm trained as an astrophysicist and have always wanted to explore the fundamental nature of the world around us—contributing to a team that works at the cutting edge of technology allows me to be a part of that discovery.
What did you study in high school, college, and graduate school?
In high school my favorite class was physics, but I also loved writing, art, and playing basketball, volleyball, and swimming. As an undergraduate, I majored in astrophysics and was the captain of my NCAA Division I Varsity Rowing team (Cal Berkeley). In graduate school, my work was in theoretical cosmology (astronomy) where I did simulations of dark matter in the galaxy. When I had time, I kept up my rowing, hiking and swimming.
How would you describe your work environment to a student?
As a director of a small team of scientists and technologists, I have the joy of being surrounded by brilliant, creative people who push me every day to learn new and complicated things. No two days are the same, and we are constantly hyper-tasking across a large number of projects, teams, and customers.
What are some of the key characteristics that are important for a person to succeed in your type of work?
In this type of work, I value people who can take complex and muddy problems and turn them into concrete work plans. This means being technically adept, but also being a great communicator and even negotiator.
What do you enjoy most about your work? What do you not like or wish you could change?
I most enjoy introducing smart concepts to a new audience, and seeing those connections take place that could lead to future discovery or business—the power of communicating complex information in a way that is accessible to people who are not yet familiar with it. I don't like to encounter walls that are put up for no practical reason.
What was a project that you have worked on that you found particularly interesting?
I absolutely love being a part of the James Webb Space Telescope team, an observatory that will be 100x more powerful than Hubble, will reveal the most distant objects in the universe, and may also show us signs of life on other worlds. [See the The James Webb Space Telescope's Amazing Multiple Mirrors and Sunshield science project.]
What can a student do now to prepare for a career in your field in terms of coursework and extracurricular activities?
Do what you love, always, because you never know how it could one day connect to a career, no matter how unrelated it may seem. Having said that, also do the hardest classes/tasks you can find for yourself, because being a person who can do the hardest things is very valuable and sets you apart. You can always scale back, but it is hard to go the other direction.
Is there any advice you would give to someone interested in this field that you wish someone had given you when you were starting out?
Never ever let anyone convince you that you can't do something or you aren't good at it. If you want to do it, stick to it even if it seems you aren't succeeding right away. The only way to be good is to have done it and focused on it, and that takes time. Don't be someone who is scared away.
Is there anything about your profession that you think people misunderstand, or anything you think people would be surprised to learn about your job?
People think that there is a special kind of person who is "good at math," who is different from "other" people, when the truth is that people excel at what they work very hard at.
Did you ever participate in science fairs as a student? What was your experience like?
I was not big on science fairs as a student, but I did enter many essay and writing contests, which I enjoyed a great deal. Today I use my love of writing in my job communicating complex scientific and technical concepts.
What do you do in your free time?
In my free time, I love to go hiking in the Sierras, Lake Tahoe, or the mountains, coast and canyons in Southern California with my family. I also like reading classics, enjoying LA theater, and watching zombie TV shows.
Explore Our Science Videos
Model the Planets of the Solar System
Build a Bottle Centrifuge