Science Careers: Interview with Imran Akbar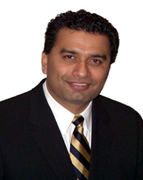 Name: Imran Akbar
Current employer: Motorola Solutions
Job title: Vice President and General Manager of Enterprise Networks & Communications at Motorola Solutions
Science Career: Engineering Manager
Time working in this field: 20 years
Imran Akbar is the Vice President and General Manager of Enterprise Networks & Communications at Motorola Solutions (MSI). Currently, he manages MSI's Wireless LAN (WiFi) business and leads MSI's initiative into converged communications, which includes single- (WiFi) and dual- (WiFi and Cellular) mode solutions with voice services like Dispatch (PTT) and PBX mobilization. He also played a key role in the acquisition of Symbol Technologies and Air Defense and their integration into MSI.
How would you describe what you do on a typical day to a student?
There is no "typical" day or week, but over a period of time, such as a month, my time breaks down as follows:
1/4 working with customers and partners who help sell to customers. I visit customers to see how our products are working and to see whether a customer needs a WiFi technology refresh or wants to execute on mobilizing its workforce or desires to improve its interaction with its customers.
1/4 managing the strategy, product management, and engineering teams. We look two years out at what will provide profitable growth and what products need to be developed for the future.
1/4 managing other parts of the organization and external stakeholders. These activities include talking to sales and services, handling corporate business and financial reviews, understanding competitive moves in the marketplace, and presenting to analysts.
1/4 innovating new solutions and ideas. What else should we be thinking and developing? What are new start ups doing?
What does "enterprise networks" mean?
WiFi for business. Just as we have WiFi in our homes so that our computers can connect through WiFi, we offer enterprise-grade WiFi for large customers. Customers like the largest grocer in the world or a large shipping company may have many hundreds or thousands of points of presence. They need higher security and more resiliency. You can't just take home WiFi and use it as business WiFi. Enterprise networks are business- and mission-critical because companies could lose millions of dollars per minute if their WiFi goes down. In addition to business WiFi, on the communications side, we offer communications solutions (VoIP, walkie talkies, badges, phones, etc.) to help our customers in making their people and systems communicate with one another.
How did you become interested in this area of science?
I am not an engineer by education, but I have always been interested in hanging out with people who like to build things and write code. I am good at anticipating customer problems and issues and brainstorming how we can address those problems and challenges. I also recognize the importance of getting feedback from customers and giving it to engineers, bridging what the customer wants with how we can fulfill a particular need.
What did you study in high school, as an undergraduate, and then as a graduate student?
I have undergraduate and graduate degrees in accounting and finance. My undergraduate degree is from Osmania University (India), and I have an MBA from the University of Chicago.
How would you describe your work environment to a student?
Our working environment is energizing, self-motivating, interesting, high energy, and exciting. It is also marked by hard work. If I walk around at 7:30-8:00 at night, people are still working. I travel ten to fifteen days per month, visiting customers and sites in San Jose, Chicago, Bangalore (India), London (UK), Tokyo (Japan), Shanghai (China), etc.
What are some of the key characteristics that are important for a person to succeed in your type of work?
To succeed in life, at the bare minimum, you have to have integrity. When I am hiring people for my team, I look for self-motivated, hungry, collaborative people.
What do you enjoy most about your work? What do you not like or wish you could change?
I most enjoy anticipating or realizing customers' wants and needs for today and tomorrow and figuring out how we can be first to meet those needs. I also enjoy when a customer buys what we build, especially if it is something highly innovative, and it helps them succeed in the marketplace. My least favorite aspect of my job is the frequent traveling because I have young kids at home. I know that the travel is important, however, because relationships need human touch and can't be completely built over video conferences.
What was a project that you have worked on that you found particularly interesting?
A large retailer in the home improvement industry had thousands of employees in their stores with all different devices, such as walkie talkies, VoIP phones, and mobile computers that couldn't talk to each other. Some employees were carrying multiple devices. So we created a generation of devices that can do multiple functions, such as serving as a walkie talkie and making a telephone call. All islands of communication can now talk to each other. Our solution helped mobilize the company's workforce so they could be more productive and more effective in delighting their customers.
What can a student do now to prepare for a career in your field in terms of coursework and extracurricular activities?
Get excited about sciences and math. Tinker with things—open up something basic and see how it works, write some basic code and see how it simplifies a task or creates a new experience.
I encourage students to tinker with products and things we use. Think of a product you use, like a smart phone, and go into the menu and see all of its capabilities and what is there. Look at an iPad and see what capabilities you aren't using and tinker with the settings.
Is there any advice you would give to someone interested in this field that you wish someone had given you when you were starting out?
The best advice I can give is that sometimes it is too early to know what you really like. Keep your mind open to all possibilities, and you will find what interests you most and what keeps you up at night. Don't make decisions too early in life. Keep options open and then narrow as you go through your life. As you narrow your choices, follow what you are most passionate about.
Is there anything about your profession that you think people misunderstand, or anything you think people would be surprised to learn about your job?
I think a common misconception is that engineers are isolated and stay in remote offices writing code. In reality, they also go meet with customers to see what they are doing, what problems they are facing or what challenges they want to overcome. Lastly, engineers often get to see the results of their work.
Did you ever participate in science fairs as a student? What was your experience like?
Yes. I grew up in India. I think the ability to build things is something students should cherish and respect. There is so much yet to be built and discovered.
What do you do in your free time?
I spend my free time with family. I love movies and music. I continue to be a struggling golfer, but I do enjoy golf.
Explore Our Science Videos
Flying Helicopters on Mars - Paper Models
Will 200 Sticky Notes Hold My Weight?
Science Buddies: Pilobolus Spore Sac Launch