Science Careers: Interview with Seng Chang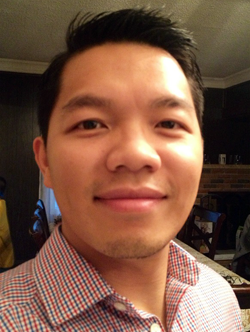 Name: Seng Chang
Current employer: I currently work for the Pentair Equipment Protection Global Business Unit (GBU) at Pentair Ltd.
Job title: I am a Product Engineer. We build industrial air conditioners that help cool components inside electrical enclosures.
Science Career: Mechanical Engineer
Time working in this field: I have been working as a Product Engineer for 1 1/2 years.
How would you describe what you do to a person on the street?
My role as a Product Engineer has me working with various departments, including customer service, operations, supply, quality and aftermarket. I help answer technical questions from customer service, trouble shoot and diagnose problematic air conditioners from quality and operations, and help guide technicians who are working to resolve issue off site.
How did you become interested in this area of science?
As a child, I used to break open old VCRs, handheld games, and various electronics just to see how they worked. I think that was when my interest in engineering began.
What did you study in high school, college, and graduate school?
I always gravitated towards science and math during my school years. As a senior in high school, I remember taking physics and pre-calculus even though my friends urged me to take gym courses with them. I did my undergraduate work in mechanical engineering—from thermodynamics and heat transfer to statics and C++.
How would you describe your work environment to a student?
I deal with new projects and problems every day, so there is never a dull moment. You can find me most days out on the shop floor helping operations or at my desk talking to customers or answering various emails.
What are some of the key characteristics that are important for a person to succeed in your type of work?
Clear communication is key—both verbally and in writing. Diligence in checking over and submitting quality work is also important. It shows the people around you that you care about your work.
What do you enjoy most about your work? What do you not like or wish you could change?
I enjoy interacting with the people in various departments. Things are always shifting and changing at Pentair, so you never know who you'll work with next. That gives you opportunity to connect and grow as an individual. Because things are moving so fast at Pentair, sometimes it may be tough to prioritize which projects should go ahead first. The positive thing about this is time seems to goes by awfully fast. Plus you feel more accomplished when you've completed a project.
What was a project that you have worked on that you found particularly interesting?
I've found that the most interesting projects are the ones that involve collaboration with people outside of the country. Besides the language and time barrier, I find it interesting how we interact and work in partnership to get a project done. I've always enjoyed it, too, when they come to visit, and I get to share a little bit of my culture with them.
What can a student do now to prepare for a career in your field in terms of coursework and extracurricular activities?
One thing you can do to prepare yourself for the engineering field is to participate in group activities as much as possible, as well as study hard to excel in both mathematics and science coursework. I believe these three things are great stepping stones to having a successful career as an engineer.
Is there any advice you would give to someone interested in this field that you wish someone had given you when you were starting out?
My advice is to study hard and to apply yourself in a lot of science courses. Hanging out with people with similar interests is always a plus.
Is there anything about your profession that you think people misunderstand, or anything you think people would be surprised to learn about your job?
Being an engineer doesn't necessarily mean you're creating a new product. A lot of people mistakenly think that I work in a lab putting things together. Depending on what type of engineer you are, you may be in the forefront designing, or you may be working to make existing designs better.
Did you ever participate in science fairs as a student? What was your experience like?
I never participated in any science fairs besides the experiments we did in class; like the classic vinegar and baking soda and Diet Coke and Mentos. During my undergraduate studies, I did participate in a competition that challenged us to apply the basic principles of alternative energy in four self-propelled devices across a 12-meter course. Over 30 teams nationwide competed in this competition. For our devices we chose potential energy, wind powered energy, chemical energy, and electric energy and spent over 100 hours putting it together.
What do you do in your free time?
I'm a pretty active person. In the summer, I do a lot of running. You can find me participating in half-marathons, Tough Mudder, and The Color Run events. I love snowboarding in the winter.
Explore Our Science Videos
Separating Iron Filings from Sand
Squishy Circuits Introduction
Light-Tracking Robot: BlueBot Project #2