Science Careers: Interview with Sunali Chokshi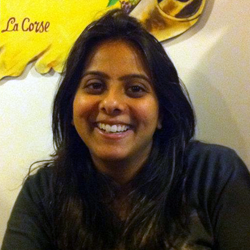 Name: Sunali Chokshi
Current employer: Space Systems/Loral (SSL)
Job title: RF Antenna Design Engineer
Science Career: Radio Frequency Engineer
Time working in this field: 11 years
How would you describe what you do on a typical day to a student?
As a design engineer, I spend most of my day simulating antenna or Radio Frequency (RF) components in software. Communications satellites use RF to transport video, audio, and data services. If you watch broadcast television, you can bet that at some point that programming was transported by RF over a satellite.
I discuss with the other engineers, in small groups and meetings, the design requirements and what the best ideas are to improve the performance of the component. When the actual design is complete, I often spend all day in the lab testing components with different equipment. Some days I am at a computer, some days I spend talking to different people, and some days I am in a lab. The best part of my job is that it is varied just enough so I never get bored.
How did you become interested in this area of science?
I always enjoyed solving puzzles and doing math, even when it was not required. I didn't get interested in electrical engineering until a science project in the 7th grade. We built a mini board game with a light up/buzzer that activated every time you got the question right. We made it work by building a circuit out of tinfoil. From that day on, I was so excited about being able to build something that acted like something I could buy in the store that I wanted to go into engineering.
What did you study in high school and college?
When in high school, I took advanced math classes. As an undergraduate student, I studied electrical engineering and economics.
How would you describe your work environment to a student?
I am surrounded by very smart, talented people who all want to help you learn. I am very lucky in that every day I get to come into my lab, and in the next room over, a giant satellite is being built. That is not something you see in most jobs.
What are some of the key characteristics that are important for a person to succeed in your type of work?
Being able to work with other people is vital. You can't build a satellite by yourself, so you have to be able to work in a team and communicate effectively so all the parts fit together correctly.
What do you enjoy most about your work? What do you not like or wish you could change?
I most enjoy the challenges of solving problems when things go wrong (which does happen). Dealing with a problem is like being a detective. You take what you know about engineering and try to figure out and understand what went wrong and how to fix it.
What was a project that you have worked on that you found particularly interesting?
SSL builds satellites for companies like DIRECTV, DISH Network, SiriusXM, and other companies around the world. It is exciting to work with the satellites that are eventually launched 22,300 miles up into space.
What can a student do now to prepare for a career in your field in terms of coursework and extracurricular activities?
Getting comfortable with mathematics and developing strategies for working through complex assignments in high school is important. I wasn't in science clubs or anything like that, but I did try and do well in everything I did (whether it was a math class or writing an essay) because all those skills pay off. I think being a part of any club would help, and taking leadership roles is especially important.
Is there any advice you would give to someone interested in this field that you wish someone had given you when you were starting out?
Pick something you are interested in and try it out. Don't psych yourself out of it because you are not sure if it is the right fit or you think it is too hard. You won't know until you try it. You can always change your mind later and try something new.
Also, don't be afraid to ask questions when you are starting out. This is your opportunity to learn as much as you can, and people are willing to help you because they know what it was like to be young and inexperienced. It's a golden age where you can ask anything and everything from many different people and build your own set of knowledge.
Is there anything about your profession that you think people misunderstand, or anything you think people would be surprised to learn about your job?
When people think of engineering, they often think it is just sitting in front of a computer all day and crunching numbers. What they don't realize is how much of the time teamwork is involved and that it is very stimulating to work with many smart people who can be very serious but also like to have fun.
Did you ever participate in science fairs as a student? What was your experience like?
I participated in the normal science fairs in elementary school, but I really enjoyed science projects in middle school like parachute egg drop and building a light bulb.
What do you do in your free time?
I like to cook and enjoy trying out new recipes, kickboxing, and playing tennis.
Explore Our Science Videos
The First Cartoon: Make Your Own Thaumatrope!
DIY Rubber Band Paddle Boat