Science Careers: Interview with Michael Yu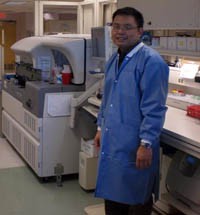 Name: Michael Yu
Current employer: Kaiser Permanente Panorama City Hospital, Panorama City, California
Job title: Chemistry Supervisor (Clinical/Medical Laboratory Scientist)
Science Career: Medical or Clinical Laboratory Scientist
Time working in this field: 8 years
How did you become interested in this area of science?
Actually, I stumbled into the field by accident. In high school and during college, I always imagined working in a clinical or research lab setting. When I was in the Navy, I was offered the opportunity to become a medical laboratory technician, and that is how I got started in the field.
What did you study in high school, undergraduate, and graduate school?
In high school, I took a variety of science and mathematics courses, which included pre-calculus, biology, chemistry, and physics.
I received my BS degree in Clinical Laboratory Science (CLS). The curriculum for the first two years included the basic core science and mathematics courses of general biology, chemistry, organic chemistry, calculus, and physics. The third year consisted of major-specific courses that included microbiology, immunology, blood bank, chemistry, urinalysis, and molecular biology. Also, there was a clinical rotation during the final year that provided students with hands-on experience working in a clinical lab.
I attended graduate school for my MBA in healthcare administration, which assisted me in moving into a management role.
What do you do on a typical day?
I start off the day by making sure that all the analyzers are operational, and then I perform quality control to ensure that test results will be accurate. After quality control is passed, I am ready to perform testing.
A typical day varies, depending on the section in which I am working. I will highlight some of the more common sections that are found in most hospital laboratories:
Chemistry—Chemistry is generally the section with the highest volume of tests, but it is also the most automated section. A typical day involves operation and maintenance of the analyzers to ensure that accurate results are available to the physician in a timely manner.
Hematology—It is not as automated as chemistry, and you might spend half your day running an analyzer and the rest of the day reading blood smears on a microscope.
Microbiology—Being a microbiologist is like being a detective because you are trying to determine the type and amount of bacteria in a culture sample. Microbiologists spend most of the day reading petri dishes and smears. Because it takes time for bacteria to grow, it usually takes a few days before a microbiology report can be finalized. The microbiologist will select the appropriate biochemical and molecular tests to work up culture samples.
Blood Bank—Blood bank is also known as transfusion medicine, as it deals with the transfusion of biological products. Besides matching for ABO/Rh type, a typical red cell transfusion would also require the screening of other antibodies that can cause a reaction, including Kell antibodies, Kid antibodies, Lewis antibodies, and so forth. As technology continues to advance, blood banks also sometimes dispense various types of other biological products, from tissues to stem cells.
How would you describe your work environment?
First, since you are working with various types of body fluids, you are surrounded by numerous biological and chemical hazards. Second, the analyzers and equipment do produce a large amount of noise, so working in a lab is not as quiet as working in an office. Finally, you are required to stand for long periods of time and might do some lifting of reagents and supplies. With more focus on the safety and ergonomics of the working environment in the lab, conditions have continued to improve.
What are some of the key characteristics that are important for a person to succeed in your type of work?
A good CLS should be able to pay close attention to detail, multitask, communicate information to other healthcare professionals, work under pressure and against deadlines, and troubleshoot instrumentation problems.
What do you enjoy most about your work? Is there anything that you do not like?
The fact that people trust us as professionals and that we are involved in the prevention, detection, diagnosis, treatment, and recovery of patients makes me proud to be part of the laboratory team.
One of the biggest disadvantages is that working in the lab is a sort of behind-the-scenes work where you might not get direct recognition from patients or patients' families.
Describe a project that you have worked on that was of particular interest to you.
I have been a volunteer for the American Society for Clinical Laboratory Science (ASCLS) consumer response team for over a year. The purpose of the consumer response team is to answer questions submitted by people worldwide about laboratory testing. Serving as a volunteer on the team is rewarding since I am assisting others in better understanding their results and what it is that clinical/medical laboratory scientists do.
What can a student do now to prepare for a career in your field?
There are various positions in the laboratory that a student can get into without a BS degree. Positions like lab assistant, phlebotomist, and lab aide usually only require a high school diploma and it is a great way to determine whether the profession is right for you. As for academic preparation, you should have a strong science and mathematics background.
Is there any advice you would give to someone interested in this field that you wish someone had given you when you were starting out?
Becoming a member in laboratory professional organizations and reading trade magazines/scientific journals related to the field are two key ways for a laboratory professional to advance in the field. As laboratory medicine fields advance, keeping up with current technology, protocol, and guidelines is critical to better serve the patients by providing high-quality care, but also can generate cost-savings for the lab. Belonging to professional organizations and volunteering in committees can help you network, and can also allow you to gain valuable experience that might not be available at work.
Explore Our Science Videos
Change the Reaction Rate of a Foaming Reaction
Delayed Release Pill Challenge