Science Careers: Interview with Stuart Barnscher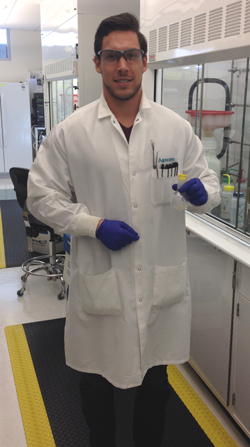 Name: Stuart Barnscher
Current employer: Agensys (an affiliate of Astellas Pharma US)
Job title: ADC (Antibody Drug Conjugate) Chemist
Science Career: Biochemist
Time working in this field: 2 years
How would you describe what you do on a typical day to a student?
A typical day for me really depends on the project I am working on and the stage of that project. Prior to starting a project, there is a lot of computer work that is done: mining literature databases, reviewing patent space, and collecting papers that will be used as reference material. Once actual experiments commence, I spend 100% of my time in a fume hood setting up reactions, monitoring and analyzing compounds, and purifying crude reaction mixtures. Once a preliminary number of compounds have been synthesized, they are tested by our biologics team and the data is reviewed. So you could say my time cycles between desk work, laboratory work, and meetings.
How did you become interested in this area of science/engineering?
My interest in science dates back to getting my first microscope from Big 5 Sports when I was 8 years old. I was fascinated by the world and wanted to know "why?" for every phenomenon I observed. When I became older, I understood the importance of using science to help people and was instantly drawn to cancer research.
What did you study in high school, college, and graduate school?
In high school, I took all the math classes and science courses I could. My high school offered an accelerated science program, which allowed me to take first year university chemistry, calculus, and biology during my last year of high school. In college, I majored in biochemistry, which consisted of a heavy dose of biology, chemistry, and biochemistry courses. I also tried to balance my education with social science classes including: psychology, sociology, and anthropology.
How would you describe your work environment to a student?
My current work environment is high paced with many moving parts. There are no satellite projects working in a dark basement laboratory alone. Projects are collaborative and require a multidisciplinary team to be successful. With the workplace being collaborative, there is also a healthy social atmosphere. My group has weekly lunches, hockey playoff pools, a fantasy football league, and company soccer games on Fridays.
What are some of the key characteristics that are important for a person to succeed in your type of work?
The most useful characteristics that I have found in myself and in people I admire in my field have been: a passion for science, an analytical mind, and flexibility. Priorities change, projects change, personnel change, and time lines change. Being able to work with anyone under various dynamic circumstances will make you very successful in whatever you do but especially as a scientist.
What do you enjoy most about your work? What do you not like or wish you could change?
I enjoy most knowing that my research will eventually help cancer patients one day. My research and work is an investment that will mature into a product or procedure that will extend the lives of cancer patients. I also enjoy the collaborative nature of research. No decision is made in a vacuum. I am constantly bouncing ideas off colleagues to arrive at a solution to a problem.
What was a project that you have worked on that you found particularly interesting?
I have worked on projects that test how well a novel cancer therapeutic can kill tumor cells, and I am amazed at how very small chemical/structural changes to a drug can have profound effects on tumor growth/tumor regression.
What can a student do now to prepare for a career in your field in terms of coursework and extracurricular activities?
If you talk to a lot of people in the biotech field, you will find that there are many different paths to take towards a career in science. Be sure to take courses that interest you and work towards a degree that will give you opportunities and satisfy your passions. Science and engineering degrees open the world's job market to you as most countries make special visa considerations for professionals in those fields. For extracurricular activities, just find something you are passionate about and do it well. It doesn't matter what you are passionate about, get out there and find like-minded individuals and commit to your activity. Showing you have a unique activity to talk passionately about can often set you apart from other candidates when looking for a job.
Is there any advice you would give to someone interested in this field that you wish someone had given you when you were starting out?
In school, show your professors and teaching assistants that you want to learn. Don't just try and get an "A," but try and learn and understand the material. Some of my most valuable professional relationships started in college simply by showing that I wanted to understand the material and improve my skills. This strategy resulted in opportunities being presented to me instead of having to break down the door of professors who didn't know me to get an internship. The same holds true when starting your career. Show that you are willing to put in some of your own time to learn your craft, and that will go a long way with your superiors and your career development.
Is there anything about your profession that you think people misunderstand, or anything you think people would be surprised to learn about your job?
When I was in school, I had the misconception that science and research wasn't social. Science is social and collaborative and takes many great minds thinking about a problem in different ways to come up with a creative solution.
Did you ever participate in science fairs as a student? What was your experience like?
During elementary school and high school, I participated in science fairs and found them to be very useful in developing public speaking skills and the skills that go along with presenting ideas and projects. You get to give a "mini teach session" to the people who stop at your poster or exhibit, and you learn how to be clear and concise as well as how to field any questions viewers may have.
What do you do in your free time?
In my free time, I play Rugby for a club team. I like to go hiking, camping, mountain biking, and weight lifting. I am learning to surf right now, which has been an awesome experience.
Explore Our Science Videos
Make a Lemon Volcano - Fun Science Experiment
Draw with a Pantograph - STEM Activity
Paper Marbling – STEM Activity