Science Careers: Interview with Jeff Hagen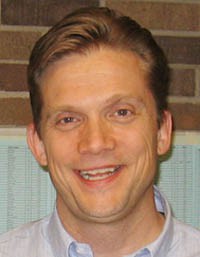 Name: Jeff Hagen
Current employer: Medtronic
Job title: Engineering Manager
Science career: Computer Software Engineer
Time working in this field: 20 years
What do you do at Medtronic?
I work at Medtronic as an Engineering Manager. I lead a team of seven software verification test engineers. I have been in Software Engineering for 20 years and with Medtronic for the last nine years.
How would you describe your particular area of science and/or engineering and what you do?
I am a people manager and a project manager. I direct a team of software test engineers to test the new version of our website that is used by doctors and nurses to help diagnose patients' heart conditions.
Computer Science is an engineering discipline that blends the mathematics and logic of engineering with the technology of computers. It's the best of both worlds.
What are some of the key characteristics that are important for a person to succeed in your type of work?
You have to have a strong engineering mind and solid people skills in order to work with a team.
How did you become interested in this area of science and/or engineering?
I've enjoyed computers since I was a youth, and I enjoyed math in school. I began college as an Electrical Engineer like my father, but I enjoyed computers more than circuits, so I changed majors.
What did you study in high school and college?
Math, science, and computer classes were my focus in high school and undergraduate studies. I have a bachelor's degree in Computer Science from the University of Minnesota.
What do you do during a typical day at work?
These days we are in project crunch mode where we are at the end of a project cycle. Our team needs to complete a large batch of tests before we can release the next version of our website. I arrive about 7:30 a.m. [and] have a cup of coffee while I catch up on emails from our overseas engineers. They work different hours than we do. Then I run a few project meetings and have a one-on-one career meeting with one of my employees. After lunch, I process "issues resolution tickets" by coordinating a software developer with one of our testers. Most of the afternoon involves troubleshooting and planning for the overnight work by our testers in Europe. The days are often long. I have been in the office until 7 p.m. lately.
How would you describe your work environment?
I work in a cubicle among 100 cubicles on the eighth floor of a modern office complex.
What do you enjoy most about your work? Is there anything that you do not like?
I enjoy the sense of accomplishment when I solve a problem or discover a new, better way to do things. I also enjoy when my employees grow at work into more productive engineers. I do not like when the whole team is not working together to get the job done.
Describe a project that you have worked on that was of particular interest to you.
Each release of our website helps more patients with heart troubles get the help they need to live fuller lives. Each time we read a letter or hear a phone call from a patient who appreciates what we do makes me feel good.
What can a student do now to prepare for a career in your field?
Study math and the scientific method. Get experience using computers, and especially learn how to put a presentation together. Practice speaking in front of others to build your confidence.
Is there any advice you would give to someone interested in this field that you wish someone had given you when you were starting out?
I wish I would have known how important public speaking and technical writing can be when convincing the business that your project is worthwhile and cost-effective.
Explore Our Science Videos
Slippery Slopes - STEM activity
Explore the Wet Sand Effect – STEM activity
Video: Paper Airplane Launcher