Science Careers: Interview with Akia Ramsay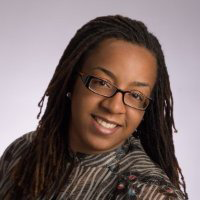 Name: Akia Ramsay
Current employer: EMC
Job title: Principal Analyst
Science Career: Economist
Time working in this field: 7 years
How would you describe what you do on a typical day to a student?
I analyze data to help solve problems for the business.
How did you become interested in this area of science/engineering?
I started to become interested in math in middle school, when I started to learn pre-algebra. It was like a puzzle.
What did you study in high school, undergraduate, and graduate school?
In high school, I took honors math my senior year and standard courses. As an undergraduate student, I studied economics and then went on and received my master's degree in economics.
How would you describe your current work environment to a student?
Challenging but fun. Every project is like one big word problem. I am learning new techniques constantly on how to solve problems with math/statistics.
What are some of the key characteristics that are important for a person to succeed in your type of work?
The ability and willingness to learn new things and not be afraid of challenges. You have to not mind working in front of a computer 90% of the time. You need to be creative and able to take data and create visualizations that are meaningful and powerful.
What do you enjoy most about your work? What do you not like or wish you could change?
I enjoy my team. I work with a diverse group of individuals both culturally and academically. We are always learning new things from each other. I wish I worked closer to home. I live in Boston.
What was a project that you have worked on that you found particularly interesting?
We recently worked on a text analytics project that took massive amounts of words from customer comments (similar to social media data from a source like Twitter) and was able to see the most common words and find out if those comments were mostly good comments (e.g., the customer is happy) or bad comments (e.g., the customer is upset).
What can a student do in high school and in college to prepare for a career in your field in terms of coursework and extracurricular activities?
"Stay hungry, stay foolish"—one of my favorite quotes from Steve Jobs. Try your hardest in school. Study and don't make excuses for not doing your best in school. Stay focused and surround yourself with other students that are also trying hard.
Is there any advice you would give to someone interested in this field that you wish someone had given you when you were starting out?
Don't be afraid to go into a field that is not related to your degree. When I first graduated from graduate school, I felt I had to go into politics, or work for the government, because I had a degree in economics. I quickly learned, through research, that the core skills of an economist are similar to those of someone with a mathematics degree, statistics degree, or even some engineering degrees.
Is there anything about your profession that you think people misunderstand, or anything you think people would be surprised to learn about your job?
I learned most of my coding and technical skills on the job. There are new computer programs and software coming to market all the time. Software that I learned how to use in college is not used anymore in business. My willingness to learn new technology played a big role in my learning and growing.
Did you ever participate in science fairs as a student? What was your experience like?
I never participated in science fairs as a student, but I did a Saturday Science program in high school. It was a program that I attended every Saturday morning, and we worked closely with college students with science majors and did different science-related activities. I will never forget the Saturday that we dissected a pig.
What do you do in your free time?
I like to cook, watch TV, spend time with my sister and parents, and volunteer.
Explore Our Science Videos
Will 200 Sticky Notes Hold My Weight?
Bending Plant Roots with Gravity Lesson Plan Introduction
What are the Chances? – A Probability STEM activity