How to Be Successful at a Top Science Competition
by Amber Hess
Some of the key ingredients for success at the highest levels of high school science competition are:
Knowing that you need a mentor (most students don't believe that they do) and having the initiative and persistence to seek one out. Mentors can be very useful because they can give you advice if you are stuck, help you present your research like a scientist, and write recommendations. Essentially all of the 2005 Intel Science Talent Search (now Regeneron Science Talent Search) Finalists had a mentor, although in a few cases that person was a relative. In fact, Craig Barrett, Intel's chief executive, said "The generic combination (among Science Talent Search winners) is that they're smart, they typically have parents who are very involved, and they have a mentor of some type."

The role of the mentor is often fairly subtle (and that characterization is not meant to imply that it is unimportant—it is). In my case, one of the most important things my mentor did was show me how to organize my research so that it would leave a favorable impression on other chemists (specifically, analytical chemists working in the world of qualitative and quantitative analysis, thus my research should be organized in the same way). Later, she gave lots of feedback about presenting the data. Simply put, I would not have had the success I did without her help.

You must produce an original contribution—new knowledge. In other words, you must do creative, real science; do not just repeat work that has been verified many times in the past.


Some students also work at a research institution with their mentor. If you have the opportunity, I suggest taking it; however, not having access to professional lab facilities does not ruin your chance of winning in the slightest—I used my kitchen and the surrounding rooms for all of my projects, and I made use of materials my school owned. For the 2005 Science Talent Search, about two-thirds of the participants did work with the advantage of a research lab; about one-third of the projects were either in the area of math or they were kitchen tabletop experiments, like mine.


Prepare to invest a lot of time, but know that it's worth it! For the top competitions especially, a lot of time is put into the projects. The amount of hours spent varies widely. I worked almost the entire summer on my project, and overall, I invested about 800 hours over two years, which is about 8 hours/week, though I did put more time in over the summers and sometimes less during the school year. Many students enter competitions with projects that are based on work from a summer institute (such as the six-week Research Science Institute at MIT or Caltech) and/or a high school research class. After talking with some of my Intel ISEF and Science Talent Search friends, I found that they spent a range of 400–1600 hours on their projects (for the higher numbers, the work was completed over a multiple-year period).
Finding a Mentor
Obtaining a mentor is so important to success in the top fairs, I wrote a separate document about it: How to Find a Mentor.
Choosing a Topic
Obviously, you should choose a topic that will interest and challenge you.

Easy topics like "Analyzing the pH in Soda" will not impress the judges, or anyone else at a top fair. As high school students, you are expected to be much more advanced.
Do not be afraid to try something new—you will learn about it along the way.
A lot of top science fair participants explore new areas, and they do just fine in science competitions.
You might find you enjoy an area you never would have picked otherwise!

Try to choose a topic nobody has really researched before (original research). If you want to win at the higher science fair levels, originality and innovativeness are extremely important. Develop a new method or technique, or research something nobody knows about. If you cannot find something new to develop, take an old method and redesign it. A mentor can be a big help finding an original topic.
Remember that complicated-looking projects do not guarantee a win.

Simple topics can actually turn into great projects. At most science fairs, a student with a simple project who "knows their stuff" will win over a student with a complicated project who is not as great a presenter (this is especially true at higher level fairs).

Do not choose a topic that is so open-ended that you will not make much progress.

Focus on one aspect of a topic to narrow down what you will work on.
Example: Let's say you want to create the world's first extremely intelligent robot. There is no way you will be able to complete this project in a year! Instead, you might pick one small part of the programming to work on. You could then emphasize how your piece fits into the building of a robot.

Do not pick a broad topic unless you are an expert in that field or plan on learning a ton of information—judges could pummel you with questions about aspects of the subject you are unfamiliar with.

Example: Global warming is creating a huge discussion these days. If you want to study global warming, you should pick one possible cause of global warming to focus on, or one area that shows the extent of global warming.
Study Important Theories
After picking a topic, spend a lot of time gathering background research.
Your research is one of the most important parts of your project. It is the basis for what you will be presenting to the judges. I cannot emphasize how important understanding the correct background information is. Look for important concepts, definitions, and equations that will explain how and why your experimental results turn out the way they do. High school students are expected to know in-depth, important math, physics, chemistry, and/or biology theories; the more thorough the research, the better. Understanding advanced concepts/equations is a huge plus. Also research why your topic is important in today's society.

Example: if you were studying the fermentation of yogurt, you would need to study what bacteria are, what structures make them up, and what chemical processes they use to create yogurt. You would also need to learn why yogurt fermentation is important/ useful. Always answer the question: "Who cares?"
Example: if you were studying rockets, you would want to look up things like drag, how various models fly differently and why, advanced physics equations to explain a rocket's behavior, etc. How rockets are used in the world is also important.

What is the purpose of background research?

It will help you formulate a hypothesis. The more you understand your topic, the better you can predict what might happen.
It will help you create a well-designed procedure that will save you more time than one that is less thought out.
It will let you foresee some of the inevitable problems that will come up.
Analyzing your results will be easier and your conclusions will be more detailed.

Do not get discouraged if your research seems too difficult to understand. Start with the basics, and work upward. Sometimes you have to read an article a few times (or ten!) before you even begin to understand it. Push yourself to the limit of your understanding, and do not be afraid to tackle concepts you have never seen before (it is normal for most of your background research to look alien to you). One of the reasons people do a science project is to learn new information and challenge themselves.
For the highest level fairs, you will be expected to do a good portion of your background research in professional scientific journals.
Organize Yourself
Keep a detailed and up-to-date lab notebook with you at all times.

It will help you organize your thoughts and if you ever need to go back to see how you did something, you will have a written record you can search.
Judges will want to see a lab notebook during the judging period.
Write even the smallest detail in your lab notebook—if you think you will remember a piece of information, believe me, you won't (I know from experience).
For high school students, the lab notebook should show detailed thought processes, notes, procedures, etc. Your lab notebook should go everywhere with you so you can jot down ideas on a whim.

Write up an organized plan. What do you think you will do each day during the experiment? What do you plan on doing?
Try to think of all the possible problems you might run into during the experiment and rewrite your procedure to account for them. This includes possible errors in measurement, contamination, timing issues, etc.
Completing the Experiment
Do not cram your experiment into a short period of time unless your procedure calls for it.
During the experiment, do not get discouraged if you run into a lot of problems.

Judges like to see persistence—so keep at it!
Besides, judges love to talk about the problems you ran into and how you solved/tried to solve them.

As a high school student, you are expected to do enough trials (the number of trials depends on your project), otherwise the judges will not take your results seriously. You will not be able to back up your analysis if you do not have enough data.
Pursue problems and accidents. Always ask "why?" and "how?" Solving problems and repairing accidents may take a while, but the answer will only come with persistence. Do more research, walk through your procedure, and do whatever it takes to solve problems. These problems may lead to innovative solutions that you can describe during the judging interview.
Always try to be creative and unique. Look at current methods in your topic area and try to improve them. It might make your experiment easier and it will always make your project better! Judges will want to know what you have done that is original.

Example: Let's say you are researching a method to analyze the amount of pollution in lakes. What types of instruments have other researchers used? Are there other instruments/techniques that might work just as well or better? You might also look at the chemicals other researchers analyze in lakes. Are there others that might be better or easier to analyze?
Do not expect the answers for improvement to jump out at you. Research more and think about the possibilities for a while. You may run into ideas by accident!
Analyzing the Results
Examine your results and ask yourself why they do/do not make sense, and "what do my results mean?"

Look at the concepts/equations you researched earlier and apply them to your results.
Write in-depth explanations about your results and what you think happened during your experiment.
Discuss all applicable equations/concepts and show how accurate they were.
Example: Let's go back to our lake pollution example. If there is a high concentration of oxygen, is that bad or good for the aquatic life? How will it affect the life there? What is the least amount of oxygen the lake organisms need? The highest amount they can handle?

If you do not understand something, keep trying to find out the answer. Search the Internet, ask a teacher/mentor, look through books or articles, etc.
Do not be afraid to create your own hypothesis to explain your results. As long as you have some evidence for your thoughts, judges will be impressed that you tried to figure out what was happening during your experiment.
Do not just plot a graph and print out your data table and say "I'm done!" At the high school level, the following details separate out serious students from naive ones. If you do this type of analysis in middle school, the judges will be extremely impressed.

Calculate standard deviations, percent yields, repeatability, etc. (what you calculate depends upon your project).
Find a few published articles in your topic area and see how professionals present their results. Portraying your results in a recognized format will make it easier for the judges to understand (and appreciate) your project.
If error analysis applies, create a table and calculate how each error will affect the results.
---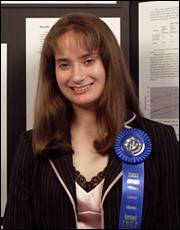 Amber Hess was a Mentor in the Science Buddies Online Mentoring Program for three years. A passionate science student, she has won awards at many prestigious science competitions. In 2005 she was an Intel Science Talent Search Finalist (one of only 40 students in the entire country), a semi-finalist for the Siemens Westinghouse competition, and she won a First Place Grand Award in Chemistry at the Intel International Science and Engineering Fair (ISEF), which she also attended in 2003. She has qualified to compete at the California State Science Fair five times, winning 4th, 3rd, and two 1st place awards. Amber graduated from MIT in 2009 with a BS in Chemical Engineering.
Explore Our Science Videos
Maglev Train Assembly Instructions
How to Measure Light with Google's Science Journal App
Ball Launcher: 2018 Engineering Challenge