Visualizing Molecules in Three Dimensions
Introduction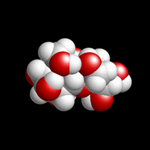 Although we often see molecules depicted using two-dimensional (2-D) figures, they are in fact three-dimensional (3-D). Many scientific questions can be better understood by seeing and interacting with molecules in three dimensions. There are a number of tools available on the Internet that allow the user to rotate, flip, and otherwise manipulate virtual molecular models of chemicals and macromolecules.
If you would like to explore small molecules in 3-D, download and install Chime on your computer. Chime is a program that is required for viewing molecules from many websites. Once you've installed Chime, you can view molecules you're interested in from one of the molecule libraries listed. You can also use this program to add pictures of the molecules to display boards for science fair projects. For more advanced uses, such as command line control, you can install RasMol. Some scientific websites are using JMOL, a Java-based viewer, for rendering molecules in 3-D. JMOL and similar tools may replace Chime eventually, but for now, Chime is the program used most for viewing small molecules from websites.
If you would like to view macromolecules in 3-D, download and install Cn3D. This program should be all you need to visualize proteins of interest. For advanced users, investigate Protein Explorer, a RasMol derivative.
Useful Programs and Plug-ins for Molecular Modeling
Chime: Chime is a free downloadable chemical structure visualization plug-in for Windows and Macintosh. It allows you to view chemical structures from within popular Web browsers, Java applets, and Java applications. Many chemistry websites require that Chime already be installed for their graphics to work properly. Unlike RasMol, Chime shows molecules within a webpage. You can check your Chime installation at the Chime Test Page.
Cn3d: Cn3D is a visualization tool for macromolecules. It allows you to view 3-dimensional structures from NCBI's Entrez retrieval service. Cn3D is able to correlate structure and sequence information; for example, you can find the residues in a crystal structure that correspond to known disease mutations. It also has powerful annotation and alignment editing features. Right-click on the molecule to see the viewing options.
Other Options
RasMol: RasMol is a molecular graphics program intended for the visualization of proteins, nucleic acids, and small molecules. The program is aimed at display, teaching, and generation of publication quality images. The original program was developed at the University of Edinburgh's Biocomputing Research Unit and the Biomolecular Structures Group at Glaxo Research and Development, Greenford, UK. Here is an introduction to RasMol.
Protein Explorer, a RasMol derivative: The Protein Explorer (PE) enables you to explore the 3-D structure of any macromolecule. You can explore proteins, DNA, RNA, carbohydrates, and complexes, such as between transcriptional regulatory proteins and DNA, or enzymes and drugs. PE is not compatible with Internet Explorer. Firefox is free and is recommended for Protein Explorer. Here is a tutorial for Protein Explorer.
Biomodel-3: This program was developed by Angel Herráez, lecturer in Biochemistry and Molecular Biology at the University of Alcalá de Henares (Spain). Starting at version v3, Biomodel-3 uses the JMOL Java applet to show and manipulate the molecular models.
3-D Chemical Libraries
(View using the Chime plug-in)
3-D Macromolecular Structures
(View using the Cn3D plug-in)
Entrez Molecular Modeling Database: The Molecular Modeling Database (MMDB) contains 3-D macromolecular structures, including proteins and polynucleotides. MMDB contains over 40,000 structures and is linked to the rest of the NCBI databases, including sequences, bibliographic citations, taxonomic classifications, and sequence and structure neighbors.
Other Resources
This site lists dozens of web resources for 3-D visualization of molecules.
Explore Our Science Videos
How to Measure Light with Google's Science Journal App
Make A Tissue Paper Parachute - STEM Activity