Interview with Mechanical Engineer, David Clarke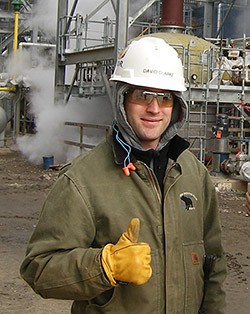 Name: David Clarke
Current employer: Fluor Corporation
Job title: Site Manager / Mechanical Engineer
Science Career: Mechanical Engineer
Time working in this field: 15 years
How would you describe what you "do" in your job to a student?
I am currently a Site Manager over a large construction site in Virginia. I make sure that all disciplines on the project site work together to complete a complex project involving Engineering, Construction and Commissioning. I do rely on my Mechanical Engineering background daily to analyze problems and provide direction to solve tough issues.
How did you become interested in this area of science/engineering?
I have always been intrigued by how things work and love taking things apart and fixing anything broken. Growing up my dad owned a computer shop, so I was always messing around with electronics and every vehicle they owned. I then got an apprentice job at a plastic injection machine shop in high school where I learned how to create anything out of metal to very precise dimensions. This really kicked off my drive to go to college in Mechanical Engineering. I love designing things on paper and building them in real life. With Mechanical Engineering it provides the foundation and basis of knowledge to design and build anything you can think of.
What are some of the key characteristics that are important for a person to succeed in this type of work?
A lot of patience and a drive to succeed. Getting through Engineering School is not easy and requires tons of homework and studying but it is extremely rewarding in the end. You really need to make sure that you do well in math in high school and look for any opportunities to advance your knowledge in science. It takes a lot of commitment to become successful, but I truly believe that if you want to learn it and take it seriously you will be successful.
Describe a project that you have worked on that was of particular interest to you.
I have worked on several power plants in my career and they are always exciting to build. It's amazing to see a dirt field get turned into a massive billion-dollar power plant in a course of 2 years. Being involved in the design in the home office, where you only can see the project in a 3D model on the computer, and then following the project and working at the construction site is very rewarding to me. It is incredible how accurate our computer-generated models are to what we build in the field. From seeing a structure on a computer screen to actually being able to walk outside and touch it in such a short amount of time is awesome.
What do you enjoy most about your job?
I really like the construction side of projects and with our company we have sites all over the world. This is perfect for me because I love traveling and living in new places. I have met 1000's of people working on jobsites everywhere and there is never a dull moment in construction. Every project is different, and it is very motivating for me to keep on building so our team can move on to the next adventure.
Is there any advice you would give to someone interested in this field that you wish someone had given you when you were starting out?
Make sure you do some research on what you want to do in life before signing up for college. It is important that you understand and are committed to your career because they will not just hand you a degree or a job. On my first day of class in Engineering they told us to look to your left and look to your right because that person won't be here next year. It was sad but true, many of my friends that went into engineering were not dedicated or interested enough to continue. It wasn't that they weren't smart (two of them are now doctors), they just did not know what they were getting into when they signed up for Engineering. So do some research and take all the math classes you can.
What do you enjoy doing in your free time?
I love the outdoors and fishing. If I am off work, you will most likely find me outside and hopefully on the water.
Editor's note: David helped design the 2021 Fluor Engineering Challenge for students.
Explore Our Science Videos
Draw with a Pantograph - STEM Activity
What Do Enzymes in Pineapple Juice Do to Milk?