Recent Science Buddies News
The State of Science Education
"In 2011, students whose teachers reported that their students do hands-on projects every day or almost every day scored higher on average than students whose teachers reported students did hands-on projects in class less frequently."
The Nation's Report Card
View The State of Science Education: Policies and Test Results
Newsworthy: Science Buddies in Action

Science Buddies in Action shows how real kids and teachers are using Science Buddies materials to create interesting science projects with success.

Students Mirror Investigations Performed by Researchers at MIT

Science Buddies partners with well-known academic institutions to make cutting-edge research accessible to K-12 students. "A few years ago, I began researching renewable energy technology at MIT," said Dr. Elizabeth Young. "This high-level work requires equipment and materials costing tens of thousands of dollars. Now through Science Buddies, we've created a similar experiment that students can perform in their own kitchens. These 'kids' are exploring catalysts for splitting water into hydrogen and oxygen, at the same time becoming passionate about developing alternative fuels for their generation."

Dr. Elizabeth Young, MIT Researcher

The Importance of Family Science

Are you looking for great ways to bring science into your family time? In past "Science Mom" appearances, former Science Buddies Executive Director Courtney Corda shared how easy it is to do simple science projects at home with kids and how to initiate an ongoing dialogue with kids about science. Parents can inspire hands-on scientific inquiry at home with projects found on "Family Dinner: Serving Up Science" and "Family Science" from the Science Buddies Blog!
Follow Science Buddies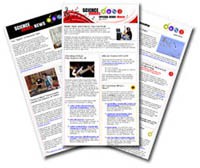 Keep up to date with Science Buddies Project Ideas, resources, and news. Sign up for a free Science Buddies account to receive our monthly electronic newsletter. You can also follow our blog for in-depth coverage of hands-on science activities and ideas, science success stories, and suggestions for how to tie science news to student science conversations and explorations in the classroom and at home. Are you on Facebook, Twitter, or Pinterest? We are, too!
Explore Our Science Videos
Can you solve this air pressure puzzle?
Flying Helicopters on Mars - Paper Models
How to Make Paper Circuits