A Video View of the Elements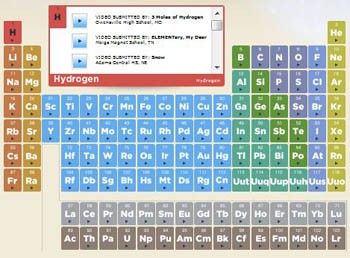 The deadline has passed for entering the Chemical Heritage Foundation's "It's Elemental" video contest, but voting is underway!
In recognition of the2011 International Year of Chemistry, the Chemical Heritage Foundation invited students to submit videos about the elements of the periodic table. Click an element from the chart to see the videos students created—and to learn more about a specific element. You'll find video coverage of familiar and favorite elements, like Hydrogen, Helium, Tungsten, and Phosphorous, but you'll also get a fresh on-the-screen look at elements that might be less familiar, like Tantalum, Cesium, and Rubidium.
Be sure and "vote" for the ones you like!

Be a Part of the International Year of Chemistry
The theme of the 2011 IYC is: "Chemistry—our life, our future." Now is a perfect time to explore Science Buddies' chemistry Project Ideas.

Parents: There are many chemistry project ideas in the Science Buddies directory of Project Ideas that can be done at home as a family project! You can explore our list of suggest "at home" projects here. Here are a few sample projects that you can have fun doing with your students: Cabbage Chemistry, Bubble-ology, and A Soluble Separation Solution.

Explore Our Science Videos
Explore Concave and Convex Mirrors– STEM Activity.
Video: How to Balance Anything