Teach About Biodiversity with Free STEM Lessons & Activities
Use these free STEM lessons and activities to talk about habitats, ecosystems, food webs, and more as you explore biodiversity with K-12 students.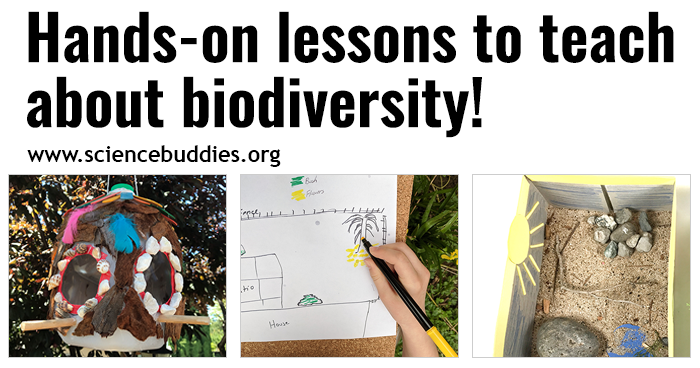 Biodiversity, the "biological diversity" of our planet, is key to human survival. There are an estimated 8.7 million species of plants and animals on Earth, but biodiversity is more than just a count of how many different types of plants and animals (species) exist in an area or on the planet. Biodiversity includes diversity within species (genetic diversity), between species (species diversity), and between ecosystems (ecosystem diversity).
In teaching students about biodiversity, you help students understand biodiversity as a measure of planetary health. With hands-on STEM lessons, students can zoom in and observe markers of biodiversity within individual ecosystems as well as zoom out to see biodiversity as a marker of interconnectedness for the planet as a whole.
The free STEM lessons and activities below help students learn about habitats, ecosystems, biomes, and conditions that can threaten biodiversity, including invasive species, climate change, and human interference. For key terms to review with students, see the list of vocabulary words at the bottom of this resource.
Note: Science Buddies Lesson Plans contain materials to support educators leading hands-on STEM learning with students. Lesson Plans offer NGSS alignment, contain background materials to boost teacher confidence, even in areas that may be new to them, and include supplemental resources like worksheets, videos, discussion questions, and assessment materials. Activities are simplified explorations that can be used in the classroom or in informal learning environments.
Lesson Plans and Activities to Teach About Biodiversity
Teaching About Biodiversity in K-12
Teaching biodiversity may be a topic in your K-12 classroom as part of an environmental science unit, discussions about sustainability and the future, or lessons about ecosystems, food webs, animals, or the evolutionary history of life on Earth. Understanding biodiversity and how to measure and evaluate biodiversity is important for understanding the health of local areas and our planet as a whole. Many students may initially think biodiversity equates simply to the number of different species in an area. As you teach students more about biodiversity, they learn about several key factors of biodiversity: species diversity, ecosystem diversity, and genetic diversity.
Species diversity: the number of different species
Ecosystem diversity: the number of different physical environments (habitats) and the interacting community of organisms that live there
Genetic diversity: the number of different alleles and traits in a species
In talking with students about biodiversity, many questions for discussion may arise that can lead to engaging classroom discussion and exploration with hands-on STEM learning lessons. What happens to ecological systems and food webs when a species becomes extinct? How are ecosystems related to one another? What role does climate change play in biodiversity? What do genetics have to do with biodiversity and what possibilities or risks might advances in genetic engineering pose?
Note: For additional educator resources to teach about biodiversity, environmental science, and Earth Day, see Earth Day Science Projects and Activities.
Vocabulary
The following word bank contains words that may be covered when teaching about biodiversity using the lessons and activities in this resource.
Adaptation
Biodiversity
Biodiversity loss
Biogeochemical cycle
Biogeography
Biome
Biosphere
Carnivore
Carrying capacity
Climate change
Consumer
Decomposer
Deforestation
Diversity index
Earth's systems
Ecosystem
Ecosystem diversity
Endemic species
Extinction
Food chain
Food web
Genetic diversity
Habitat
Herbivore
Invasive species
Mammalian biology
Native (or indigenous) species
Omnivore
Producer
Reforestation
Species diversity
Zoology
Books for Your Shelves
If you and your students are interested in biodiversity, Earth Day, and environmental science, the following Science Buddies books may be a good addition to your classroom or home library shelves!
Projects for Student Exploration
Students interested in nature, environmental science, or other topics related to biodiversity can find related projects in project topic areas at Science Buddies like: Plant Biology, Environmental Science, and Zoology.
These science project and activity roundups may also provide a good starting point for project discovery in an area of interest:
Thematic Collections
Collections like this help educators find themed activities in a specific subject area or discover activities and lessons that meet a curriculum need. We hope these collections make it convenient for teachers to browse related lessons and activities. For other collections, see the Teaching Science Units and Thematic Collections lists. We encourage you to browse the complete STEM Activities for Kids and Lesson Plans areas, too. Filters are available to help you narrow your search.
Categories:
You Might Also Enjoy These Related Posts:
Explore Our Science Videos
Slippery Slopes - STEM activity
Make a Lung Model – STEM activity
How Strong Is Your Hair? – STEM Activity